A hand up for tomorrow's engineers
13 April 2022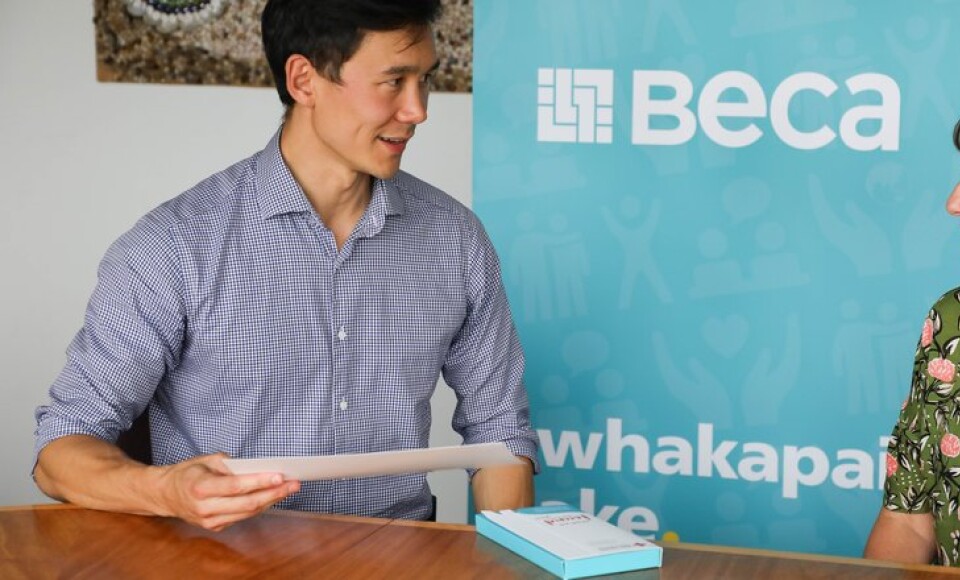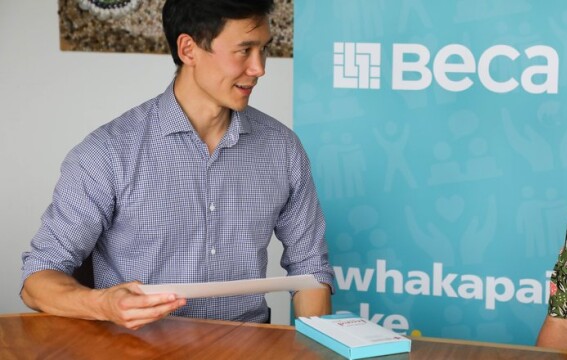 Engineering and professional services consultancy Beca is partnering with New Zealand Red Cross to support people from refugee backgrounds into careers in engineering.
Aotearoa New Zealand welcomes up to 1,500 refugees each year under the quota programme, and others under special arrangements such as people from Afghanistan. These new Kiwis bring a range of skills and abilities to our country. New Zealand Red Cross works to help support them into education and training and to connect them with employers through their Pathways to Employment programme.
Beca has been working with Red Cross in Wellington over the last four years on a range of initiatives to help break down barriers and support former refugees into engineering.
Scholarships and mentors
As part of the programme, this month Alex Leo — Associate Civil Engineer at Beca, presented a young person from Afghanistan with a scholarship to help their studies in building science at Victoria University. The $1,000 scholarship is the third that Beca has awarded to aspiring engineers.
In addition to sponsorship, the company connects former refugees with mentors in the industry and offers one-to-one advice on finding employment in engineering and related fields. There are several mentors signed up in Beca who offer a mix of voluntary and Beca-funded time to help former refugees realise their potential in engineering.
Alex says this work was inspired by Beca staff. "More and more engineers are thinking about how they can make the world a better place – they're passionate about things like sustainability and creating positive communities. With our company purpose of 'Make every day better', Beca recognises this and is happy to support the initiative."
Opening doors
Alex hopes the programme will grow. "Our goal is to support people who come from less advantaged and different backgrounds – while they may not have followed the typical life path of a Kiwi engineer, we've seen great potential among former refugees we've met, and they can help add valuable diversity to our profession."
Pathways to employment manager Samantha Jones says the relationship Red Cross has with Beca is quite unique. "Beca are providing great specialist guidance and a service to help both us and the people we are helping. While it's great to get donations from corporate partners, there are other ways businesses can help through providing services like this. What Beca is doing is very valuable — it enables us to give sound career guidance and it would be amazing to have more relationships like this in other fields."
Samantha says it can take a while for people arriving here to orient themselves in the world of work in a new culture. "When the young person who has just received the Beca scholarship first came to us, they thought they might train to become a hairdresser. But it soon became clear they had potential in other areas and now they are studying to be a building science engineer!"
Alex looks forward to building on Beca's relationship with New Zealand Red Cross and supporting the many opportunities the partnership presents to new Kiwis. The first recipient of Beca's engineering scholarship, a former refugee from Ethiopia, will graduate at the end of this year.
Beca is one of Asia Pacific's largest independent advisory, design and engineering consultancies, with more than 3,300 employees in 23 offices around the world. The New Zealand-headquartered, employee-owned consultancy offers services across a wide range of disciplines including business advisory, engineering, architecture and planning, project and cost management, digital and software technologies, and valuation.