Behind the books and around the world
17 December 2020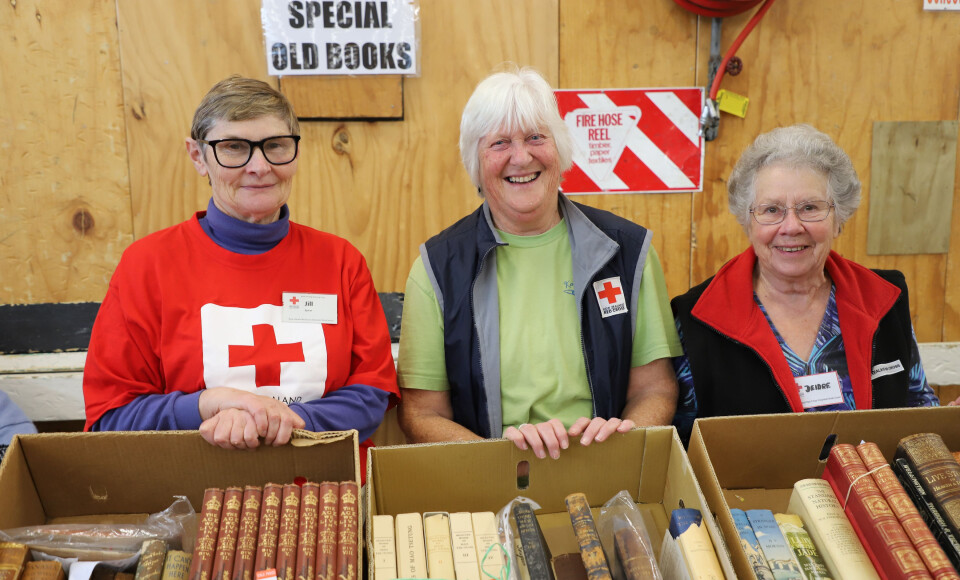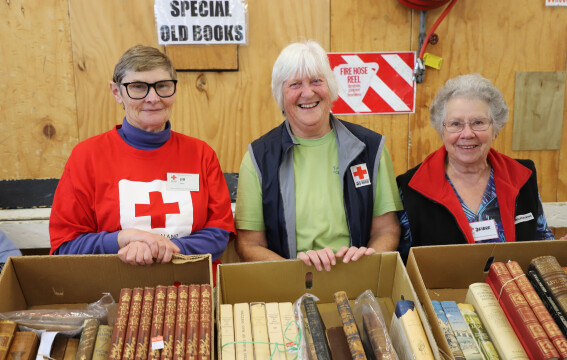 There's something magical about the 'book people' of Palmerston North, a huge team of volunteers who make the impressive Palmerston North Book Sale happen. For the last few years, they've been helping to give the gift of books to communities around the world as well.
If you pop round the back of our Palmerston North Service Centre on a Tuesday, you might just witness something close to magic, as a dark storeroom packed wall to wall with banana boxes comes to life.
Affectionately referred to by many in Palmerston North as 'the book people', the first of the book volunteers to arrive is usually Jill Spicer. Jill one of the volunteer coordinators and a Palmerston North Branch member. For several years now, Jill has helped manage the range of activities that go into making the book sale a huge success.
"This is a branch-led activity so it's all volunteers," Jill explains proudly. "We sort the books all year and then we have the excitement of the Book Sale that everyone knows about, or almost everyone! And of course, now we also have the book shop."
Soon after Jill arrives, a small roller door winds up and more volunteers begin to trickle in. Their first task is to process the piles of donated goods that are often awaiting the team's arrival. As Jill says, "it's not just books – we get audiovisual, puzzles, games, all sorts come in."
Each item is assessed to make sure it is of a saleable quality, and any particularly interesting or curious donations are separated from the general stock. Puzzles and games are meticulously checked, often taken home by a volunteer army at home and all organised by volunteer Gay. Each puzzle is carefully assembled, ensuring all pieces are accounted for.
The stacks of assorted bags and boxes of donated books are trundled into the sorting room, the heart of the operation.
Step into the sorting room around ten in the morning and you'll be caught in a whirlwind of activity, as the comforting smell of old books meets the flutter of pages and friendly chatter. This group of volunteers are warm and welcoming. As one of the volunteers, Joe, explains: "We look after each other." To the untrained eye the store room might seem cluttered and chaotic, but each bench, table and person has a purpose.
From processing to sorting and pricing, everyone seems to know exactly what to do. The production line of volunteers works like a well-oiled machine.
In a corner, surrounded by stacks of books, volunteer Carol can be found examining any number of interesting books about Aotearoa.
Carol, says "I saw an ad in one of the free papers, and thought I'd come along and see what it was all about." That was around seven and a half years ago.
"I've also done a bit of work in the retail shop and the book shop."
"The most amazing thing I've probably found is a book I looked up on book finder that was worth about $200," she shares with a bemused chuckle. "It's amazing when you see what they are worth, and to read about New Zealand history too."
Books for new arrivals and around the world
Carol and Jill explain that many of the books they come across end up in a box heading to former refugee families new to Palmerston North, to help them get familiar with Aotearoa. These books are specially selected and donated directly to new Kiwi families.
"Some families come not knowing much about New Zealand," says Jill. "So we choose books we think might be interesting for them and pass them on to the migration team here."
Other books have gone far beyond families in the Manawatū. Books from previous years have traveled around the world, including to Viet Nam where they've been donated to school children to help them learn English and enlarge the school's mobile library. The donation came about when teachers from Hà Nội Thăng Long primary school in Viet Nam traveled to New Zealand at the same time as the book sale and headed back with boxes of books for their students.
Ta Thi Tam Ha, the teacher who helped coordinate this donation, says the children's love for reading has grown because of it.
Ha says the books have had a great impact on their students' reading capacity in particular, and learning English in general.
"The donated books have contributed to the development of our children in the future."
In 2018, a past volunteer and Massey University student coordinated the donation of paperbacks to Timor-Leste, with the help of a local Rotary group. The student, themselves from Timor-Leste, was keen to see the unsold books go to a good home. Jill was keen to help.
These books will become part of the first public library in Timor-Leste, which Jill says she is pretty chuffed about.
"The pleasure of doing something together"
The next sale may be a while away, but the volunteering work happens throughout the year. Every Tuesday, Wednesday and Thursday anywhere from 10 to 30 keen Palmerston North people will be at work. But there are hundreds more volunteers who help with the sale itself, which sees thousands of people from around the region head to Barber Hall to grab a paperback bargain over Queen's Birthday weekend. Due to COVID-19, the Book Sale for 2020 has been cancelled, but the voluntary work continues.
"The Book Sale has hundreds of volunteers, it's just amazing. And people love it, they come back year after year after year," smiles Jill. "We don't have any trouble getting volunteers for the Book Sale."
The other book people seem to echo Jill's sentiment. As Gaylene puts it, "volunteering here restores my faith in humanity."
The book sorting goes all year round. There's 50 people on the list, we get a dozen to 20 people most days when the books come in. The books get sorted, it's not just books of course it's all sorts of AV, and its puzzles, and games all sorts of stuff comes in, but mostly books. The books sale has hundreds of volunteers, it's just amazing and people love it. They come back and they volunteer year after year after year. So when, starting from the beginning, the people who donate the books know that they get another chance, they won't be going to landfill. The people who come to the book sale get a bargain, the people who sort the books, and the people who work at the book sale, they all love it so they get a lot of satisfaction out of that. So there's lots of good things that come from our book sale.