Helping Kiwi kids grow
10 October 2018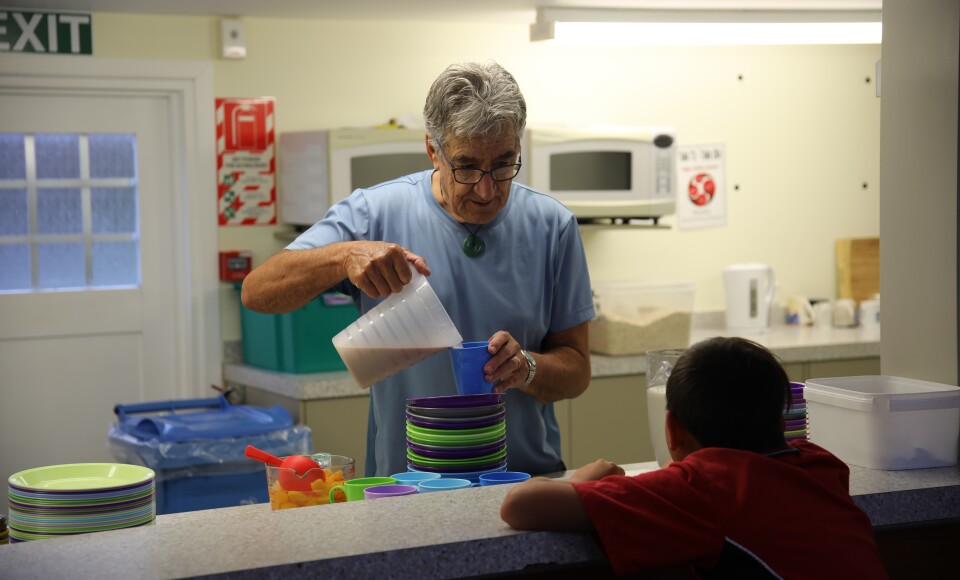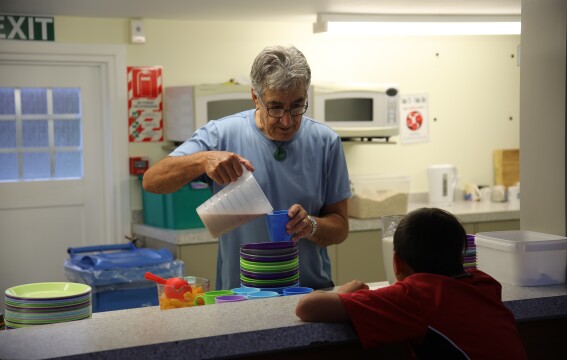 Red Cross' Breakfast Club serves healthy food to children every morning so they can reach their full potential at school.
The first classes of the day don't start for an hour but already, the Marfell Community School hall is buzzing with activity. In twos and threes, kids are running in through the double doors, dropping their school bags and rushing up to the kitchen window.
"Jam and toast, please!"
"Can I please have a milo?"
"How many weetbix would you like, mate?"
For the next hour, a steady stream of students arrive to order breakfast in the school hall. It's a social activity: children swap stories about their weekend and chat with their siblings and classmates as they finish their toast and drink their Milo.
Marfell Community School in New Plymouth is the home of Red Cross' Breakfast Club. Every weekday, from about 7.30am until classes start at 9.00am, a team of volunteers prepares and serves breakfast in the school hall kitchen. There's something on the menu to suit everyone — porridge, weetbix, fruit, toast and Milo are all offered — and there's no limit to how much the kids can eat.
The school has about 106 children on its roll, and between 15 and 35 of them show up for the breakfast club each morning.
The programme ensures children have enough energy to make it through the school day, especially when some families might struggle to put enough food on the table.
"They're ready to learn, that's the way we look at it," volunteer Ray Tucker explains, as he butters a fresh piece of toast. He has been involved in the programme for about nine years and can be found helping at the breakfast club every day of the week.
"Red Cross providing this is really valuable. It's a good programme and it helps parents. It's open to the whole school too."
Out in the hall, kids are gathered around tables, laughing and joking as they eat. There is a mix of children from a wide variety of backgrounds and for them, attending the breakfast club is a fun way to start the day.
Brothers Ruben, 8, and Hemi, 7, are among the first students in. They are eating porridge, weetbix and toast with a mug of milo each.
"It's good," Ruben says, between mouthfuls. And how does he feel when he goes back to class after finishing a big breakfast?
"Full!" he grins.
Older students from the nearby Francis Douglas Memorial College are also on hand to help the volunteers serve the breakfast.
When they're not dishing the food or washing the bowls, "we get them to go out and sit with the children and act as mentors for them," Ray explains. There are a few friendly rules on the wall — use your manners, sit at the table while eating, take your dirty dishes to the kitchen — and the Francis Douglas students help model good behaviour for their younger peers.
"But it's good for them too. It gives them an insight into what it's like for these children," Don says.
The programme is open to everyone at the school and parents can come along and join if they want. Most importantly, the club runs every school day. It's this that sets it apart from other breakfast programmes, Don says.
"The good thing about this programme is it's consistent. All the time, it's here."
A few minutes before the school bell, a couple of latecomers straggle into the hall. The toast has all been eaten, but Don offers them some of the porridge left in the pot or a bowl of weetbix. The children look heartbroken. After a bit of cajoling, he finds a few more slices of bread to put into the toaster for them.
As they run to class with their toast, Ray and Don continue with the dishes.
"We do a bit of everything here — washing dishes, doing up shoes, blowing noses," Don smiles. "The good thing is they know we're here."