Meals on Wheels volunteering runs through generations
28 August 2023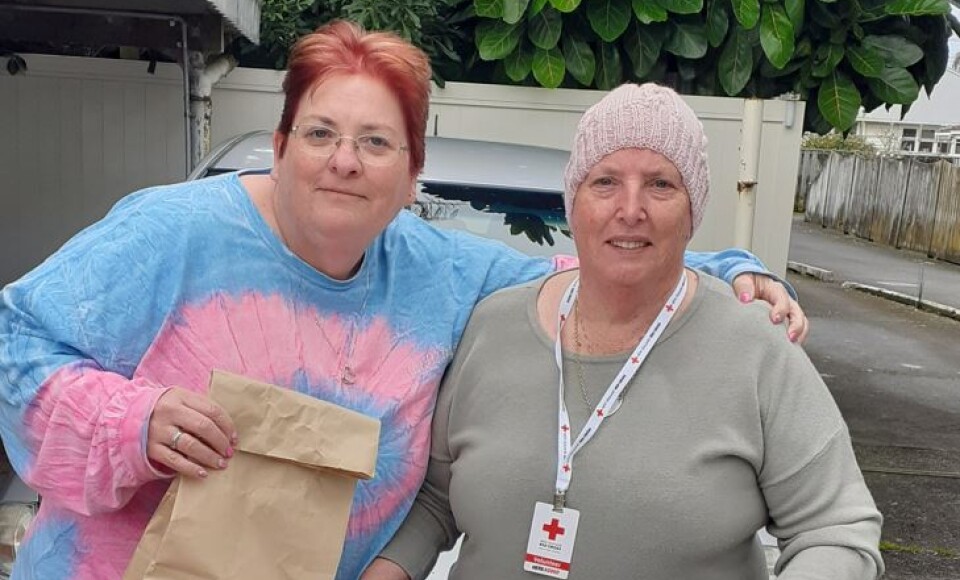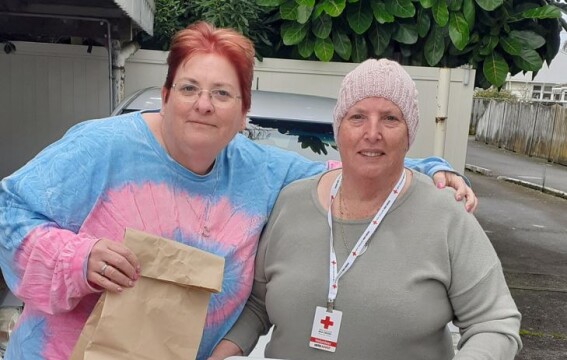 Delivering Meals on Wheels is in Kay and her daughter Karan's DNA.
They both live in West Auckland, where Karan works full time as an administrator and is a relief Meals on Wheels driver for Avondale, while mum Kay is a regular driver there and also in Grey Lynn – closer to the city centre.
Kay and Karan are among the 3,000 volunteers with New Zealand Red Cross who deliver hot meals to people unable to cook for themselves. Across the country, volunteers deliver around 13,600 meals every week — over 700,000 meals a year.
Karan, now in her early fifties, says as a five-year-old she used to go with her mum on her delivery runs when they lived in Kawakawa in Northland. "Mum used to get me to knock on the doors and say, 'Lunch is here!'
When the family moved to Auckland Kay, a former telephonist, continued volunteering for Meals on Wheels in her new city. She remembers her eldest granddaughter was two at the time and she must also have caught the bug then. "She's now 23 and when she returns to New Zealand, she also wants to become a driver."
Karan says, "It's in my blood." She started driving a few years ago when she filled in for her mother while she was away. She became more involved during the Covid-19 lock down when there were driver shortages due to older volunteer drivers taking time away during the pandemic.
"I'm one of the younger drivers and was able to help out. I was doing four to five runs a week during Covid. There was no one else available and people needed to be fed and be checked," she says. "I got my husband to help just to get him out of the house — he would drive, and I'd deliver to the door. My husband also worked out a better order of delivery for one run which also saved time."
Karan and Kay often do deliveries together when they can. "I do this because people did this for my nana – and I need the practice for when mum gets older!" laughs Karan.
Kay is a Meals on Wheels volunteer team leader in West Auckland. She's rostered on once a fortnight but often fills in when someone is off sick or when a new driver is getting to know the ropes.
More than just a meal service
Karen Clare, Red Cross' Meals on Wheels Coordinator for Central and West Auckland, says the service is more than food delivery. "We provide a regular friendly face and an opportunity for someone to check that everything is okay."
"It's a way of giving back and maybe someone will deliver meals to me one day. It's a quick and easy way to help out in your local community. Many people live on their own and have no family support," Karan says. Her mother agrees, "People are busy working and not around during the day and we don't get to know our neighbours much anymore. I've lived in Auckland for 40 years and it was only through delivering Meals on Wheels that I met my neighbour over the back fence."
Volunteer drivers needed in Auckland
Kay's been busy lately doing several runs a week. She says there are often shortages over the winter due to flu or people being away. South Auckland, Central Auckland and Waiheke Island in particular are short of drivers at the moment.

Karen Clare says she's always keen to hear from people interested in becoming a volunteer driver, and Red Cross can be flexible about how they work. "Recently I had an enquiry from someone who works in the creative industry who has free time between contracts, and now they're on our books for West Auckland runs. We are very grateful to people offering their support when they can."

And what prompts people to volunteer for Meals on Wheels? Karen says, "It's often a family connection. For example, one Auckland-based volunteer is a health worker. She signed up because her grandfather received meals and she saw the benefits for him. Other people like Kay and Karan, it runs in the family — a relative volunteered and other members of the family follow in their footsteps."
Karan and Kay both agree they've met some lovely people over the years they've been volunteer drivers and it's a great way to help people in your local area.

Kay says "I'd say to anyone, if you want to give back to your community and get enjoyment – become a Meals on Wheels volunteer. The look on people's faces when you turn up with a smile and the meal is really something. There's time pressure to complete our run but we also always try to chat for a few minutes to those who really want to talk."
For more information
If you are interested in becoming a Meals on Wheels volunteer, you can apply online at redcross.org.nz/volunteermealsonwheelsdriver or call our contact centre on 0800 RED CROSS (0800 733 27677).

To volunteer you will need:
a vehicle with valid registration and warrant of fitness
a valid full driver's licence
two referees for character checks
the ability to complete a NZ Police Vetting check.
If you'd like more information about Meals on Wheels and how New Zealand Red Cross supports the service, find out more below.
Get Meals on Wheels | New Zealand Red Cross
Lead photo: Kay and her daughter Karan, Meals on Wheels volunteers.