One Voice amplified by funding support
25 May 2023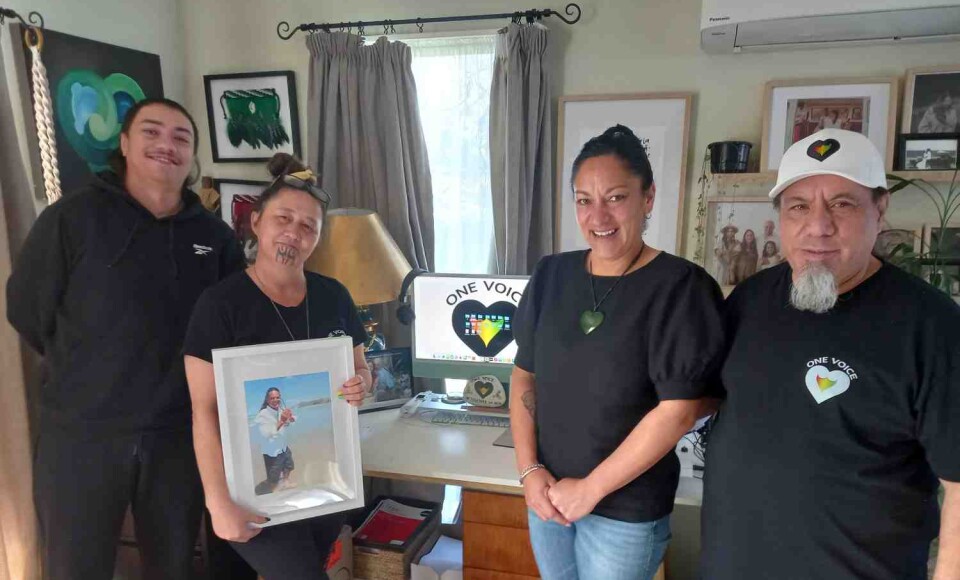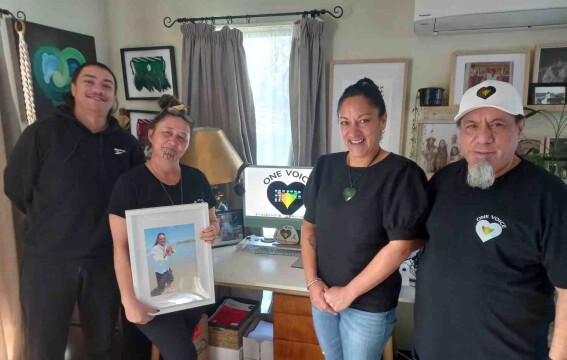 When you first set foot in Lynsey Abbott's Flaxmere home, it's obvious straight away that whānau | family is everything.
Pictures of tipuna | ancestors sit alongside more recent family photos. Even the family's overly affectionate one-eyed cat, curious at the arrival of another new visitor, has a framed picture on the shelf.
Whānau is paramount to Lynsey. And if you spend any amount of time with her, you soon realise that to her, everyone is whānau.
The New Zealand Disaster Fund has provided a grant of $50,000 to Lynsey's organisation, One Voice Charitable Trust, to support their ongoing work helping those affected by Cyclone Gabrielle in Hawke's Bay.
From their base at Lynsey's Flaxmere home, a team of dedicated helpers coordinate support to those who need it. Before starting to tell her story, we all come together for a karakia (prayer) for those that continue to struggle.
Adapting in the early days
"I got a call at 5am the morning of the cyclone to ask if I could set up Te Aranga Marae (in Flaxmere)," Lynsey explains. "We had 56 people at the marae, and we also helped set up at the Cook Islands Community Hall, Flaxmere Community Centre and a local church."
Lynsey didn't know the full extent of the damage in those early stages but along with the One Voice team, set out to provide people with food, blankets and clothing. As time went on, the need for a fast response became clear.
Lynsey's team began giving out supermarket vouchers for groceries, as well as vouchers for petrol and hardware so that people could buy tools and fuel the machinery needed to clean up their properties. "Along with Hawke's Bay Toy Drive, One Voice has been supporting people in Napier, Omāhu, Waiohiki, Esk Valley, Pakowhai, Pātoka, Tangoio, Puketapu, Rissington, and Te Hāroto."
Working in community with others
One Voice is also helping other charitable causes to deliver support. Community hero Neela Neela is making hundreds of meals a day – over a thousand on Tuesdays and Fridays – and giving them for free to those in need. One Voice has been supporting Neela with vouchers to cover the costs of food.
Nancye Rewi's nieces and nephews lost everything in the flooding. She took them to buy some toys, so they could have something of their own. One Voice has been supporting Nancye's mahi | work – and the work of others – by providing funding for essential items.
"The look of joy on their face was something I wanted every kid to have," Nancye says. "I've been operating a Facebook page for the Hawke's Bay Toy Drive, to help children with nothing have something. We have been giving them school packs, clothing, toiletries, and toys."
Nancye turned her own home into a playcentre, so parents would be able to drop their children off and focus on cleaning up properties and communities. With clean up now underway, Nancye is hoping to focus on the unseen damage from the cyclone – mental wellbeing amongst the tamariki | children.
"It's not fair what people are going through. We are working to help them cope with the emotional side of things through play."
Helping people deal with grief
Lynsey's story is just as harrowing, if for different reasons. One week before Cyclone Gabrielle, Lynsey was saying goodbye to her husband, Haira, who sadly passed away. Throwing herself into her work at One Voice has provided Lynsey the opportunity to work directly with those who are dealing with their own grief.
"I had one whaea | aunty from Pakowhai come in who had lost everything. Her son, daughter-in-law, and their children had lost everything as well. Three generations, all left with nothing.
Lynsey is grateful for the support of New Zealand Red Cross and the New Zealand Disaster Fund because, as she says, "The moment the money comes in, it goes straight back out again". She shows off a giant box of receipts, and is able to account for every cent donated to the Trust.
In normal times, One Voice serves a very different purpose. Since One Voice was founded 10 years ago, Lynsey has supported victims of sexual abuse, drug addiction and runs a grief support group. Having lost her son a decade ago, Lynsey finds comfort in helping others to share their grief.
But for now, the community needs One Voice's support in other ways. They have visited most parts of Hawke's Bay, and with the road between Napier and Wairoa now open, they hope to travel there soon as well.
We say a karakia to close our meeting, and the One Voice team gets stuck straight back in.
"Our whānau have a big journey ahead of them. Even through our own grief, our interest is in the pain and grief other people are going through," Lynsey says.
Learn more
The New Zealand Disaster Fund helps us to support communities to respond to, recover from, and prepare for disasters and emergencies in Aotearoa New Zealand. 
If you want to stay up-to-date on how the New Zealand Disaster Fund is making a difference you can register for email updates. 
Sign up for regular updates about the New Zealand Disaster Fund (redcross.org.nz) 
Practical support and information to help you care for yourself and others after the recent flooding and Cyclone Gabrielle. 
Caring for yourself and others after an emergency or disaster 
Volunteer with us 
We can't do our work without the thousands of Kiwis from all corners of Aotearoa New Zealand who give their time and energy to volunteer.   
We're always on the lookout for dedicated people to join us in our humanitarian work. Join over 8,000 other humanitarians in New Zealand and volunteer today.
Find a volunteer role near you 
Support our work 
Our emergency management work is funded through the generosity of donors. 
Donate to New Zealand Disaster Fund
Related stories