Samoa measles outbreak, one year on
26 November 2020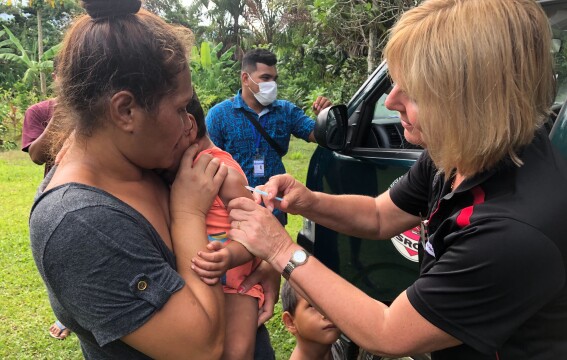 A year on from the devastating measles outbreak which affected Samoa in 2019, we're looking at how New Zealand Red Cross extended its support to the people during this unprecedented emergency.
On 15 November 2019, the Samoan Government declared a state of emergency in response to the devastating measles outbreak affecting the country. Over a period of two and a half months, more than 5,600 cases were reported in a population of less than 200,000. A total of 83 people – mostly children under five years old – had lost their lives to this highly contagious disease.
As the severity of the situation increased and local resources became stretched, New Zealand Red Cross immediately extended its support by deploying 12 of our experienced international health delegates to assist Samoa Red Cross and local agencies in hospitals and vaccination clinics.
"I came across a lot of sick children, but there was this six-year-old kid who stood out. He was so ill," one of our New Zealand Red Cross' health delegates who provided support in a paediatric isolation ward, Leina Isno shares.
"He was distressed like many others with the virus, and he had no appetite. Simple measures, such as encouraging the parents to give small portions of food, like yoghurt or an ice block, really helped the child get proper nourishment and hydration. I found it very reassuring to see the progress and improvement in the child's health," she adds.
New Zealand Red Cross health delegates also played an integral role in the mass vaccination campaign, which raised the level of vaccination in Samoa from 40 per cent to 95 per cent of the eligible population. The international delegates administered vaccinations in local hospitals as well as in mobile vaccination clinics that travelled around Upolo, the most populated island in Samoa.
Andrea Chapman, another health delegate, recalls, "I think I personally vaccinated around 2,000 people. It was huge. I was doing 200 to 300 [vaccinations] a day. We would work with the people in the community to find out if there were rural areas where people couldn't come and we would go out and vaccinate."
Aside from assisting in local hospitals and administering vaccinations in the community, another integral role played by some of our Kiwi delegates is providing Psychological First Aid (PFA) training to Samoa Red Cross volunteers who have been responding to the outbreak. This is to help build local capacity to provide initial emotional and practical support to people who have experienced a distressful event – such as the unprecedented emergency that affected a lot of Samoans.
A total of 36 Samoa Red Cross volunteers completed the comprehensive PFA training that we've provided within the duration of this response.
New Zealand Red Cross' work in in the Pacific and beyond
New Zealand Red Cross has a long history of working closely with Red Cross National Societies in the Pacific – including Samoa – through capacity building, knowledge sharing, pre-positioning of relief items and disaster response activities. Through our international development work, we support many Pacific Red Cross Societies before, during and after disasters strike.
If you're keen to support New Zealand Red Cross' work, here in Aotearoa New Zealand and around the world, donate now.