Staying with communities through long-term recovery
18 September 2023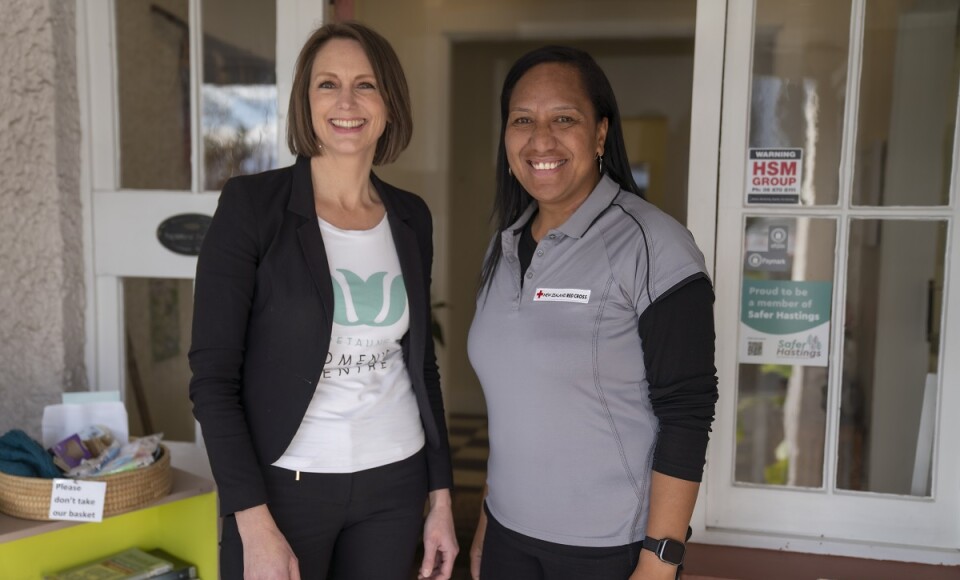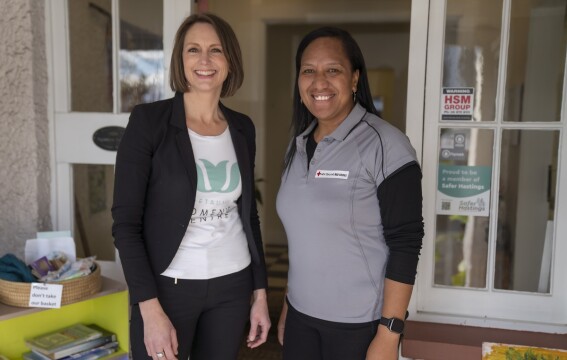 Update 13: New Zealand Disaster Fund
We continue to work closely with communities as they journey through their longer-term recovery. Read about our support for individual grant programmes, grants for mental health initiatives and how we're helping people move home with the Red Cross Home Bundles programme.
The New Zealand Disaster Fund has now committed more than $22 million to helping people and communities affected by Cyclone Gabrielle and other severe weather events earlier this year. The entire Fund will be committed by the one-year anniversary of the cyclone in February.
View the New Zealand Disaster Fund Six-Month Report - Feb to Aug 2023 (PDF, 5MB)
Helping people back on their feet through individual grants
Five million dollars from the New Zealand Disaster Fund has been granted to local authorities providing hardship grants to individuals and families across affected communities. After a disaster, the unexpected and immediate costs of replacing belongings, paying for temporary accommodation, and clearing up and repairing properties can be difficult to cover. Many people need cash support to help them get through.
Supporting households in Hawke's Bay
The New Zealand Disaster Fund has contributed a total of $3 million to the Hawke's Bay Disaster Relief Trust*. This was part of more than $8.5 million distributed by the Trust to help nearly 4,600 cyclone-affected households in the region.
Waiohiki residents Mischelle and Kim Tyler lost most of their belongings, their home and business on the night of Cyclone Gabrielle when their property next to the Tutaekuri River was flooded. Like many, they had to flee in the dark, taking with them their dog Brian and the family next door. Mischelle and Kim have been working hard to get things cleaned up and get back on their feet, with the help of family, spiritual friends and others in their community. They have also received help from a grant from the Hawke's Bay Disaster Relief Trust.
Mischelle says some of the grant has been used to help restore access to their property, but there's still much to do. "We have to replace our water well, get rid of more silt, and just make our place liveable again, and this grant will really help."
"We'd like to thank those who have supported us, including those who kindly donated to Red Cross. It's been a tough time for so many but it's also been a time of community togetherness and we've been overwhelmed at the generosity and hard effort we've witnessed from people and organisations from all over the country."
Murray Porteous and his family woke at 5:30am on the morning of the cyclone to water "crashing through the garage doors." His house and land on his lifestyle block near Puketapu were flooded. The family were safe upstairs, but when the water receded, they saw not only the lower level of their home had been inundated with water and silt, but the rest of their property was in ruins. "All the fences, trees and treelines had been wrecked, our regenerated wetland was gone, about a metre of silt covered our paddock and there was wood debris piled up three metres high along the tree lines."
Murray received a grant from the Hawke's Bay Disaster Relief Fund, which has helped him rebuild the 2.5km of fences he lost in the flood and dig out ditches to get his property back to "some semblance of normal."
"What has amazed me the most in all this has been the help people have offered. It might be people fronting up at the gate in their gumboots asking 'how can I help?', to people at the other end of the country donating to Red Cross — it all makes a big difference."
Hawke's Bay Regional Council Group Manager Susie Young says there are so many stories like Mischelle's and Murray's where owners of properties destroyed in the cyclone have received some welcome help from Trust grants. "We were so pleased Red Cross was able to provide such a boost to our fund which I have seen first-hand is really easing some of the burden in our region."
New relief fund for Auckland
Auckland Council are soon to open a Community Relief Fund through their Recovery Office. This fund will provide hardship grants to households that suffered damage in the flooding or slips during the extreme rains earlier this year.
Through the New Zealand Disaster Fund, Red Cross has provided a grant of $2 million toward the Recovery Office's non-contestable discretionary fund. These funds will be used to provide grants to individuals, couples and families who have exhausted all other avenues of funding and are experiencing hardship as a result of the damaging weather events.
More than 2,800 homes were red or yellow stickered in Auckland and many people have still not been able to return home, or find a new permanent home. Group Community and Social Recovery Lead Linda Greenalgh says the need in Auckland is still great and the fund will provide financial assistance on a one-off basis where real need can be shown: "We are incredibly grateful for the support from Red Cross and their donors that will enable whānau most disadvantaged by the storm events to access immediate support."
*The Hawke's Bay Disaster Relief Trust is a collaboration between the Hastings, Wairoa and Central Hawkes Bay Districts Councils, Napier City Council and the Hawke's Bay Regional Council.
Counselling after the cyclone
When most people think about the damage caused by disasters like Cyclone Gabrielle, dramatic images of flooded homes, washed-out bridges, and vehicles swept off the road might come to mind. But one of the most challenging parts of community recovery is much harder to see: the immense toll that disasters take on people's mental health.
One of the New Zealand Disaster Fund's major priorities has been supporting mental wellbeing after the cyclone and other severe weather events in early 2023. One of the ways we have done this is by providing more than $1.8 million in grants to organisations providing mental health services and running community-based mental health programmes in affected areas.
The Heretaunga Women's Centre in Hawke's Bay is one of the groups that received Disaster Fund support. Day-to-day, the centre advocates for the wellbeing and empowerment of women by providing a range of support services, including counselling. "Since Cyclone Gabrielle hit the region, we've seen real increase in demand," says manager Amanda Meynell.
She says this increased need for support has come from women who have been significantly impacted by the cyclone. "They've lost homes and lost possessions. Then we've had other women who prior to the cyclone were already managing complexities and challenges in their lives. The cyclone was the tipping point — the catalyst that then made things unmanageable."
A $53,000 grant from the Disaster Fund has helped the Heretaunga Women's Centre provide counselling services to women affected by the cyclone. Amanda says that for many households the financial pressures of recovery have been immense. "We are really aware that financial stress is really significant in the community at the moment. The New Zealand Disaster Fund is allowing us to be able to provide this counselling free of charge, which takes away another barrier to women accessing support when they really need it."
Red Cross Home Bundles helping households settle in this spring
A toaster and bubbling kettle at breakfast time. A welcoming couch for a family movie evening after a long day. A cozy bed to slide into at night.
Families take time to build up these items that help make a house a home, and many lost everything in Cyclone Gabrielle and the severe weather events in January and February this year.
This spring an increasing number of people affected by these events are returning to their repaired homes or moving on to other permanent accommodation. The Red Cross Home Bundles programme is helping those most in need replace furniture and other damaged household basics like whiteware, kitchenware, bedding, and heaters.
We're now working with 11 local partners such as council welfare teams and community and iwi organisations across Auckland, Hawke's Bay, and Tairāwhiti Gisborne. These partners are using their deep connections and knowledge of their communities' needs to refer eligible households to the programme, which is available to the most vulnerable households.
The Red Cross Home Bundles programme is now underway in Auckland and some affected areas in Hawke's Bay and Tairāwhiti. Overall, we've committed $6.3 million from the New Zealand Disaster Fund for Home Bundles.
Rebuilding or resettling after an event like Cyclone Gabrielle is a long process. Most affected households are working through myriad complexities including land categorisation and construction work, so it may be months until some eligible families are ready to move in and receive their Home Bundle. For some, this may not be until next year, but the funds have been committed and we will be there, waiting to help when they are ready.
New Zealand Disaster Fund closure
The New Zealand Disaster Fund is closed to new donations. A huge thank you to everyone who gave so generously to the Fund. Your support has made our work possible and is making an immense difference for communities affected by the cyclone and severe weather events.
People can still support our ongoing emergency management work across Aotearoa by donating to our Where the Need is Greatest fund.
By the numbers  
The New Zealand Disaster Fund is being allocated across three programmes of work: 
The Response and Recovery Programme supported our immediate emergency response on the ground and is now helping communities recover by providing goods, services, and people. At this stage, approximately $7.3 million has been committed to this programme, including approximately $6.3 million for Home Bundles.  
The Partnership Grants Programme provides grants to community organisations supporting community response and recovery. At this stage, approximately $14.7 million has been committed to this programme. 
The Resilience Investment Programme will be focused on helping ensure communities are better prepared and supported in the event of another disaster. At this stage, approximately $350,000 has been committed in this programme.  
The amounts budgeted for each programme may go up or down as needs change. 
Total committed funds across all programmes: $22.3 million 
Total donations: $27.5 million 
Interest earned: $489,000
Note: Figures provided are as accurate as possible as at 11 September. Figures may change slightly in our annual reporting as we complete our audit process. 
Partnership Grants Programme 
This programme distributes grants to community organisations that are helping those affected. Supporting these organisations helps make sure response and recovery work is community-led and meets local needs. 
Total approximate spent or committed: $14.7 million  
Number of grants made: 166 
See the full list of entities we have supported
Response and Recovery Programme 
This programme supported our immediate emergency response on the ground and is helping communities recover by providing goods, services, and people. It is now focused on rolling out Red Cross Home Bundles.  
Total approximate spent or committed: $7.3 million   
Red Cross Home Bundles programme: Supplying new basic furnishings and household items to eligible households in need identified by our delivery partners. The programme is underway in Tāmaki Makaurau Auckland and some affected areas in Hawke's Bay and Tairāwhiti. It will be rolled out to more households in the coming weeks, but will take months to complete as people wait to move back into their homes.
Red Cross response: Disaster Welfare and Support Team travel and equipment to support local Civil Defence Emergency Management Group requirements. Provision of Psychological First Aid training to 864 people in 71 courses.
Equipment: Includes generators, dehumidifiers, clean-up kits, first aid kits and other items relating to emergency accommodation and other community needs.
See a breakdown of our spending under the Response and Recovery programme to date 
Resilience Investment Programme 
This programme provides funding to help ensure communities are better prepared and supported in future emergencies and disasters as the impacts of climate change grow. 
Total approximate spent or committed: $350,000
The next update will be published in mid-November.
Learn more
We've been around for more than 100 years. As the impacts of climate change increase the frequency and severity of weather-related emergencies across the country, we'll keep being here.
The New Zealand Disaster Fund helps us to support communities to respond to, recover from, and prepare for disasters and emergencies in Aotearoa New Zealand.
If you want to stay up-to-date on how the New Zealand Disaster Fund is making a difference you can register for email updates.
Sign up for regular updates about the New Zealand Disaster Fund (redcross.org.nz)
Practical support and information to help you care for yourself and others after the recent flooding and Cyclone Gabrielle.
Caring for yourself and others after an emergency or disaster
Volunteer with us
We can't do our work without the thousands of Kiwis from all corners of Aotearoa New Zealand who give their time and energy to volunteer.
We're always on the lookout for dedicated people to join us in our humanitarian work. Join over 8,000 other humanitarians in New Zealand and volunteer today.
Find a volunteer role near you
Red Cross in your community
New Zealand Red Cross is part of your community. We have 16 offices around New Zealand including our head office in Wellington. You can join your local branch, group in over 40 cities and towns around New Zealand, or shop at one of our 50 retail stores.
New Zealand Red Cross has 15 'areas' across the country. Each area has its own area council, which is elected by the local Red Cross members.
There are nearly 50 branches of New Zealand Red Cross around the country. Branches have a hands-on local-community focus, and are run by volunteers.
Find out more about what we do in New Zealand
Support our work
Our emergency management work is funded through the generosity of donors.
Donate to New Zealand Disaster Fund
Related stories