Supporting community-led recovery
5 May 2023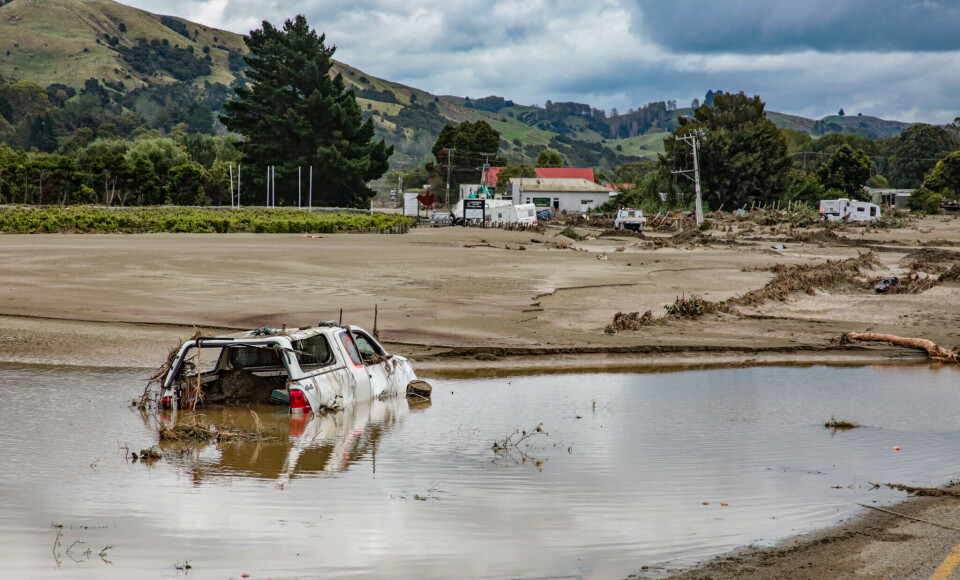 Fortnightly update 5: New Zealand Disaster Fund
How we're helping
Helping

Puketapu

families get back on their feet
When the Tutaekuri river burst its banks in February, the Puketapu community and surrounding rural areas, including Rissington, Omaranui, Waihau, Dartmoor, Puketitiri and Patoka were severely affected.
Our grant of $100,000 will support the work of the Puketapu School Parent League to help their community get back on its feet.
"Many families have lost everything – including their homes and businesses. Farmers in the community have experienced significant damage – large slips creating significant damage, huge amounts of fencing have been wiped out, not to mention the stock that has been lost." Katrina Horrocks, Parent League member.
Families have had to relocate to temporary accommodation, with only a few donated household items. The Puketapu School Parent League set up a committee within a couple of days of the cyclone. They have been helping families to get back on their feet again, through clothing, furniture, appliances and financial assistance for utility bills and food.
"The financial assistance that the Red Cross is giving our League, is helping to fill the gaps for what donated goods and services haven't been able to extend to." says Katrina Horrocks.
Spreading kindness with the Kindness Collective
The Kindness Collective have received $100,000 to support their work within communities affected by the Auckland flooding and Cyclone Gabrielle.
Their work includes distributing winter clothing, food and toiletries, whiteware, baby essentials such as car seats, nappies and prams that were damaged, school supplies and uniforms for families that need it.
Helping volunteers and community hubs across Hawke's Bay
We've awarded $50,000 to One Voice Community Services Trust to support volunteers and community hubs with clean up supplies.
"The funding we've received is 100% going towards the clean-up programme. We're going around all of the community hubs across Hawke's Bay to provide vouchers to help them through the clean-up process." Lynsey Abbott, One Voice Community Services Trust.
Vouchers will go towards food, clothing, bedding, petrol, clean up gear and food.
"They're over the moon, very cheerful." says Lynsey Abbott.
Practical and emotional support after a traumatic event like Cyclone Gabrielle
As part of our commitment to response and recovery, our Psychological First Aid advisor has been providing training and support throughout badly affected areas.
Cyclone Gabrielle and the severe weather events earlier this year were traumatic events, and these courses offer a best practice approach to providing initial emotional and practical support for communities.
Over the last week, our Psychological First Aid (PFA) advisor has been working with local iwi to provide courses in Gisborne, Tologa Bay and Hicks Bay. "It was a fantastic weekend of PFA training in Gisborne and Tologa Bay. Such strong and empowered Aunties and open and willing learners" New Zealand Red Cross PFA Advisor.
Learn more about the importance of Psychological First Aid after a disaster
Hastings getting prepared
Hastings District Council has received a grant of more than $339,000 to kit out two Civil Defence Centres with equipment so they can provide shelter for up to 600 people in the event of an emergency.
Council identified an immediate need to have resources to support the stand-up of two Civil Defence Centres, at Hastings Sports Centre and Flaxmere Community Centre.
"With climate change there is an increasing likelihood of events such as Cyclone Gabrielle and it's important that we take the lessons and knowledge from this event and make good decisions for the future. My thanks to New Zealand Red Cross for accepting our request for this assistance." Hastings Mayor, Sandra Hazlehurst.
By the numbers
Total committed funds: Approximately $4.2m
Total donations: $24m
---
Partnership grants Programme

Using support and enable grants to fund organisations who can make an impact supporting affected communities.

Entities supported this fortnight include:
Kindness Collective (supplies and support for affected families) $100,000
One Voice Community Services Trust (clean-up support) $50,000
Esk Valley Community Hub (second grant for temporary accommodation) $93,100

Entities supported so far include:

Hawke's Bay Disaster Relief Trust (support for red and yellow stickered properties and wellbeing) $1,000,000
Buttabean Motivation (food parcels) $100,000
Ngāti Pārau Trust, Hawke's Bay $70,000
Esk Valley Community Hub $44,870
Wider Piha Community $39,000
Wairoa Liveable Homes Fund Support $1,108,900
Tairawhiti Multicultural Council $37,000
Radio Hawke's Bay $5,000
Ngaa Hapu Hauora o Waiariki Discretionary trust $40,000
The Period Place $5,000
Ngā Toi Hawkes Bay $32,000
Puketapu School Parent League $100,000
Hastings District Council $339,000
The Salvation Army $97,000

Total approximate spend $3.18m

Community Support Grants approved: 7

Community Enable Grants approved: 10 grants


Total Grant Applications Recieved: 114

Response and recovery Programme

People trained in Psychological First Aid: 345 people in 24 courses.

Deployment: Travel and equipment for Disaster Welfare and Support Team members, to support local Civil Defence Emergency Management Group requirements.

Equipment: Includes generators, first aid kits and other items relating to emergency accommodation and other immediate community needs.



Entities supported so far include:

Te Karaka Household Bundles pilot $300,000

Total approximate spend $1.02m
Investment Programme
Preparing communities for future disasters and emergencies. This includes activities like community resilience workshops
Total spend $ -
Learn more
We've been around for nearly 100 years. As the impacts of climate change increase the frequency and severity of weather-related emergencies across the country, we'll keep being here.
The New Zealand Disaster Fund helps us to support communities to respond to, recover from, and prepare for disasters and emergencies in Aotearoa New Zealand.
If you want to stay up-to-date on how the New Zealand Disaster Fund is making a difference you can register for email updates.
Sign up for regular updates about the New Zealand Disaster Fund (redcross.org.nz)
Practical support and information to help you care for yourself and others after the recent flooding and Cyclone Gabrielle.
Caring for yourself and others after an emergency or disaster
Volunteer with us
We can't do our work without the thousands of Kiwis from all corners of Aotearoa New Zealand who give their time and energy to volunteer.
We're always on the lookout for dedicated people to join us in our humanitarian work. Join over 8,000 other humanitarians in New Zealand and volunteer today
Find a volunteer role near you
Red Cross in your community
New Zealand Red Cross is part of your community. We have 16 offices around New Zealand including our head office in Wellington. You can join your local branch, group in over 40 cities and towns around New Zealand, or shop at one of our 50 retail stores.
New Zealand Red Cross has 15 'areas' across the country. Each area has its own area council, which is elected by the local Red Cross members.
There are nearly 50 branches of New Zealand Red Cross around the country. Branches have a hands-on local-community focus, and are run by volunteers.
Find out more about what we do in New Zealand
Support our work
Our emergency management work is funded through the generosity of donors.
Donate to New Zealand Disaster Fund
Related stories