University of Auckland wins 2022 IHL Moot
9 December 2022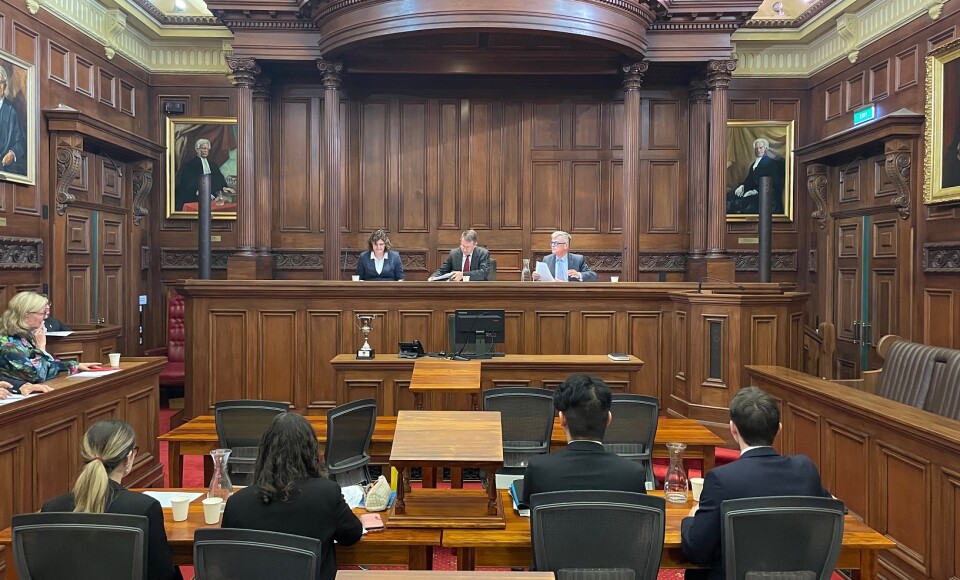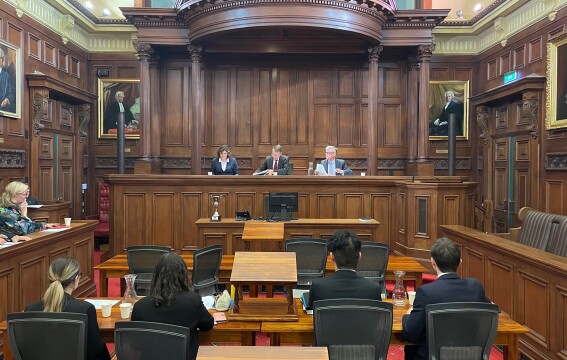 How would you argue for International Humanitarian Law, if you had to prosecute or defend a Head of State accused of the deaths of 175 civilians and peacekeepers?
A fictional case, real issues: conflict generated from oil exploration resulted in a massacre in Momaayo, took 175 lives of civilians and peacekeepers, destroyed more than 25000 native Baobab trees, and killed thousands of rare and endangered species. But who should be accountable for those killings, the president of the nation who mobilised troops or the military personnel in the field? With respect to the damage to the environment, did it even meet the definition of a crime?
Future lawyers from across New Zealand participated in the heated debate around these hypothetical questions on Saturday, 03 December 2022 at Old High Court, Wellington.

Every year, the Old High Court in Wellington is opened on a Saturday afternoon for a war crimes trial with a twist. The case and scenario are fictional, the lawyers are students, but the judges are real.
Law students from three New Zealand universities were arguing in an International Humanitarian Law (IHL) Moot competition on fictional war crime that has real-world implications. The mock trial is a good example of what IHL is, and how it can work, to uphold protections for innocent people, animals, and the environment.

Oscar Read, Andrew Fu and Isabella Wensley from the University of Auckland won this national IHL Moot competition. They now have the chance to head to Hong Kong for the Asia Pacific Regional IHL Moot.
This year, participating teams were given a fictional war between The Kingdom of Momaayo' and the 'Republic of Kissaka' focusing on environmental damage and the killing of civilians and United Nations (UN) peacekeepers. The participating students presented their arguments as prosecution and defence in front of the real judges: Bill Hastings – District Court Judge, Kevin Riordan – Judge Advocate General and Leishia Pettigrew – General Counsel and Head of Legal, Corporate and Finance, ACC.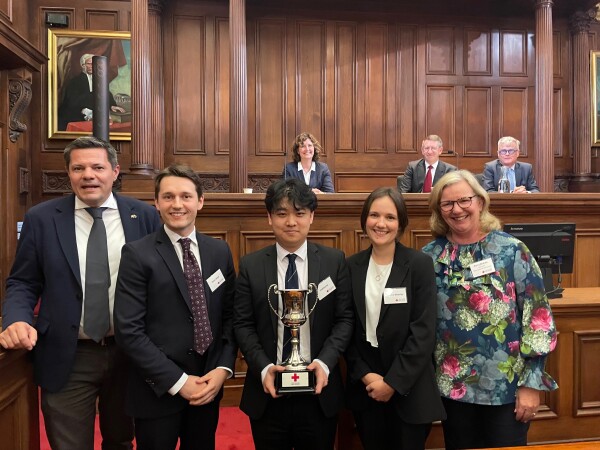 New Zealand Red Cross National President Kerry Nickels and His Excellency Viktor Vavricka Ambassador from Switzerland awarded the cup to the moot winners.
This year law students from Otago, Victoria, and the University of Auckland participated.

The annual moot competition gives law students the opportunity to apply their knowledge of international humanitarian law to fictional cases based on realistic studies of modern warfare. Facilitated by the New Zealand Red Cross and The International Committee of the Red Cross (ICRC), students are further able to promote the spirit of humanity and learn about the role of the Red Cross Red Crescent Movement.
For more information