About volunteering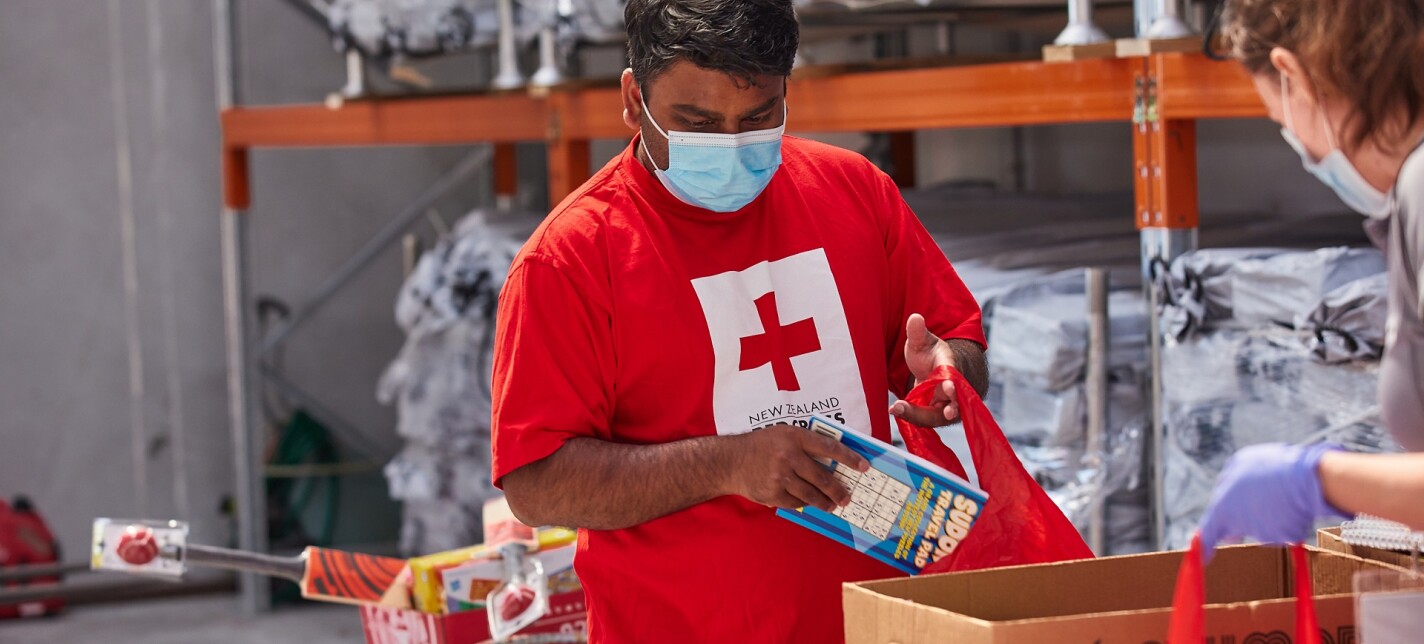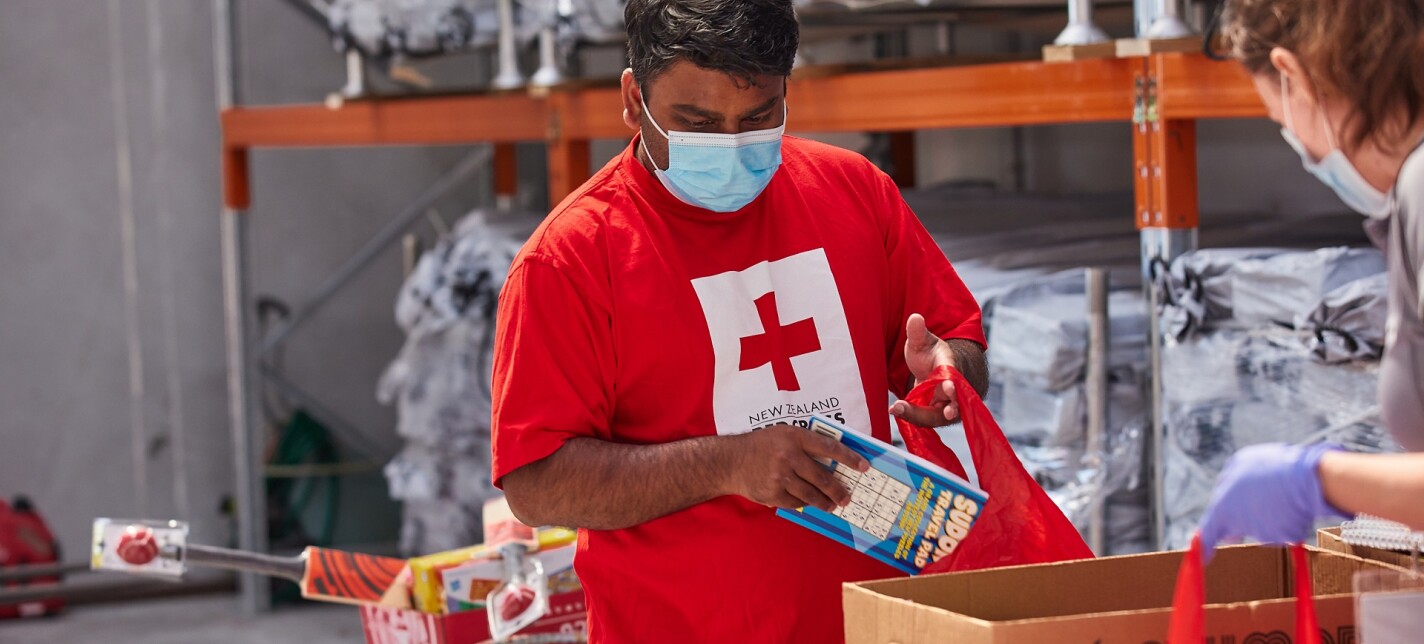 When you volunteer for Red Cross, you're becoming a member of an internationally recognised movement for good. Find out about volunteering for New Zealand Red Cross, what you can do and why it's good for you too.
We can't do our work without the thousands of Kiwis from all corners of Aotearoa New Zealand who give their time and energy to volunteer.
We're always on the lookout for dedicated people to join us in our humanitarian work.
Our mission at New Zealand Red Cross is to improve the lives of vulnerable people by mobilising the power of humanity and enhancing community resilience. Voluntary service—helping others without desire for personal gain — is one of our Fundamental Principles guiding everything we do.
Many ways to do good
Our work is diverse, so we have a wide range of volunteer opportunities for you to consider. You could volunteer helping to support refugees or join a Disaster Welfare Support Team, or you can work in a Red Cross Shop, be a Meals on Wheels driver, help with our fundraising efforts, support the operations of a Red Cross Branch or Group or help with the many other activities supporting our work around the regions.
While you'll be offering your valuable skills and experience, for many of our volunteer positions you'll also receive training. And in all our roles, you'll be supported by other experienced volunteers or Red Cross staff.
Benefits of volunteering
Giving your time to volunteer not only benefits the vulnerable people you're helping, there are so many benefits for you.
Your volunteer role can:
Help you feel more connected to your community.
Improve your wellbeing and give you a greater sense of purpose.
Provide opportunities to make new friends and contacts.
Give you new work skills and experiences.
Challenge you to get outside your comfort zone and support your personal growth.
Provide training opportunities and improve your job prospects.
Boost your self-esteem.
Many studies have shown that one of the main things that makes people most happy is helping others. Volunteering can be hard work and challenge you, but the rewards can be great.
Joining the Red Cross community
When you apply for any of our volunteer roles, you'll enrol as a member of New Zealand Red Cross at the same time.
Your membership will mean you'll be kept up to date with what's happening at New Zealand Red Cross and you can have a voice in our organisation.
Find out more about membership
Our volunteers are not just members of New Zealand Red Cross, they are part of a global community of 14 million people working to make the world a better, safer and more peaceful place.
Read more about Red Cross volunteers worldwide
Join us and be part of our team of valued volunteers doing great humanitarian work across Aotearoa New Zealand.
Volunteer background checks
To keep everyone safe, we carry out background checks on our volunteers for many of our roles. Some roles require a Ministry of Justice criminal record check, and for roles in support services working with vulnerable adults or children and young people, volunteers are police vetted.
Any information passed on to us will be assessed by our vetting panel. Your contact person at New Zealand Red Cross will give you more information about background checks when you apply for a role.
More information about vetting
We don't send volunteers overseas
Immediately after an overseas disaster, we receive a lot of offers from people wanting to volunteer their time and skills to go overseas to help. This might seem like the most logical thing to do, but it isn't the best way to help.
After a disaster, there is a lot of pressure on already-limited resources and infrastructure. Sending volunteers, even if they have useful skills, will add to this pressure.
Instead, we send highly trained experts to help in disaster and conflict situations. Known as 'international delegates', these people are deployed overseas and are trained to ensure they understand complex post-disaster situations, and have the skills needed to work in challenging emergency environments.
Other Red Cross societies often have their own local volunteers in the affected community. They have the advantage of speaking the language and understanding the culture. Our international delegates work closely with these volunteers to provide help where it's needed most.
International Delegate Programme information
Reimagining our volunteering approach
Volunteers have always been critical to the success of our work — but the way people volunteer and what motivates them is changing. To continue to attract and retain a diverse pool of volunteers, we need to adapt and evolve our approach to volunteering.
Reimagining volunteering is a key part of our Strategy 2030. We've done a lot of research and surveyed more than 1,000 people. We're now creating a plan to better serve the needs of volunteers and help them support our humanitarian work.
We've 'reimagined' how volunteering can have a greater impact in our three core service areas — emergency response, migration and refugee support, and international — and in our work in international humanitarian law and how we fundraise.
Reimagining Volunteering Research Report 2021 [PDF]
A new approach
Our focus is on improving people's experience throughout the volunteer journey – from when people first see an opportunity to when they finish in their role.
We're looking at how we can make the journey more meaningful and more flexible, and how we can create better structures and leadership to support our volunteers. We want to reward and recognise their valuable contribution, and to provide more opportunities for growth and skills development. We need a more inclusive and diverse group of volunteers to better serve the people we are helping.
We're working on a plan for how we can achieve these goals, and these will become part of Realising 2030. We've already taken a small step by improving the way people can sign up to become a volunteer online.