From Syria to Aotearoa: The tales of four women who survived the bombs
6 July 2021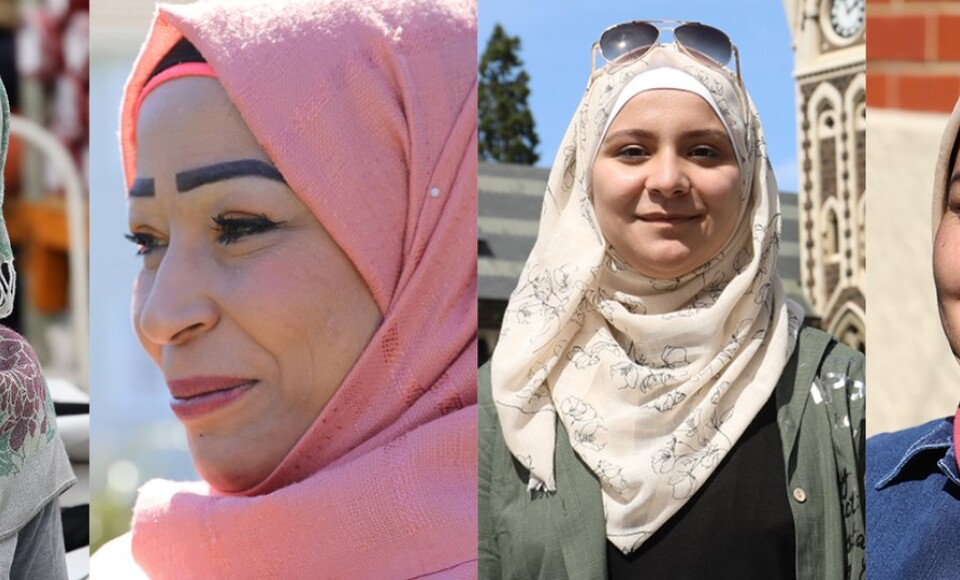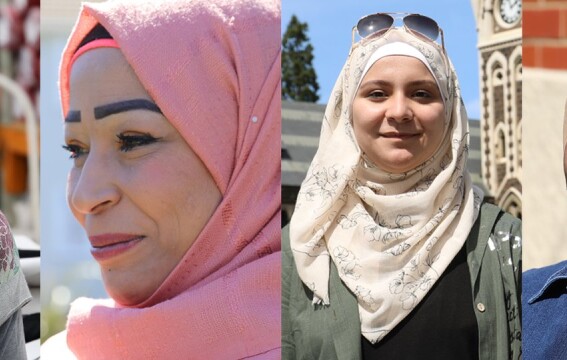 Imagine one day, the walls of your home start shaking, the sounds of our tūī are replaced by those of loud explosions, fresh air changes to the smell of burning and death, and blue skies are hidden behind grey smoke. Imagine Aotearoa is no longer safe. Bullets and bombs have become the new normal. What would you do?
In the last decade, the world has witnessed the highest levels of displacement on record – 80 million forcibly displaced people. More people are fleeing their homes than ever before, even surpassing post-World War II numbers. Behind this staggering figure are ordinary people who have faced extraordinary circumstances. Children, mothers, grandparents – people just like us who had no option other than to flee.
Since March 2011, fighting between state and non-state armed groups in Syria has caused large-scale death and destruction and has triggered more than five million people to flee the bombs and bullets and escape across borders. Millions more have been displaced inside Syria and are still in dire need of assistance. As the war continues, hope is fading.
Ten years after the start of the Syrian conflict, people in Syria are faced with a multitude of crises: continuous hostilities, a complete economic breakdown and the COVID-19 pandemic. Infrastructure across the country is ruined. People are unable to cover their most basic needs because of serious shortages of food, water, fuel and medicines, among other supplies. They are more dependent on aid today than they were five or 10 years ago. Millions of Syrians, who were once self-sufficient, rely on humanitarian assistance and face serious food shortages. The top three priorities expressed by Syrians are access to food and nutrition, livelihood support and shelter support over winter.
Since the beginning of the conflict, our colleagues at the Syrian Arab Red Crescent have been on the frontline of the humanitarian response to this crisis. With support from across the International Red Cross and Red Crescent Movement, Red Crescent volunteers bring aid, medical assistance and care to millions of people, without regard for political affiliation, ethnicity or creed. Risking their own lives, Red Crescent volunteers are delivering 60 per cent of all aid in Syria.
From Syria to Aotearoa
In November 2014, as an increasing number of people were forced to flee Syria, New Zealand started offering sanctuary to Syrian refugees. A special emergency quota was set up for people who had fled the Syrian conflict, in addition to New Zealand's annual Refugee Quota Programme of 750.
In the last seven years, Aotearoa has welcomed thousands of Syrian refugees. It is undeniable that Syrians have made New Zealand a better place – a country that is a little more diverse, skilled, colourful and beautiful than before. Over the years, these new Kiwis have shared their culture, skills, food and work ethic with the rest of Aotearoa.
Thousands of kilometres away from the Syrian conflict, in peaceful Aotearoa, we met with four incredible women who fled the horror of the conflict and were offered a new and peaceful life in Dunedin. They are four different women whose strengths and outlooks on life we can all learn from, and who feel very lucky they are able to be called Kiwis.
Meet Manahel Haroura, Nisrine Zarzar, Rahaf Almabaid and Alia Al Mohamad, four inspiring former refugee wāhine, each with a unique story of survival, courage and determination.
Manahel Haroura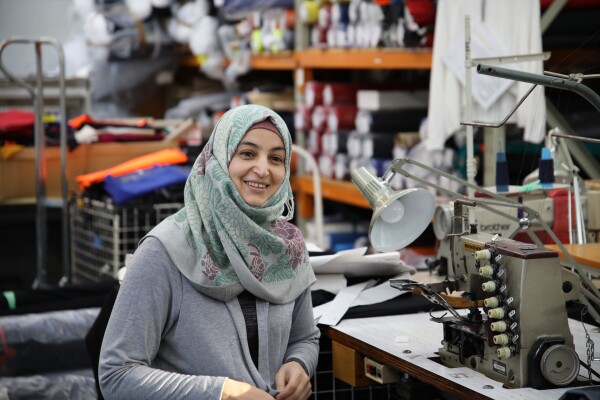 Manahel has the uncanny ability to light up every room she enters. Always. Despite everything she's been through, her positive outlook on life is contagious.
Manahel is a single mother who fled the war in Syria with her three children across the border to Lebanon. Like many others, she doesn't like to recall her experiences and wants to focus on the future – one that she hopes will bring peace and happiness to her family. In 2017, the family was offered resettlement in Dunedin – a new life Manahel has grabbed with both hands.
"It's nice, safe, quiet and with many friendly people. And Dunedin is such a nice city. I'm happy here," says Manahel.
Manahel's tenacity and ambition led her to approach New Zealand Red Cross to help her find employment. Red Cross' Pathways to Employment team in Dunedin introduced Manahel to Earth Sea Sky in Christchurch, which owns Elco Apparel in Dunedin.
The buzz of sewing machines in the Elco Apparel workroom was new to Manahel, but she's become very familiar with the sound since she started training as a machinist. It's a sound she's learned to appreciate – one that reminds her how safe she is in New Zealand, away from the noise of bombs in Syria.
Despite having to learn how to use these machines – alongside a whole new vocabulary specific to sewing – Manahel has picked up the ins and outs of being a machinist very quickly.
"With this job, I feel like I am doing something good in life. And my children are so happy. They came to the workshop and had a very nice time here. They know all the team and the team knows them. Today, my son cried because he wanted to come to the workshop with me," Manahel laughs.
Nisrine Zarzar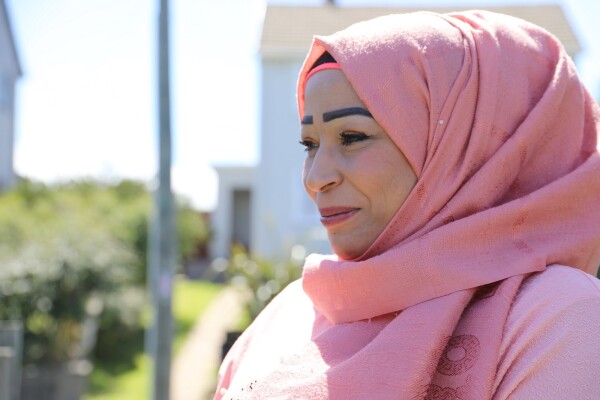 Behind Nisrine Zarzar's beautifully colourcoordinated pink hijab and top, complemented by matching makeup, is a woman with incredible strength and resilience.
Nisrine was six months pregnant with her son, Mohammad, when her cooking was interrupted by the sound of a violent explosion. It was a bomb, which ripped Nisrine's world apart. The blast injured her other son, Kasem, who lost his leg and injured his arm. On that day, Nisrine also lost her husband, two daughters and a son.
Nisrine didn't choose to flee Syria – she had no other option if she wanted to keep Kasem and her unborn child safe. Once Kasem recovered from the injuries caused by the bomb, they crossed the border to Lebanon where she applied through the United Nations for protection under the 1951 Refugee Convention. Because of Kasem's disability, the offer for resettlement in New Zealand came relatively quickly – two years later. Since 2017, the Zarzar family has been living peacefully in Dunedin, a city they love and now call home.
Nisrine is a tenacious woman whose grace, courage and outlook on life is an inspiration to many. She has found a way to rebuild her life, despite the horror she has experienced, and her resilience is something many of us can learn from. For all the other women struggling to make Aotearoa their new home, whatever their circumstance, Nisrine has one message: "Don't give up. The future will cover everything for you. You must work very hard to achieve what you want."
Rahaf Almabaid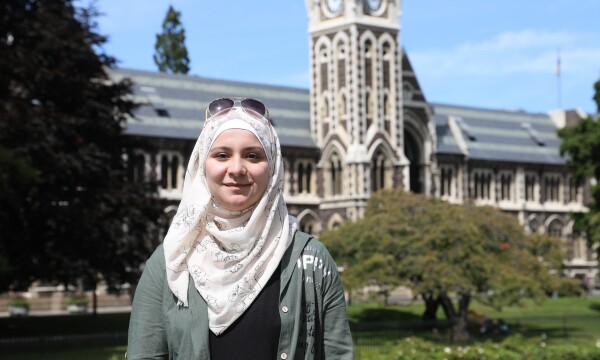 Rahaf Almabaid is a talented writer and student, who will tackle any challenge that comes her way in order to reach her dreams.
From a very young age, she dreamt of going to university. When the war in Syria broke out and her family was forced to flee to Lebanon, Rahaf did not stop pursuing her goals. Even before she and her family were offered resettlement in Aotearoa, Rahaf had her eyes set on the University of Otago.
"Once I heard about the possibility of moving to New Zealand, I did my research. The first thing I found was University of Otago – which is so weird! I got excited and thought, 'Maybe it will be my university one day?'," explains Rahaf.
Little did she know that the University of Otago was indeed going to be the place where she would pursue her dream to become a doctor. Last year, she completed her first year of Health Science and, this year, she's enrolled to start Biomedical Science, majoring in functional human biology.
"I dream to be a doctor and help the community – [I want to] do it for my parents, who sacrificed everything for me and my brother. They wanted us to have these opportunities and they get so excited whenever we do something new, so I'm going for it."
Nothing will stop Rahaf from achieving her dreams – her story is far from over.
Alia Al Mohamad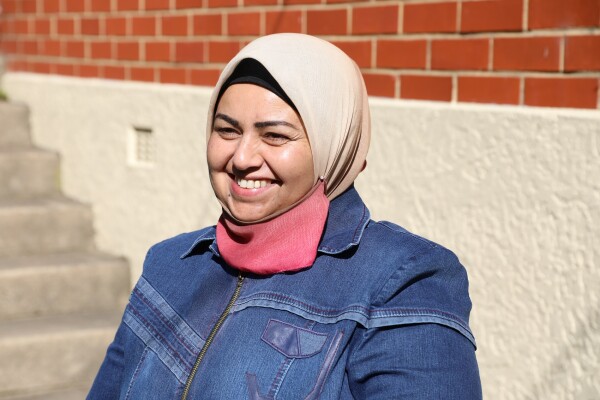 Alia Al Mohamad's story of perseverance and passion for humanity is one that will inspire anyone lucky enough to cross her path.
It took years for Alia to build her successful career in Syria, but the war took it all away. Thankfully, her passion and fortitude were left intact.
Alia had everything she could dream of in Syria – a beautiful and loving family, her own house, a business and an impressive career. She was a superwoman, able to do it all.
Alia worked as a qualified midwife in Syria for 11 years, both in a public hospital and at her private clinic, while raising four children. Life was busy, but it brought her a lot of happiness.
Then the war began, and her hospital was bombed. Alia knew it was time to leave, so she fled the country with her family and crossed the Lebanese border, where they lived for four years before they were offered resettlement in New Zealand.
With the help of her new friends, Alia was able to build a life in Dunedin and look forward to her Kiwi future – a mindset that requires a lot of courage and strength, when everything you have worked for has been lost.
"In Syria, I studied, graduated, had my own house and my own clinic, but now I have to start from scratch," she says.
Alia was unable to get into midwifery because her English language proficiency wasn't quite high enough. A few more years learning the language and there is no doubt Alia's incredible passion for midwifery will lead her to becoming a midwife in Dunedin. She is already supporting pregnant women in her community, other refugeebackground Syrians, as a friend.
"Working as a midwife is part of me, anytime – midwifery is my passion. It means humanity, resilience, being kind. It means a lot to me."
Did you know?
New Zealand Red Cross is the primary provider of community refugee settlement in Aotearoa, supporting and empowering new Kiwis as they rebuild their lives. The Red Cross team is always looking for volunteers wanting to help a new Kiwi family get settled in, or for employers who are keen to offer employment to a former refugee.