Helping out in Hawke's Bay
13 July 2023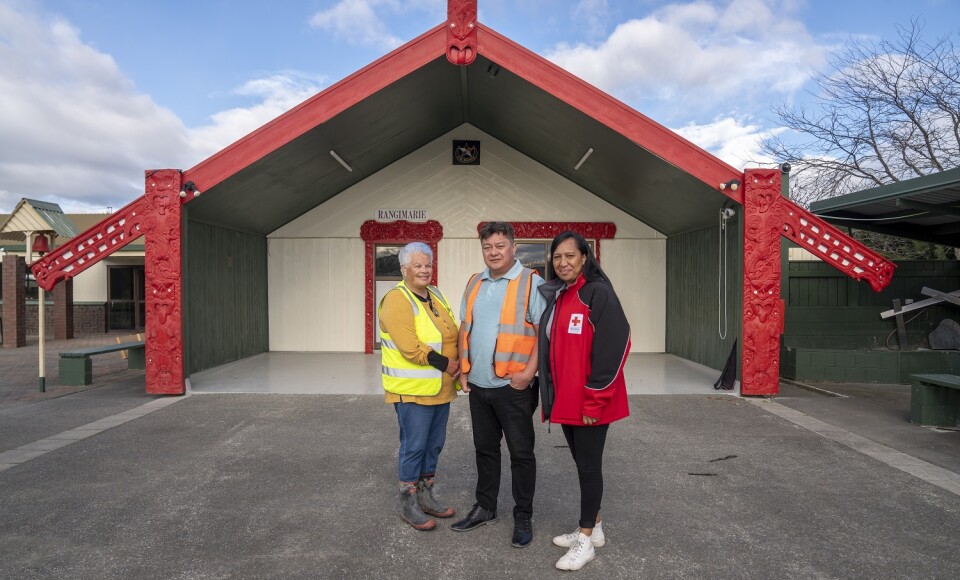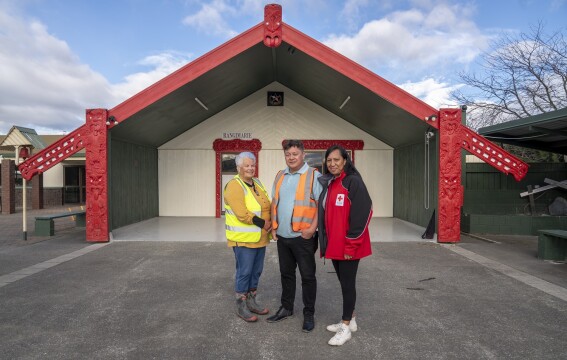 Fortnightly update 10: New Zealand Disaster Fund
We have now committed a total of $13.7 million to help communities respond, recover and prepare for the future. In this update we focus on our support for Hawke's Bay.
We're supporting many organisations and community groups in Hawke's Bay, including those organising volunteers for clean-up, restoring local marae, and helping affected farmers and growers. We've committed more than $7 million in around 90 grants to the region including $3 million to the Hawke's Bay Disaster Relief Trust to support their fund providing grants directly to affected people.
Supporting volunteers cleaning up Hawke's Bay
"We've been everywhere," says team coordinator Martha Taonui as she lists some of the areas that the Hawke's Bay Clean-up has been to: Esk Valley, Moteo, Puketapu, Puketitiri, Waiohiki, Meeanee, Awatoto, Bayview... the list goes on.
The team formed when volunteers came together in the first days after Cyclone Gabrielle. Since then, successive waves of volunteers have helped clean up more than 65 properties throughout Hawke's Bay. They have come from all over the country, and further afield including Germany, France, and Australia. Some arrived on their own steam, while others are members of church groups, office teams, student organisations or social groups like motorcycle clubs.
The team's work was boosted by a $36,603 grant from the New Zealand Disaster Fund. The team has also been supported with additional funding from the New Zealand Disaster Fund via the Evergreen Foundation.These funds have gone towards daily running costs, safety equipment, personal protective equipment, storage containers with tools and machinery, hiring things like diggers and bob cats and covering fuel costs. "It was just about keeping the volunteers going over the winter. The support from the Red Cross enabled us to amplify that," says Brendan O'Sullivan from the Evergreen Foundation.
Martha says the funding has been valuable for their work. "Without it we would really be struggling," she says. "Prior to receiving funding, we were using what I would call primitive tools. So it took longer, and we had to work twice as hard. Now we have tools at our fingertips, which enables us to move a lot quicker and I think it's a lot safer as well."
Making progress at Moteo Marae
"It's a mammoth task, but we're getting there," says Peter Eden, chairperson of Moteo Marae. The marae was hit hard during Cyclone Gabrielle and a major repair effort is underway. This has included rewiring and restoring power to the buildings, re-lining walls, and replacing a damaged water pump system. Getting the wharenui (meeting house) up and running has been the top priority for the semi-rural marae, and it will soon be ready for people to return. The wharekai (dining hall) and other marae facilities are also being restored.
"Our whānau are resilient," says Peter. He recounts how in the first days after the disaster, members of the marae community arrived and started clearing out silt, and whānau from outside the area who whakapapa to the marae raised and sent what they could to help with the clean-up. "We would have got there eventually, but it would have been a question of how long," says Peter. He says the $100,000 grant from the New Zealand Disaster Fund has helped speed up the restoration work. Once repairs are complete, there are plans for setting up the marae as an emergency hub, so it can be available for everyone in the area to use as a safe space in event of future disasters.
Peter is also quick to point out some of the silver linings that have come from the devastation. There are little things, like the old wooden window and doorframes have been replaced with modern aluminium ones. More importantly, Peter says there's been a sense of community. Getting rangatahi involved with the rebuild has strengthened both their skills and their connection to the marae, but he says it's wider than that, "It's good to see that as a country we come together to support our communities. That's been a large bonus, whānau and communities coming together to make a difference."
Funds for fruit growers
When Cyclone Gabrielle hit Hawke's Bay, local fruit growers suffered immense losses. The region's famous abundant fruit trees grow best on the flat land, which was swept by flooding. The cyclone came just as the trees were heavy with fruit for the summer season, wiping out the annual crop, and many growers had their trees destroyed entirely. Those hit the hardest also lost their houses located on the orchards, and are now trying to recover both their homes and their businesses.
A $100,000 grant from the New Zealand Disaster Fund to Hawke's Bay Fruitgrowers' Association is going toward easing some of the pressures on affected growers. "These are people that are not used to asking for help, but they need it," says manager Dean Smith.
The Association is using the funding to provide a range of support. The 22 growers that had lost their homes and been worst affected were offered $2,000 payments to help with personal costs. The organisation is working to extend their support to a larger group of affected growers in the days ahead, possibly through mechanisms like fuel and grocery vouchers.
Dean says one of the biggest concerns is growers' mental health — as they grapple with challenges around insurance, zoning, and debt on the tough road to recovery. "What the funding from New Zealand Red Cross has enabled us to do is offer more bespoke solutions for our community, through the engagement of a psychologist, which is great." He says the free and confidential sessions with the psychologist are on offer to individuals who are dealing with the impact of the event. They are not just for Association members, but available to others in the sector like affected wine and vegetable growers, as well as their employees and families.
By the numbers  
The New Zealand Disaster Fund is being allocated across three programmes of work: 
The Response and Recovery Programme supported our immediate emergency response on the ground and is now helping communities recover by providing goods, services, and people. At this stage, approximately $8 million has been budgeted for this programme, including approximately $7 million for Home Bundles.  
The Partnership Grants Programme provides grants to community organisations supporting community response and recovery. At this stage, approximately $13 million has been budgeted for this programme. 
The Investment programme is focused on helping communities prepare for, respond to, and recover from future emergencies and disasters.  At this stage, approximately $5 million has been budgeted for this programme.  
The amounts budgeted for each programme may go up or down as needs change. 
Total committed funds across all programmes: $13.7 million 
Total donations: $26.5 million 
Note: Figures provided are as accurate as possible as at 11 July given the rapid nature of grant allocation. Figures may change slightly in our annual reporting as we complete our audit process. 
Partnership Grants Programme 
This programme distributes grants to community organisations that are helping those affected. Supporting these organisations helps make sure response and recovery work is community-led and meets local needs. 
Total approximate spent or committed: $11.8 million  
Total Community Support Grants approved: 104 grants  
Total Community Enable Grants approved: 57 grants  
Total grant applications received: 283 
Approximate programme budget: $13 million 
We are continuing assessments of existing grant applications. Entities supported recently include: 
Bellyful New Zealand Trust – producing ready to eat meals for affected whānau – $15,000
Central Hawke's Bay Parenting Services – providing the "LionHeart" programme for tamariki to learn to cope with traumatic events through creative play – $50,000
Evolution Enterprises Limited – maintenance and repair for clean-up machinery – $32,840
Hawke's Bay Regional Council – further funding to Hawke's Bay Disaster Relief Trust for individual hardship grants – $1,000,000
Housing Emergency Aotearoa – container homes for families in need – $100,000
Huiterangiora Foundation – covering costs such as petrol, tools for clean-up and damage repair crew – $35,000
Ladies Who Lawn Limited – supporting clean-up – $15,000
Tairāwhiti Marae – repairs and rebuilding of four marae – $245,500
Waitakere Indian Association – providing free hot meals to affected people – $21,000
WH Contracting Services Ltd – helping families recover and rebuild – $20,000
YES Disability Resource Centre Services Trust – supporting people with disabilities and building community connections – $30,000
Some grants approved in this fortnight do not appear in this list as the recipient has yet to be notified.  
See the full list of entities we've supported so far
Response and Recovery Programme 
This programme supported our immediate emergency response on the ground and is helping communities recover by providing goods, services, and people. It is now focused rolling out Red Cross Home Bundles.  
Total approximate spent or committed: $1.9 million 
Approximate programme budget: $8 million  
Red Cross Home Bundles programme: Supplying new basic furnishings and household items to eligible households in need identified by our delivery partners. The programme was piloted in Te Karaka, near Gisborne, and has now been extended into Tologa Bay and Wairoa. It will be rolled out into other affected areas in the coming weeks, but will take months to complete as people wait to move back into their homes.
Learn more about Red Cross Home Bundles programme
Red Cross response: Disaster Welfare and Support Team travel and equipment to support local Civil Defence Emergency Management Group requirements. Free Psychological First Aid training to 521 people in 41 courses.
Equipment: Includes generators, dehumidifiers, clean up kits, first aid kits and other items relating to emergency accommodation and other community needs.
See a breakdown of our spending under the Response and Recovery programme to date 
Investment Programme 
This programme will provide funding to help communities prepare for, respond to, and recover from future emergencies and disasters as the impacts of climate change grow. 
Total approximate spent or committed $- 
Approximate programme budget: $5 million 
Learn more
We've been around for nearly 100 years. As the impacts of climate change increase the frequency and severity of weather-related emergencies across the country, we'll keep being here.
The New Zealand Disaster Fund helps us to support communities to respond to, recover from, and prepare for disasters and emergencies in Aotearoa New Zealand.
If you want to stay up-to-date on how the New Zealand Disaster Fund is making a difference you can register for email updates.
Sign up for regular updates about the New Zealand Disaster Fund (redcross.org.nz)
Practical support and information to help you care for yourself and others after the recent flooding and Cyclone Gabrielle.
Caring for yourself and others after an emergency or disaster
Volunteer with us
We can't do our work without the thousands of Kiwis from all corners of Aotearoa New Zealand who give their time and energy to volunteer.
We're always on the lookout for dedicated people to join us in our humanitarian work. Join over 8,000 other humanitarians in New Zealand and volunteer today.
Find a volunteer role near you
Red Cross in your community
New Zealand Red Cross is part of your community. We have 16 offices around New Zealand including our head office in Wellington. You can join your local branch, group in over 40 cities and towns around New Zealand, or shop at one of our 50 retail stores.
New Zealand Red Cross has 15 'areas' across the country. Each area has its own area council, which is elected by the local Red Cross members.
There are nearly 50 branches of New Zealand Red Cross around the country. Branches have a hands-on local-community focus, and are run by volunteers.
Find out more about what we do in New Zealand
Support our work
Our emergency management work is funded through the generosity of donors.
Donate to New Zealand Disaster Fund
Related stories