Helping Vanuatu Red Cross respond to communities hit by Cyclone Lola
20 November 2023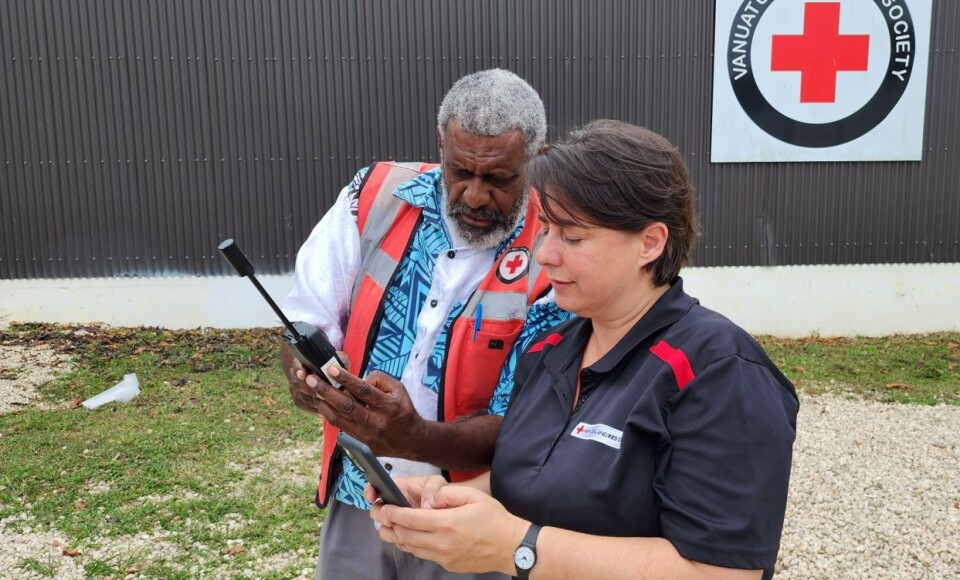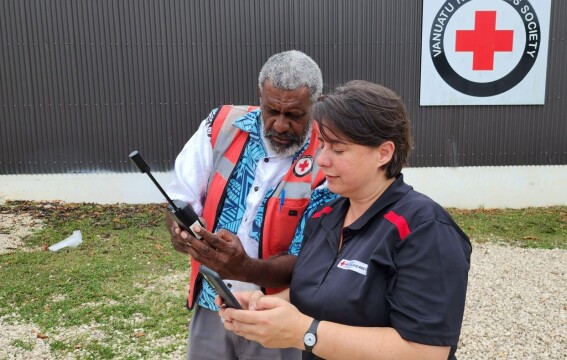 In early November, our international delegate Natalie Gyles boarded a flight bound for Vanuatu with four satellite phones that will make a critical difference to communities impacted by Cyclone Lola.
On 25 October, Cyclone Lola made landfall on Vanuatu. It left a path of destruction to houses, schools, plantations, infrastructure and roads particularly in northern islands of Pentecost, Malekula and Ambae. Many of the most affected communities have been cut off from outside assistance.
This is the third cyclone Vanuatu has experienced in seven months. Communities were only just beginning to recover from the twin cyclones, Judy and Kevin.
While Vanuatu Red Cross response teams are providing assistance in impacted areas, in many places there is no cell phone connectivity, hampering communications between teams and with Vanuatu Red Cross' central office in Port Vila.
Natalie's mission was to deliver the phones and provide training on their use. Her trip was short and swift to coordinate with a charter flight heading to the outer islands to allow Vanuatu Red Cross staff to drop off the phones at different locations.
Satellite phones are similar to other mobile phones, but Natalie says there are some crucial differences to learn, "the antenna has to point upwards, you need to be in clear sight of the sky, not indoors, and when dialing a number locally you always have to include the country's international calling code."
Natalie worked with 30 Vanuatu Red Cross staff, smoothing the way for staff in different locations to contact each other.
With the phones now successfully delivered and being used, "the field teams in these remote islands can now call the central office in Port Vila and describe the needs of these communities so that the relief response is efficient and effective," says Natalie.
Teams are currently making house visits collecting information and requirements from households in the northern islands who've been affected by the cyclone – many have lost their homes and livelihoods.
Satellite equipment installed in March

withstands Cyclone Lola
In March this year, after Cyclones Kevin and Judy, we sent three of our Information Technology and Telecommunications specialists with equipment to reinstate online communications for Vanuatu Red Cross. Natalie also checked the satellite equipment installed by the team to assess how it withstood the latest cyclone, and it continues to function well.
New Zealand Red Cross will provide support to keep the satellite phones active in Vanuatu for an initial three months. We are able to provide this support through generous donations to our Pacific Disaster Fund. We are also looking to provide funds to support the replenishment of vital relief supplies.
Our international work with Pacific nations, including Vanuatu, aims to build resilience and response capability in times of disaster. As part of this work, we provide emergency preparedness training including first aid, information technology support, water, sanitation and health, and relief supplies.
For more information
Our International Delegate

Programme
Our international delegates are specialists. They provide important technical advice and work in times of crisis to fill gaps in knowledge and capacity already identified by the Red Cross Red Crescent international movement. International delegates drop everything they are doing to respond to a call to go somewhere when they are needed.
Learn more about our work in the Pacific
Donate to support
Thanks to the generous donations from New Zealanders to our Pacific Disaster Fund we have been able to send our Information Technology and Telecommunications team and equipment to Vanuatu after Cyclones Judy and Kevin in March, and most recently, the deployment of Natalie - a digital information specialist, after Cyclone Lola.
The Fund also supports our work with our Pacific Nation neighbours, to build their own capabilities in times of disaster.
With the cyclone season now here, your donations can help provide relief for the people of Pacific Nations when they are in need of urgent support. Please donate to the Pacific Disaster Fund today.
Or, to donate via phone: 0800 RED CROSS (0800 733 2766), option 2. This takes you through to our donations team. We can only take credit and debit card donations over the phone.
Header image caption: Natalie Gyles and a Vanuatu Red Cross staff member testing a satellite phone.