Men making a difference helping former refugees settle well
21 November 2022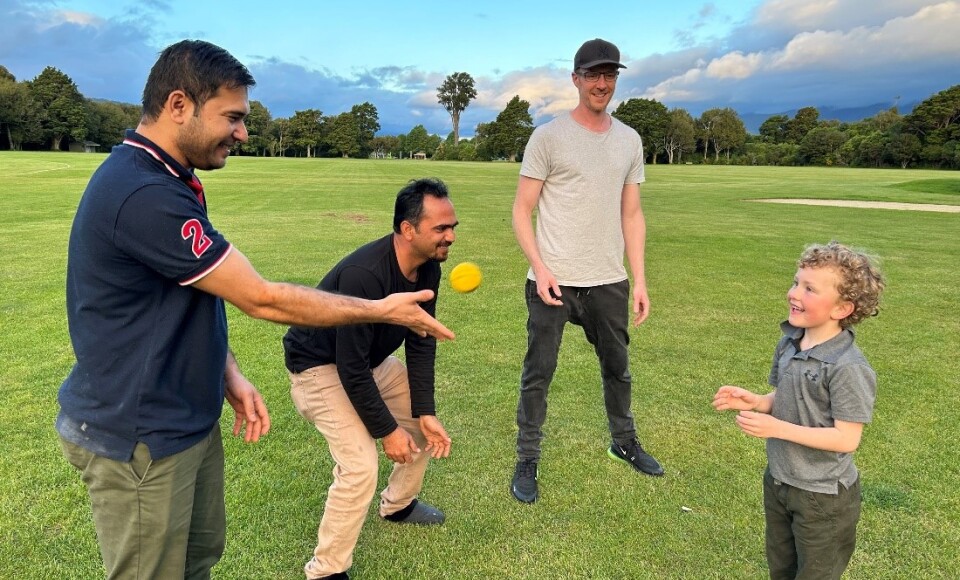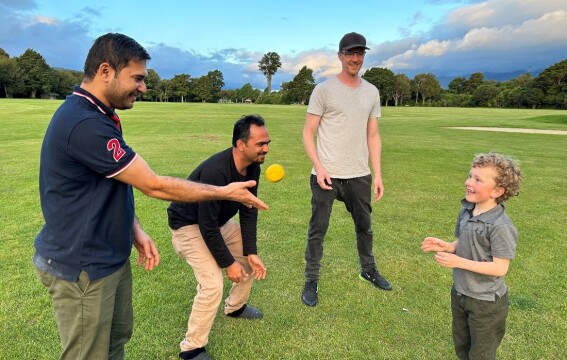 It was cricket that broke the ice between volunteer Josh and the former refugee men he's supporting to settle in Upper Hutt. For Dan in Palmerston North, the love of gardening is the connector between him and the father of the family he's supporting.
Josh, a self-employed Software Management Consultant and Dan, a Senior Ranger, Biodiversity with the Department of Conservation, both work full time and are refugee support volunteers with New Zealand Red Cross.
Josh and two other male volunteers support single former refugee men settling in the Hutt. Initially just two men, another two arrived recently. Aged between 25 and 35, they live next door to each other and have become friends. Josh lives nearby so it's easy for him to pop in to support at the weekend or during the week.
The volunteers familiarise and connect the men with their new community and services such as language support and public transport. They also ensure they are well set up at home in the first six months of their arrival as they start their journey to independence.
Josh thinks a lot of people see refugees coming to Aotearoa New Zealand as mainly women with small vulnerable children, but that's not necessarily the case. "Quite a number of men are settled here on their own, through the quota system. Often, they've been separated from families involuntarily due to conflict – one of the people I am working with has a young son."
'I do feel there are cultural factors with some refugees which would make them more comfortable working with male volunteers, says Josh.
In 2015, he spent several months helping refugees arriving on Greece's shores at the height of the Syrian conflict. When he returned home, while he acknowledges hardship exists here in Aotearoa New Zealand, he still felt very connected to the unique plight of refugees and actively sought out training to become a refugee support volunteer.
"What I've found working with men both in Greece and here is that despite the fact they've been ripped out of their homelands, they are incredibly proud, they want to save face, they don't want hand outs and they want to be productive people." The men Josh supports, originally from Pakistan and Myanmar, are aged 25 to 35. They want to build careers in New Zealand and are keen to bring their families out when they can support them.
And what helps people resettle well in a new country? Josh says "the dehumanising aspect of being a refugee got me thinking that while the focus in Europe and here is on providing essentials – clothing, accommodation, food etc, the cultural focus is often missing - the things that connect us as humans – things like music and sports.
"I'm a keen cricketer. The first thing men often talk about when they meet - particularly from Asia – is cricket! I started inviting the men to our local team. One of them now plays three times a week."
He says "Sport is very important for mental health, I know that for myself - being in a wide open green space, meeting friends. For the men we're working with, if there wasn't sport, they may spend more time sitting in the house, feeling isolated."
While some men do prefer male support workers, some really don't really mind if it's a woman or a man supporting them. That's the case with the family Dan is supporting in Palmerston North. "I work with two female volunteers. We are an international team with origins from Bangladesh, Botswana and NZ!"
Dan says each team member's influence matters. "I think some men settling here do appreciate another man being around, so it's good to have a mixed volunteer team. Language is the biggest barrier but we use google translate and local members of the Rohingya community drop in so they help with the translations too and we get to know each other more."
Dan also wonders why there are not more men volunteering. "Maybe they don't consider it is for them of feel they can't fit it in with work, but you can put down your availability. Helping during a weekend works for me. The role isn't just about taking people to appointments, it's more than that. It's being able to connect with another person that has come here, ostracised from their own country. They are so keen to be here, to learn everything about the kiwi way as well as keep connected to their own culture." says Dan.
Dan loves the role. "It's very rewarding. It's great to see the look on their faces when we turn up. They see Red Cross people as safe. It takes a certain type of person to do the role - a people person, someone with patience, interested in cultures – and being creative to overcome language barriers."
Josh also feels the same "It's really good, gratifying work to be doing. It feels good to get to know people and support them in their journey.
In Greece, the scale of the support needed was quite overwhelming. Here working one to one, it does feel like I can make an impact. If I, as one person, can make a difference to a few people, it feels good.
I'd recommend the role to other men out there. It's not hard work, not onerous and no cost, and not going to take away all your free time. I have a family – my five year old Griffin, comes with me sometimes and he really enjoys meeting the men I'm supporting, and they him."
Dan also agrees. He says if you're a people person, interested in different cultures, have patience and a bit creativity to find ways to overcome language barriers, it's a great way to give someone else a good start and chance of a new life in one of best countries in the world."
More information
We're keen to hear from more men who'd like to volunteer in Upper Hutt, Porirua, and Palmerston North.