National Council brings reflection and celebration
20 November 2023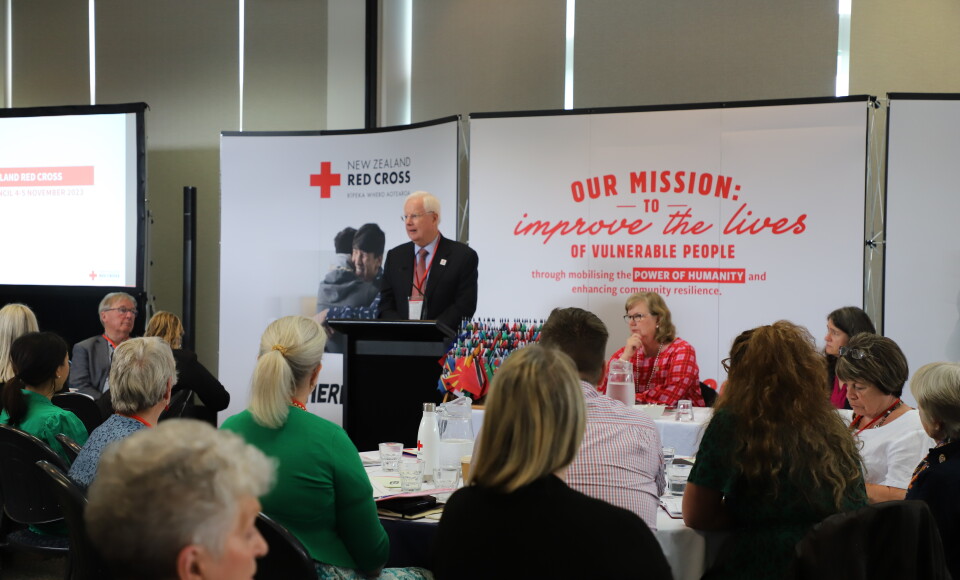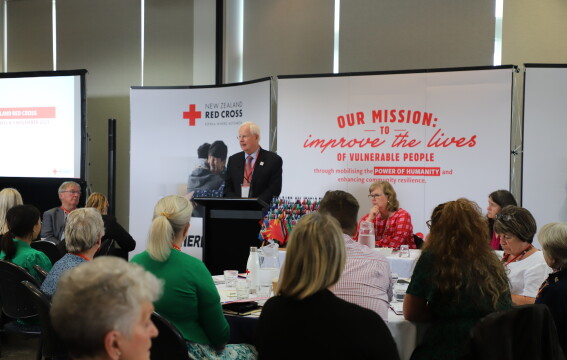 New Zealand Red Cross held its National Council earlier this month, bringing together members and supporters from across the motu | country.
In addition to the 92nd Annual General Meeting, the three-day event included workshops, and guest speakers.
A combined National Board, Area Chair and Executive Leadership Team day was also held on Friday 3 November for the first time with our seven Area Chairs.
At the combined day we held workshops on culture and behaviours, area planning and how to support our Youth Councillors. We were also fortunate to hear from Privacy Commissioner Michael Webster about his leadership journey and his Red Cross story.
In the evening National Board members, Area Chairs and the Executive Leadership Team were joined by National President of Australian Red Cross, Ross Pinney, and some of our Counsellors of Honour for a lovely dinner, which provided an opportunity to build on many of the themes of the day.
Annual General Meeting
The 92nd New Zealand Red Cross Annual General Meeting included the following reports, which were adopted after some discussion:
National President Kerry Nickels presented by Annual Report and then we viewed a video highlighting many of our successes over the previous year.
Secretary General Sarah (Norm) Stuart-Black presented her Annual Report
Chair of the Audit and Risk Committee of the National Board Warren Johnstone presented the Finance Report
Executive Trustee of the New Zealand Red Cross Foundation Wayne Morgan presented the Foundation Report
Chair of New Zealand's International Humanitarian Law Committee Tim Caughley presented the International Humanitarian Law Report
Vice President of the National Board, John Dyer presented the International Report
National Youth Representative, Sarita Love presented the National Youth Panel and Graeme Whyte Fund Report
The Annual Report was adopted and our Auditor (Deloitte) was adopted for the year ahead.
National Council participants also viewed a warm and heartfelt video message from our patron, the Governor-General of New Zealand, The Right Hon Dame Cindy Kiro, GNZM, QSO and heard from National President of Australian Red Cross, Ross Pinney about some of the challenges and opportunities across the Tasman.
Weekend sessions
The Saturday afternoon session started with renowned psychologist and author, Nigel Latta, speaking on the psychology of success. Nigel talked about what makes great organisations great – the importance of the people around us. Nigel encouraged us not to wait until things are perfect, rather just get on and do it. He also talked about the essential combination of humility and fierce resolve as the ingredients for success. Finally, Nigel emphasised the importance of our emblem, our brand and our Fundamental Principles in the context of conflict, division and 'meanness' around us.
Pre-recorded video messages from three international colleagues – Regional Director of the Asia Pacific region, Alexander Matheou and Head of Delegation for the Pacific Katie Greenwood from the IFRC and Head of the Regional Delegation in the Pacific Megan Rock from the ICRC – preceded a workshop on our new Area model, in which we heard from some of our Youth Councillors.
The day's programme finished with a surprise tribute to one of our Counsellors of Honour, Sir Kenneth Keith. Kerry presented Sir Ken with a Distinguished Service Award, recognising his significant contribution over a 40-year period to New Zealand's International Humanitarian Law Committee.
The Honours and Awards dinner that evening provided an opportunity to celebrate our Red Cross people. Paula Tesoriero, Chief Executive of Whaikaha, Ministry of Disabled People was the guest speaker during the ceremony, where honours and awards were presented to many of our Red Cross people, including those who contributed to the response to the extreme weather events in the North Island earlier this year. We also celebrated 10-year service awards for two of our Board members, Scott Tambisari and Sarita Love, as well as Sue Price our General Manager, Migration. A special Meritorious Service Award was presented to Carol Ball for her many years of service to New Zealand Red Cross, going above and beyond.
Workshops and next steps
The Sunday morning session started with a workshop on New Zealand Red Cross' response to the extreme weather events earlier this year, facilitated by three members of our Executive Leadership Team – Sean Stewart, Jane Derbyshire and Shane Chisholm. These discussions provided an opportunity for members to share their thoughts on how we can help communities and improve communications during crises.
The final workshop was facilitated by Dr Rebecca Dudley, our Principal Advisor, International Humanitarian Law. We looked back at the history and theory of the Fundamental Principles, heard about some best practice examples and then delved into some specific dilemmas – applying our Fundamental Principles in practice.
Our annual National Council meeting would not be possible without the thoughtful and enthusiastic participation of all of our participants and the support from so many others. A huge thank you to everyone who attended or supported the event. It was wonderful to see you all in person, celebrate our achievements over the last year and look ahead to what is yet to come.
Header image caption: Australian Red Cross National President Ross Pinney addresses New Zealand Red Cross National Council on 4 November