On the road to recovery in Tairāwhiti and Wairoa
14 August 2023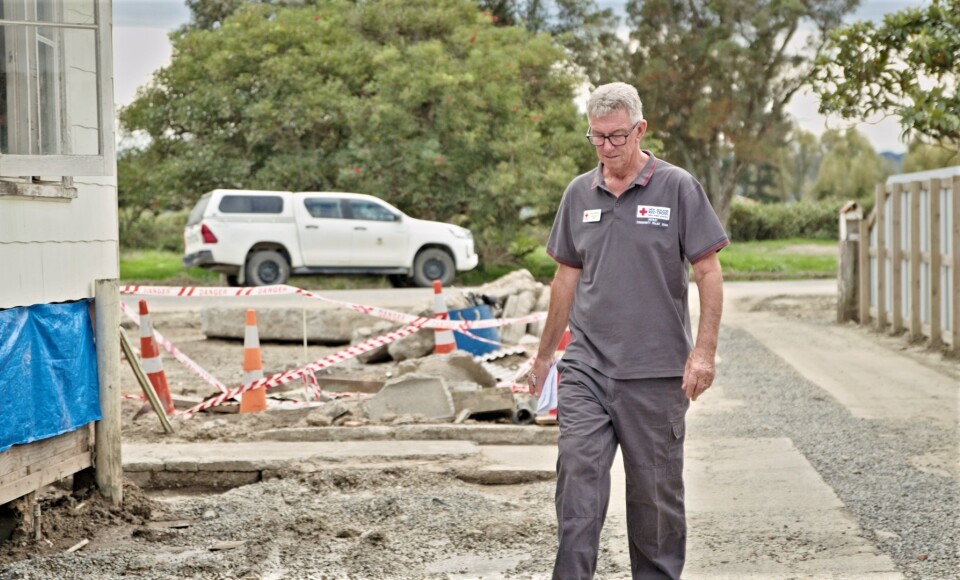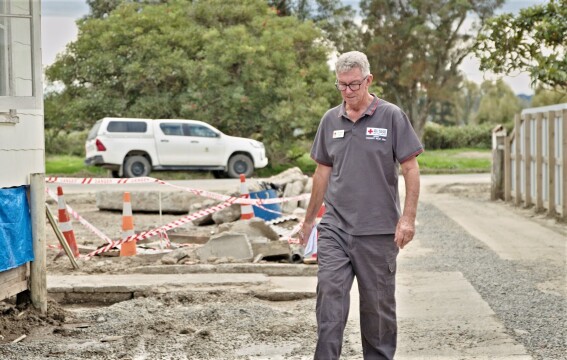 Phil Parker's been helping out on the East Coast since Cyclone Gabrielle struck a cruel blow to the region six months ago. We take a close look at his response work and what he's experienced.
A week after Cyclone Gabrielle devastated parts of the East Coast, Phil Parker left his Bay of Plenty home in Katikati and drove five and a half hours to help in the flooded town of Wairoa, with little more than a backpack, his New Zealand Red Cross jacket, and some supplies. Six months later, he's still there, helping out all around the region.
Phil's the New Zealand Red Cross regional project manager for Tarāwhiti and Wairoa, where he and his Red Cross ute have become well-known in communities large and small across the East Cape since the cyclone hit.
With 30 years of disaster response experience both here and internationally to lean on, when Phil saw people were in need, his instincts kicked in. "It's my role to visit affected communities, find out what's needed and help people to access the support New Zealand Red Cross can offer." He says this has ranged from supplying clean up kits or organizing psychological first aid training, to helping organisations apply for a grant from the New Zealand Disaster Fund.
Working with the community
Within a month of working with Wairoa, he had helped the council apply for a $1.1 million grant from the Fund to help make yellow-sticked homes liveable again. The grant was approved and Phil's been there to watch the funding at work, with houses being fixed up and people returning to their homes.
Unfortunately for some, their severely damaged homes won't be liveable for a year or two yet – the wait prolonged due to the intensive clean-up process. And then there are not enough builders, electricians and plumbers to do the rebuild work. "They've been trying really hard to get extra tradies in to help, but people can't do anything until the house has been cleared of silt, the floorboards lifted, the walls removed, then you can get the expertise in to start rebuilding. So six months on, many are only just starting to do this repair work."
Dedication
While others' homes are being rebuilt, Phil has seen little of his own home – choosing instead to camp out in a caravan in Gisborne. This has been Phil's weekday home for the past five months. "I'm perfectly happy there, I have all I need. And it means we can save money and help more people who are truly in need. I'm pretty good with that."
Phil spends a lot of time on the road. The East Coast is a big area and most weeks he clocks up around 1,000 kilometres. He tries to get home to Katikati in the weekends, but with the soaked and unstable terrain in the region, it doesn't take much rain to create more slips and road closures. "Sometimes I'm here for two weeks straight if the roads are closed —it happens on a regular basis. A couple of times I had to go home via the coast road – that's an eight and half hour journey."
In his months working in the region, Phil has been struck by the extent of the damage and its long-term effects. "I think this is the biggest weather-related event I've ever seen and I've been in a lot of events. I don't think people quite understand how many people have been affected and what the effect is. It's been a real eye opener to see the devastation of the land and what people have had to go through."
Just being there
Often his job is just about listening. Phil says he's observed people putting on a brave face in public, "but once you sit them down you get the real story". These can be painful. "Quite a few people have sat in my office and just cried once we've started to talk. The toughest-looking guys, when you go out to see them they give you a hug, and that really shows how people are feeling."
He says just having a presence, talking to people, pointing them in the right direction is really important. "Sometimes we can't help them but we can tell them who can. And sometimes just finding the people who need help can be a struggle," he says. "Just last week I came across a family up the coast whose home had been badly flooded but they had received no support – nothing. I talked to them about how we could help and gave them some temporary lighting, some clean-up equipment and a small generator. They were so grateful."
Tenterhooks
Phil says there are still a lot of bewildered people in the region, people who had no insurance and don't know how to move forward. "There's help available and people are getting by, but every time it rains, people worry they will be back to square one, kids especially can get really upset — is it going to flood again they wonder." To manage this very real risk, he's pleased funds are available in the Resilience Investment Programme to help with disaster preparedness, because people are very conscious this may happen again and they want to feel better protected, he says. The programme is now directing funds to help make sure communities are better supported and prepared for another disaster. It's targeted at communities that were affected by the cyclone and floods, including the East Coast.
The long haul
There's still much work to do and recovery is slow. Phil expects to be driving his ute around the East Cape, checking in on communities for the next six months. It's an area he is fond of, and he's appreciative of people's trust in him and the work of New Zealand Red Cross. He says marae and other emergency response organisations have been great support providing him with a detailed understanding of community's needs.
"The East Coast is a special area – there are different ways of doing things here and I've had to learn to work in with the locals. But they are a great community and now I'm well-connected and things have been going really well."
The best thing about his role has been meeting the people affected and the response he receives when New Zealand Red Cross is able to help. "It might be just something simple like a broom or a shovel and you get this massive thank you because Red Cross is often the first agency to acknowledge their situation and provide that little bit of support. That's what has stood out for me."
Despite the constant phone calls, long days and working away from home, it's a great job, and Phil wouldn't have it any other way. "Emergency management is what I do —it's my passion. Working here has been like icing on the cake for me because I am dealing with the community all the time, we've provided a lot of grant funding here but even just the little bits and pieces we're doing too — I can see that it's been a huge help for people."
Learn more
We've been around for more than 100 years. As the impacts of climate change increase the frequency and severity of weather-related emergencies across the country, we'll keep being here.
The New Zealand Disaster Fund helps us to support communities to respond to, recover from, and prepare for disasters and emergencies in Aotearoa New Zealand.
If you want to stay up-to-date on how the New Zealand Disaster Fund is making a difference you can register for email updates.
Sign up for regular updates about the New Zealand Disaster Fund (redcross.org.nz)
Practical support and information to help you care for yourself and others after the recent flooding and Cyclone Gabrielle.
Caring for yourself and others after an emergency or disaster
Volunteer with us
We can't do our work without the thousands of Kiwis from all corners of Aotearoa New Zealand who give their time and energy to volunteer.
We're always on the lookout for dedicated people to join us in our humanitarian work. Join over 8,000 other humanitarians in New Zealand and volunteer today.
Find a volunteer role near you
Red Cross in your community
New Zealand Red Cross is part of your community. We have 16 offices around New Zealand including our head office in Wellington. You can join your local branch, group in over 40 cities and towns around New Zealand, or shop at one of our 50 retail stores.
New Zealand Red Cross has 15 'areas' across the country. Each area has its own area council, which is elected by the local Red Cross members.
There are nearly 50 branches of New Zealand Red Cross around the country. Branches have a hands-on local-community focus, and are run by volunteers.
Find out more about what we do in New Zealand