Preparing for and responding to Cyclone Gabrielle
26 February 2023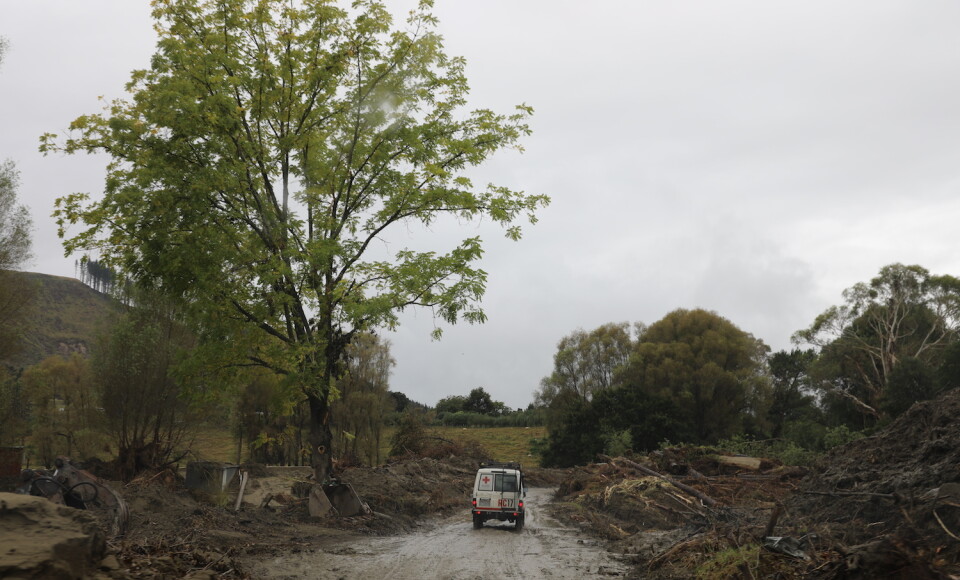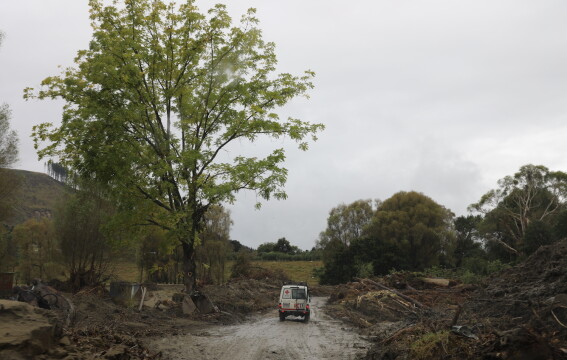 Preparing for and responding to disasters is what we do. Even so, the scale of the devastation caused by recent weather and Cyclone Gabrielle is enormous.
We know that communities all around the North Island are dealing with huge loss and uncertainty. We're on the ground providing support where we can.
We are also working hard on a plan to use the New Zealand Disaster Fund to support these communities to recover and to support Aotearoa New Zealand through future emergencies. We are working with those who know their communities best – community groups, iwi and local government. We know from our experience working on response and recovery in New Zealand and overseas in places like Türkiye and Syria, that this is the best way to support communities.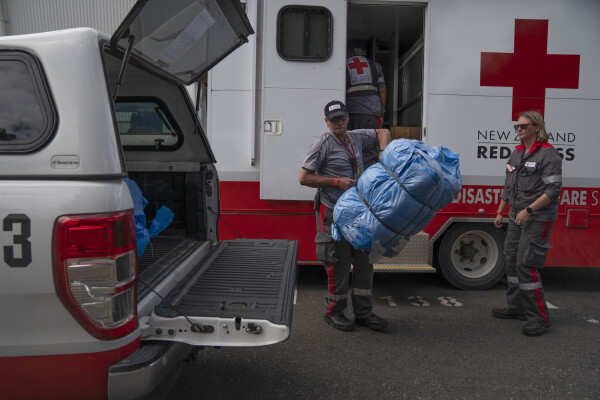 Cyclone Gabrielle on a path for New Zealand
When we all heard that Cyclone Gabrielle was potentially on its way to New Zealand we acted quickly and got our equipment and people into position.
Many of our teams had only just returned home after being deployed to assist with the flooding in Tāmaki Makaurau | Auckland and were still replenishing supplies and checking equipment and vehicles. They were now in a race against time to plan and prepare for the changing path of the cyclone.
Jackie Bubb, Director of Domestic Operations, worked with our logistics team to move our vehicles and equipment in the North Island. While some locations including the Hawke's Bay had equipment pre-positioned, other equipment was relocated into Tairāwhiti | Gisborne and Coromandel. In Whangārei, we moved our equipment to higher ground, and in Auckland, we reconciled all equipment that was not being used for the Auckland flood response, so it was ready for redeployment. This is always a logistical challenge because we rely on volunteers to move our vehicles, 1,000s of stretchers and a lot of large heavy equipment such as generators.
At the same time, we were mobilising our trained Disaster Welfare and Support Teams from all around the motu. Our people train for this every week rain or shine, juggling their work and family commitments. They come from a range of backgrounds. From teachers, tradies, civil servants, engineers, bus drivers – we are all united by a shared commitment to our Fundamental Principles.
Then the cyclone hit.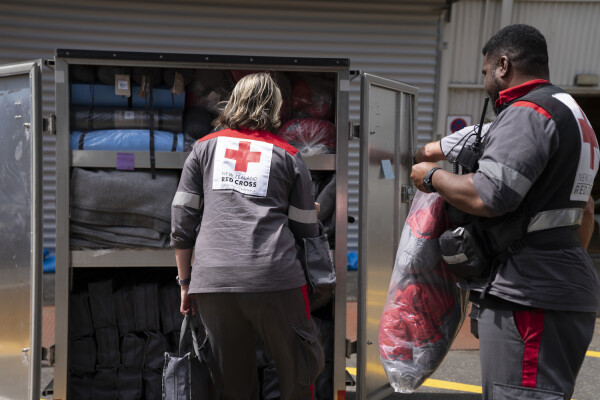 Supporting the response
In response, we called on every one of our 300 Disaster Welfare and Support Team volunteers – whether deploying into the field or asking them to cancel plans to be on standby. This is the first time since the Canterbury earthquakes 12 years ago that all our volunteer teams have been required to travel around Aotearoa for the response.
In the last three and half weeks during our response to the Auckland Flooding and Cyclone Gabrielle, we have:
Supported 1,500 people who took shelter in Civil Defence Centres.
Moved 1,000 stretchers around the North Island to areas hit by flooding and Cyclone Gabrielle.
Recorded close to 4,000 hours of time on the ground from our specialised and trained Red Cross teams.
We have been working closely with the National Emergency Management Agency (NEMA) and local Civil Defence Emergency Management (CDEM) groups in Tāmaki Makaurau, Tairāwhiti, Hawke's Bay, Northland, Whitianga, and around the North Island.
NEMA lead the response. NEMA and CDEM direct us where to assist.
We're also working alongside incredible community groups, iwi, and many individuals who have pitched in to help.
The main things we've been doing in this response are:
psychosocial support
providing shelter, equipment and support in Civil Defence Centres (evacuation centres), and
carrying out needs assessments.
Disaster and emergency support
Psychosocial support
Our Disaster Welfare and Support Team volunteers are trained in psychological first aid and supported by our professional advisor, Sarah Gribben. Our team apply the five elements of psychological first aid and focus on helping people feel safe, calm, connected, in control, and hopeful.
Psychosocial support is crucial when responding to an emergency, and our teams all across the North Island are providing this support.
In Auckland, disaster welfare and support teams have been accompanying building inspectors to provide psychological support to those in Muriwai and Piha re-entering red stickered homes to quickly gather belongings.
Caring for yourself and others

Carrying out needs assessments
Needs assessment is an important part of an emergency response. Once tasked by Civil Defence, our disaster welfare and support teams have been knocking on the doors of those badly affected, older people, or those who haven't been heard from, to check on their welfare and make sure they are both looking after themselves and being looked after.
In the response to Cyclone Gabrielle, we've been doing needs assessment in Auckland, Northland, Tairāwhiti, the Coromandel, and Hawke's Bay. We have been doing needs assessment in both urban and rural areas.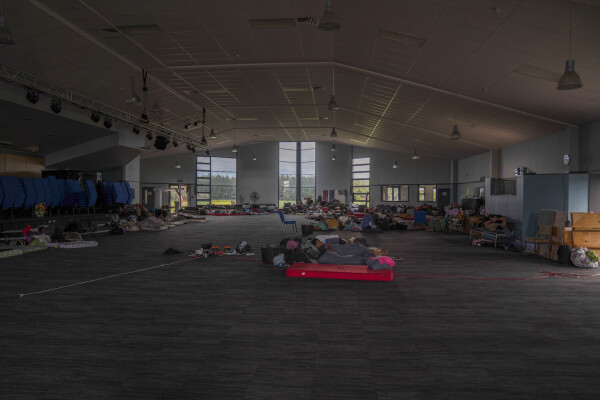 Helping to set up Civil Defence Centres
Our disaster welfare and support teams have been on the ground in Civil Defence Centres in both the response to Auckland Flooding and Cyclone Gabrielle. In these centres, our trained volunteers have been offering psychosocial support, setting up stretchers and bedding, helping with organisation, and looking out for impacted people's physical and emotional wellbeing.
We have also been liaising with community-led centres and offering psychosocial support as well as blankets, stretchers, and any other needs required.
Our Napier branch members also assisted with the sorting and organising of clothing, after the Napier Civil Defence Centre was inundated with donated items.
We recognise the huge public outpouring of support for cyclone hit areas and so our members help emergency management with sorting and logistics where we can.
We encourage people to donate cash, not goods. As our members learnt first-hand, sorting, managing and distributing donated items during an emergency takes time and resources. Too often things end up in the wrong place at the wrong time and go to waste.

Delivery of supplies
We have worked closely with Civil Defence Emergency Management, councils, and other agencies to deliver supplies to rural and isolated communities.
This has included the delivery of high-quality generators to areas within Hawke's Bay that may remain without power for a number of weeks.
In Northland, we have been helping the Whangārei District Council deliver supplies to areas that are currently only accessible by helicopter.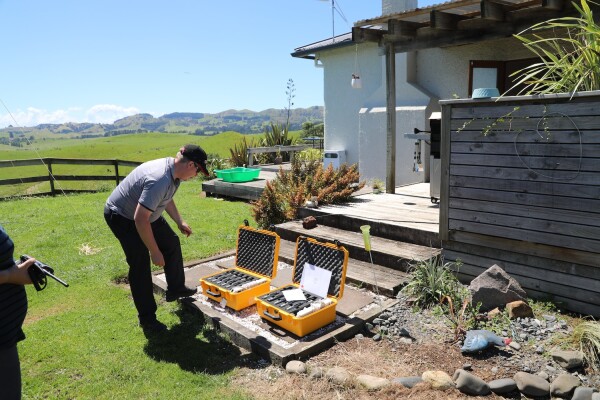 IT and Communications Emergency Response Unit (IT&T ERU)
Our IT and telecommunications emergency response unit has been assisting with the response in Hawke's Bay. One of the biggest challenges in the immediate response to Cyclone Gabrielle has been the lack of communication with isolated areas.
In Rissington, one of 34 cut off areas in Hawke's Bay, our team heard that communications were down and went out to set up a temporary repeater. Repeaters are used to extend transmissions, so that signal covers larger distances or can be received on the other side of obstacles, such as landslides.
The team also distributed a number of satellite phones, to make sure that people without cell phone coverage or Wi-Fi are able to communicate.
Thank you
Every year we respond to at least a dozen disasters in Aotearoa. As climate change causes more frequent and more intense weather events that impact our communities across Aotearoa, we expect this number to increase and the impacts to become more severe.
We need to be ready to deploy our people, specialist disaster response equipment, supplies and technical expertise at a moment's notice – anywhere across the country.
We can't do what we do without our incredible volunteers and wider Red Cross family. Our disaster welfare support volunteers are supported by a team of specialist staff.
Our response to disasters is also supported by our wonderful wider membership.
And finally, everything we do is powered by generosity and donations. So thank you Aotearoa – we're here for good because of you.
More about our response to Cyclone Gabrielle