Searching for the missing
29 August 2022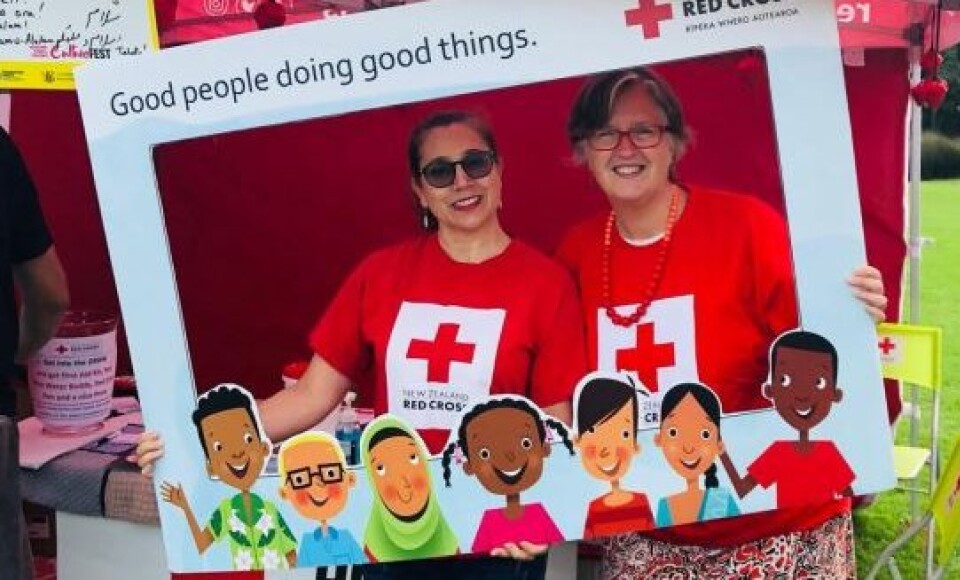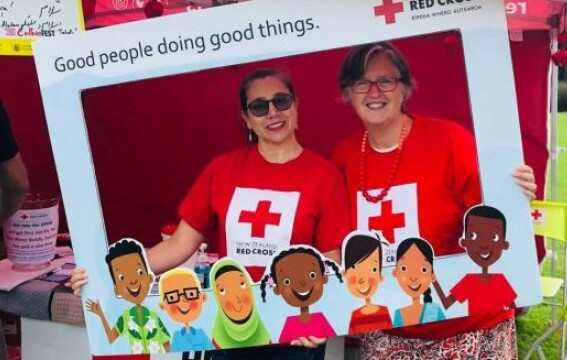 As we mark the International Day of the Disappeared Luz Mery Johnstone, a Restoring Family Links (RFL) practitioner with New Zealand Red Cross, shares her story of what it's like to live with anguish, uncertain hope and unanswered questions about a family member who has involuntarily disappeared.
Hundreds of thousands of people world-wide are missing due to conflict, violence and disasters. Enforced disappearances crime is now a global problem. Many who disappear are never seen again. Victims may be abducted, arrested, detained, and killed. The consequences are far reaching, devastating immediate families and impacting on communities and societies.
In 1983, Luz Mery's brother, Omar, a 37-year-old father of four, disappeared involuntarily, along with many other Colombians. A young child at the time, Luz Mery clearly remembers the pain her mother and the family experienced, and how it has never gone away.
She knows the hope that her mother and family held on to for so long. Waiting for him to appear at the door, not knowing how long the wait will be, but still hoping. "Years can pass by and you hear nothing about the whereabouts of your loved one, but it doesn't mean you stop hoping for news or seeing them again" says Luz Mery.
Luz Mery, a professional social worker, has worked with New Zealand Red Cross since 2011, first supporting former refugees settle in Auckland and now working with the RFL programme. Tracing family members who have disappeared involuntarily is part of the service. She says her own experience has given her empathy for the people she is working with.
In 2021, across the Family Links Network, 56,354 persons were newly being sought and 9,184 persons were located.
As a migrant Luz Mery understands many of the difficulties former refugees may face when starting a new life in a new country. Challenges such as learning English, understanding systems and culture, and building a sense of belonging to their new communities.
"Many of these former refugees also suffer trauma from being forced to leave their countries. They are safe here, but so many feel incomplete. When they flee their homelands, they leave behind and often lose touch with family members and loved ones who are in need, in danger, or may have gone missing," says Luz Mery.
Not knowing whether to hope or to grieve is profoundly distressing and the constant strain of living with uncertainty can have long term physical and psychological impacts for these families.
The global Family Links network across the Red Cross Red Crescent Movement establishes the whereabouts, or clarifies the fate, of approximately one missing people every hour. Connecting with our RFL team in New Zealand means families can start an international process to find their relatives. Tracing missing person takes time and there is no certainty, but there are positive outcomes every year.
In the last 12 months, Luz Mery and other members of our RFL team have worked on 124 cases about missing relatives with colleagues in the Red Cross Red Crescent Movement across 24 countries. Twelve people have been located. She says "Nothing can substitute the feeling of being able to help those people who are in need."
The team also responded to 317 enquiries in the immediate days after the Tonga earthquake. Fortunately, all of these families were able to connect to their relatives once the satellite communications were restored.
To mark the day, the International Committee of the Red Cross have also released a music video Playing for Change featuring international artists playing a cover of U2's planetary hit "I've Still Haven't Found What I'm Looking For". The song echoes the feelings of families who are missing a loved one.
Playing for Change music video
For families in New Zealand looking for lost loved ones
If you have lost contact with a family member or loved one through violence, conflict or disaster contact the Restoring Family Links team by emailing  familylinks@redcross.org.nz
A member of the team will call you back as soon as we are able.
Helping diverse communities
Our RFL team want to reach more of New Zealand's diverse communities, especially those whose first language is not English.
We have produced a series of Restoring Family Links social media tiles in 39 languages including English, te reo Māori, Pacific Nation languages and many more.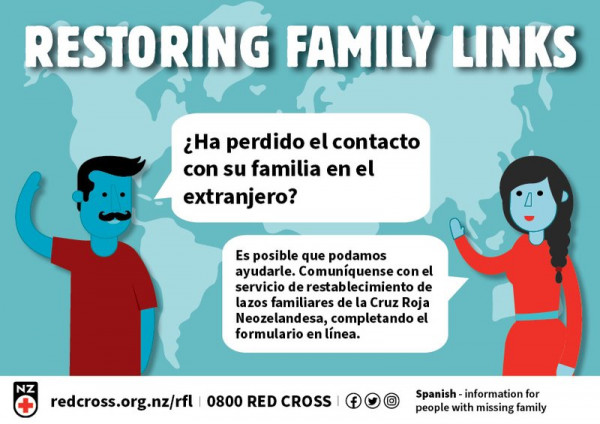 The tiles are easily shareable and printable up to A3 poster size.
Restoring Family links social media resources
More about Restoring Family Links
Finding a person's lost relative requires strong international networks to gather information across the world. The Red Cross Red Crescent Movement's independence and impartiality provides us with unique access where other organisations may be limited.
Our Restoring Family Links programme supports people in New Zealand find missing family overseas who they've lost contact with through violence, conflict and disaster. We work with our partners – 192 Red Cross societies and the International Committee of the Red Cross (ICRC) around the world to trace family members.