"They are like our second family"
10 November 2020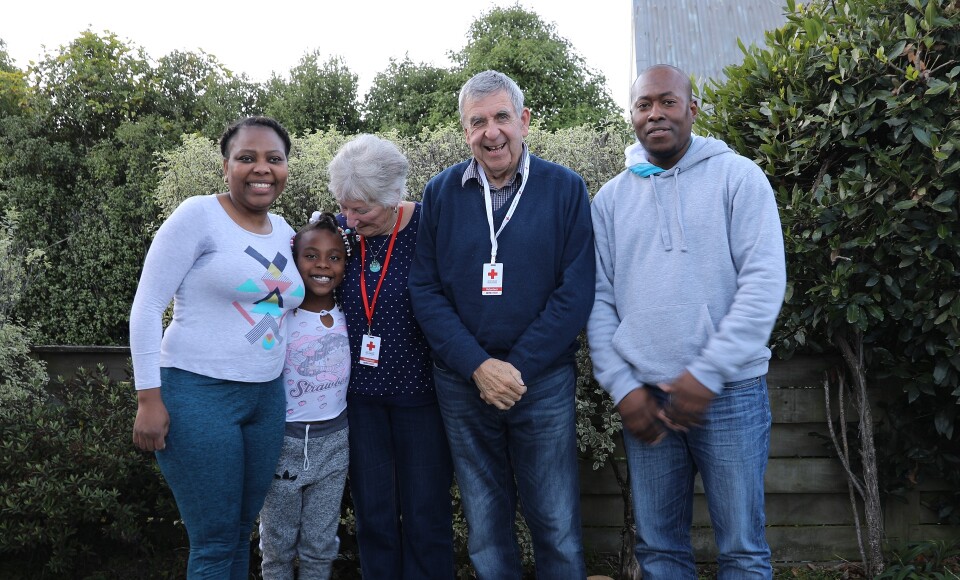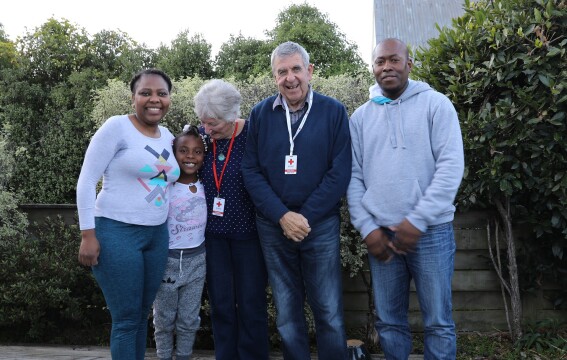 The unlikeliest of friendships are often birthed out of common ground and interest. For Jenny and Dave Pullen, becoming Red Cross refugee support volunteers was in their common interest: to make new friends, both with other volunteers and the families they work with.
Jenny and Dave Pullen hail from one of Aotearoa's sunniest spots — Nelson. Being retirees, there days are often filled with going to the Nelson Lions Club, gardening, walking, looking after the grandchildren and volunteering.
Jenny first volunteered with New Zealand Red Cross during the Nelson Fires. When a series of wildfires were set off in the Nelson and Tasman District in February 2019, Jenny's initial reaction was: "What can I do to help?"
Jenny went down to New Zealand Red Cross' Nelson Service Centre and eagerly asked if they needed any extra help. Although the team had it covered in most areas, they found something for Jenny to do – Jenny began working at reception, volunteering every Wednesday morning.
While Jenny really enjoyed her role at reception welcoming people, her and Dave wanted to try volunteering together, as it gives them joy in being able to help others.
"For a long time, we have wanted to work with former refugee families and being in Nelson we were able to do so," says Jenny.
"It's nice to be able to do something practical, we've always been on committees and treasuries, but to be able to do something practical and help people is lovely."
A safe place
In April 2019, Jenny and Dave completed their training, where they learnt the ins and outs of becoming a refugee support volunteer. This training included an introduction to the refugee experience, the role of the refugee support volunteer teams and teamwork, refugee health, wellbeing and education, the key support services available to families, as well as a cultural session.
"We made friends with two of the other refugee support volunteers and we became very close to them," says Dave.
After they completed their training, they were assigned their first family the following month in May. Jenny and Dave took their new role very seriously. They made sure the house was prepped and furnished, making it feel homely for when José, Sandri and their daughter Jendely safely arrived.
Jenny and Dave waited in anticipation at Nelson airport for the arrival of Nelson's newest residents. This was the moment they had been waiting for since completing their training.
"Jenny and Dave helped us when we first arrived by getting us set up and taking us to the supermarket. They are very special people, they have helped us settle into our new home and life in Nelson," says José.
"We have been assigned the best volunteers. They not only helped us but they have taught me a lot as well."
Finding community
José, Sandri and their daughter Jendely entered New Zealand under the refugee quota in March 2019, after fleeing their home in Colombia. The family spent six weeks at the Mangere Refugee Resettlement Centre, where they completed their orientation before arriving in Nelson. The family wanted a safe place to call home and Nelson was just that — a safe haven.
"I find people are very likeable in Nelson, they are very similar to people in Colombia, that when you walk outside your house, people greet you and say hello when they see you on street. They really make you feel welcome, "explains José.
For José, Sandri and Jenderly, finding like-minded people wasn't hard. They found a supportive Colombian community already established in Nelson, where they socialise and catch up regularly, making their transition into a new life seamless.
"Being able to see them settle into a safe and happy way of life, is really gratifying. They felt so safe in New Zealand when they arrived," exclaims Jenny.
"We are so grateful for Jenny and Dave. Even though our family is back in Colombia, Jenny and Dave are like our second family," says Sandri.
Get involved
If something sparked inside you while reading Jenny and Dave's story, here are some ways you can support former refugee families:
Volunteer as a refugee support volunteer, helping support a new family as they settle.
Donate to support our work with newly arrived refugees in New Zealand and our work internationally with refugees.
Our current appeals
Donate small household goods that will help turn houses into homes for refugee families.
Offer someone from a refugee background a job, which is a key part of the settlement process.
Reach out and help new Kiwis become part of the community. A friendly welcome can make a world of difference.