Always there in times of disaster – Westport floods
3 March 2022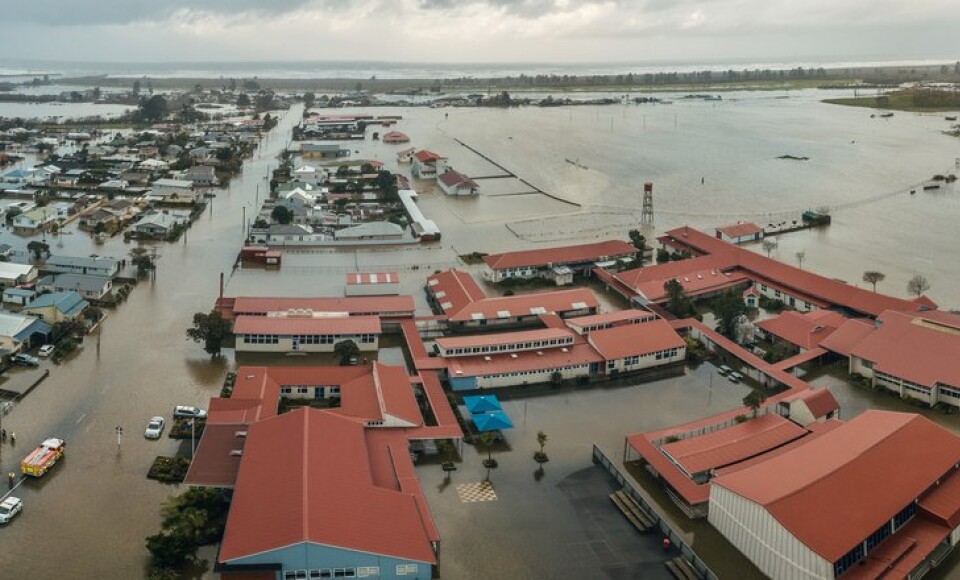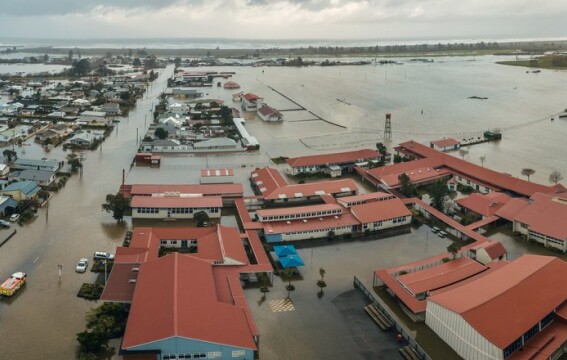 New Zealand Red Cross disaster response teams were there for the people of Westport as they faced their homes flooding for the second time in seven months. Two team members reflect on their experience and on a weary but strong community standing up to help itself.
"It was like a dystopian landscape." That was Peter Spreadborough's first impression as he walked the streets of Westport in the aftermath of the flood in July last year. A New Zealand Red Cross Disaster Support and Welfare Team (DWST) member from Nelson, Peter was in Westport to support those affected by the devastating floods that had all but submerged large areas of the small West Coast town.
After an eerie journey the night before along the deserted road from Nelson, dodging slips on the way, the team gathered alongside other disaster response agencies at the stadium in Westport – now the emergency operations centre. Outside it was damp and cold. The Army cooked food for the teams as they were briefed and planned their response activities.
Part of Peter's role was to work with Community and Public Health to check on the condition of houses ravaged by flood waters – what he saw was shocking. "There were streets lined with destroyed personal possessions – whole lifetimes' of possessions that had been dragged out of homes and piled up on the street to be taken away to landfill. It felt dystopian."
Psychological First Aid
Almost half the population of Westport were evacuated from their homes in the first days of the flooding. Many would wait weeks to return, and some will never be able to. Peter says a big part of the Red Cross team's work was to provide emotional support along with practical assistance – or 'Psychological First Aid'.
"People were experiencing a near total dislocation from normal services which is very disorienting. Because this sort of thing doesn't happen much, people don't have the resources to respond and it takes a while for their resilience to kick in. So we provide them with support to get through – a second set of eyes and someone to offer solutions."
Peter says this is often about connecting them to services such as insurance, Work and Income New Zealand and temporary housing. Or it could be as simple as helping them access a $50 supermarket voucher. "People often had issues with food security – many didn't know how they are going to get their next meal. We could help them deal with that."
Farmers were also hard hit, Peter remembers one in particular who had a huge number of stock just washed away. "He was really distraught – we tried to take some of the stress out of that by directing him to agencies that could help him with things like housing, food, who to talk to about insurance – we were able to move him further down the path towards solutions to where he could take over again."
Among the devastation there were bright spots where the community rallied around each other. The local Mitre 10 owner gave all his staff big discounts on materials to repair their homes, and he made repairs at the evacuation centre in the disused Holcim cement works. Peter recalls an older woman with a disability who would slowly walk the 20 minutes from her house to the Westport community hub and hang home-made lavender bags. "It created a calming atmosphere. She was caring for the carers — an absolute shining star."
Helping the locals help themselves
The July flood left hundreds of homes barely liveable. In October, DWST volunteers returned to Westport to check on people's welfare and among them was young Christchurch volunteer Brandy Alger — keen to see how she could help.
"Our job was to knock on the doors of 'yellow-stickered' homes to see if the people who were living in them were doing alright. We checked their living conditions and when things weren't OK we did something about it."
This time the Red Cross teams joined a new group of locally employed Community Navigators. Red Cross had first trained the Navigators in psychological first aid and then joined them as they visited more than 500 homes together.
"What we found wasn't always good," says Brandy. "People living in mouldy houses, no power, holes in the middle of the floor, young kids in conditions they shouldn't have been in. There was temporary accommodation available but many just didn't want to leave their homes."
Brandy says having the Navigators on board made all the difference for the local community. "Together we made sure everyone we connected with actually got the help they needed. We combined our post-disaster experience with the Navigator's local knowledge and connections to make things happen. The Navigators were able to learn from us too so when we left Westport, they were able to take over to complete the rest of the houses themselves."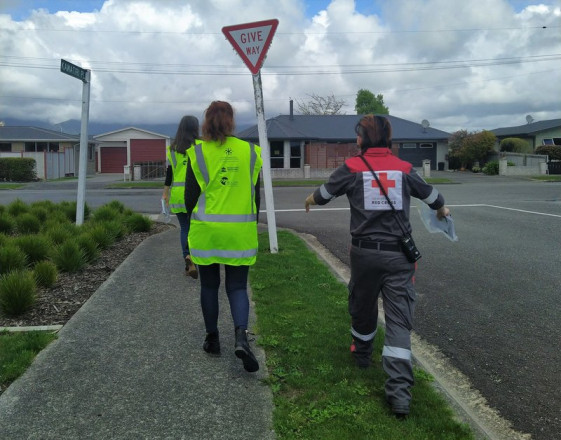 Devastation threatens again
In February, just seven months after the winter flood, both Brandy and Peter were called to Westport again. A state of emergency had been declared and the community braced once more for days of heavy rain."When I received the call up for a second time, I felt really bad for the people of Westport," Brandy says. "During the welfare checks we did in October, I could see how defeated many people felt and I could not imagine them all going through this yet again."
Authorities were preparing to evacuate up to 2,500 people. Five Red Cross Disaster Welfare and Support Teams from Greymouth, Christchurch, Nelson, Timaru and Dunedin made their way to be there once again for the people of Westport.
Welcome help
Peter remembers the local's reception when they saw Red Cross back in town. "They really were pleased to see us. I could tell there was a lot of goodwill and a high degree of trust in Red Cross. People saw a globally recognised team coming in to support their local services." He says while Red Cross don't take the lead in disaster response and are there to support lead agencies such as Civil Defence Emergency Management groups, it's well-known Red Cross have valuable skills and experience to offer in a crisis.
"People knew if they tapped someone from Red Cross on the shoulder that things would happen."
The DWST teams arrived with camp stretchers, bedding and other supplies, and quickly helped set up three evacuation centres, ready to receive people escaping their threatened homes. As people arrived, they helped them settle, gave psychological first aid where needed, and just helped in any way they could.
"People were just glad they had somewhere to go where they felt safe," Brandy says.
She remembers one special guest who happily made herself at home at the evacuation centre at the cement works. "There was a tiny older woman who drove herself to the welfare centre, found her bed, and just said 'I'd love a cup of tea and a smoke and I think I'll read the news'. And she was fine," Brandy laughs.
Thankfully the river didn't rise quite as far as expected that night, and in the end only around 100 people needed evacuating.
While residents and emergency responders were able to return home the next day, Westport still has a way to go to recover from the floods, and New Zealand Red Cross will continue to be there when needed.
Brandy says it's amazing being a Red Cross DSWT volunteer. "It makes a difference that we're part of a neutral organisation and people trust us – we're highly trained and we'll travel to where we're needed. I've worked in other areas of disaster response, but I feel like being part of Red Cross is where you can do the most good."
Information about becoming a Disaster Welfare Support Team volunteer