You never know when you'll need to use first aid skills
8 September 2023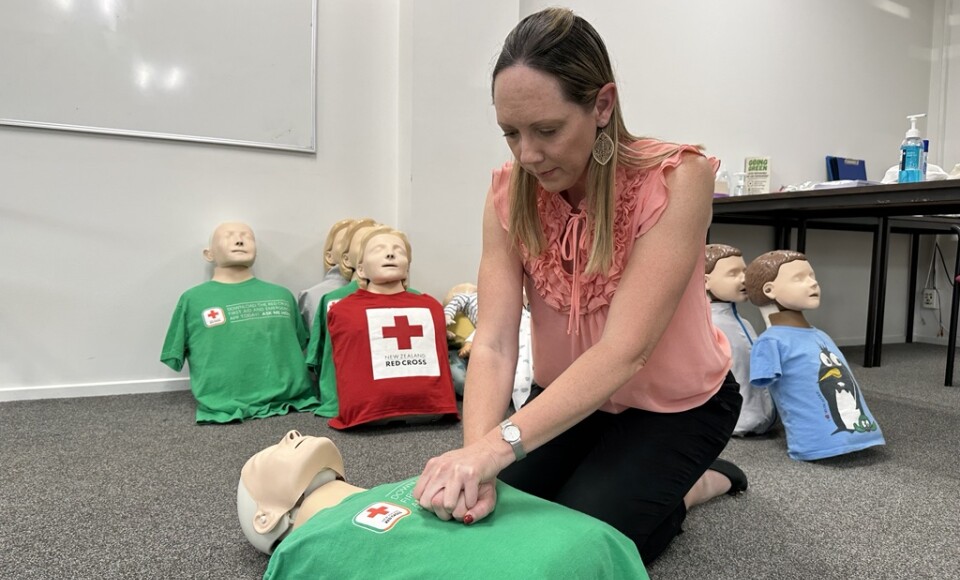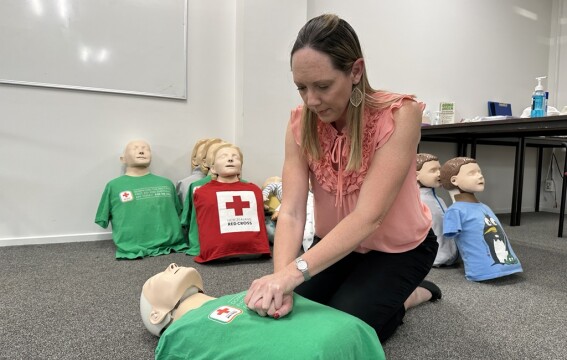 Jaimee Astle, our Senior Web Advisor, recently attended a first aid course at our Christchurch Service Centre, not knowing that within half an hour of finishing the first day of training, she would need to use the skills she'd just learned – and twice in quick succession.
When Jaimee was driving home from the first day of a two-day comprehensive first aid course, she came across an accident. A motorcyclist had skidded on paint markings and was lying in the middle of the road underneath his touring bike.
First on the scene, Jaimee quickly helped him up off the road, so he didn't get run over and called 111 for help.
"He was in a bit of shock. I checked for injuries and helped him recover his bike and then updated emergency services about the situation. I stayed with him until he was okay to head home."
If that wasn't dramatic enough, 10 minutes later when she was in a clothing store to buy her partner a birthday present, she heard someone in the next aisle say what she thought was "help". Jaimee was trying to process what was happening when she heard a bang and saw a woman had fallen to the floor and was having a seizure.
Jaimee quickly grabbed a padded jacket from a nearby rack and put it under her head. She yelled out to the two staff members in the building to call an ambulance, and then to block off the area for privacy. "My instincts kicked in and I knew I needed to protect her head from the concrete floor and ensure that she could breathe. I loosened her scarf and got her into the recovery position so that liquid could drain from her clenched mouth, and checked to see if she had a medic alert bracelet.
After the seizure stopped, Jaimee thought the woman had stopped breathing. "I listened for a breath. After about 10 seconds without anything and thinking I was going to need to perform CPR, she gasped and slowly started to come around."
Paramedics were at the shop in about seven minutes.
A couple of weeks later, Jaimee went to the shop to check up about the woman. Staff told her she was okay and that her husband conveyed a big thank you.
Putting first aid skills into practice
After helping two people, potentially saving one's life, Jaimee was asking herself 'was that for real?' The timing and circumstances she faced on that evening were only familiar to her on TV shows about emergencies.
The next day those attending the course alongside her were curious to know what happened.
Jaimee says her experience taught her that everyone should have these lifesaving skills. "You never know when you'll need to use them.
"Hopefully you'll never have to, but first aid skills are so valuable regardless of who you are or your profession. The course is designed in a way that equips you with knowledge and skills to deal with different scenarios, and also has practical exercises and assessments to help give you the confidence to step up in a situation when people need help."
By the numbers
Every year, we train tens of thousands of heroes, across Aotearoa with lifesaving skills.
For the year to 30 June, we have:
trained over 73,000 Kiwis in first aid
also trained over six thousand Fire Emergency New Zealand (FENZ) staff and volunteers
managed a total of 2,800 Automated External Defibrillators (AEDs) throughout Aotearoa.
According to recent New Zealand statistics from the Out-of-Hospital Cardiac Arrest Registry (OHCAR), the use of AEDs in conjunction with traditional cardio-pulmonary resuscitation (CPR) has led to a remarkable increase in lives saved compared to relying solely on CPR. Studies have shown an increase of up to 74 percent in survival rates when AEDs are promptly utilised, highlighting their crucial role in improving cardiac arrest outcomes.
For more information
Our first aid courses will give you life-saving skills.
Browse all first aid courses available and book now
Our shop sells high-quality first aid gear and AEDs. You're doing good when you buy your first aid gear from our online shop. All the profits from our shop help provide humanitarian aid and support in your community and around the world.
Access first aid materials on the go with our free and comprehensive mobile app for Android and iOS users.