Türkiye Syria earthquakes – response and recovery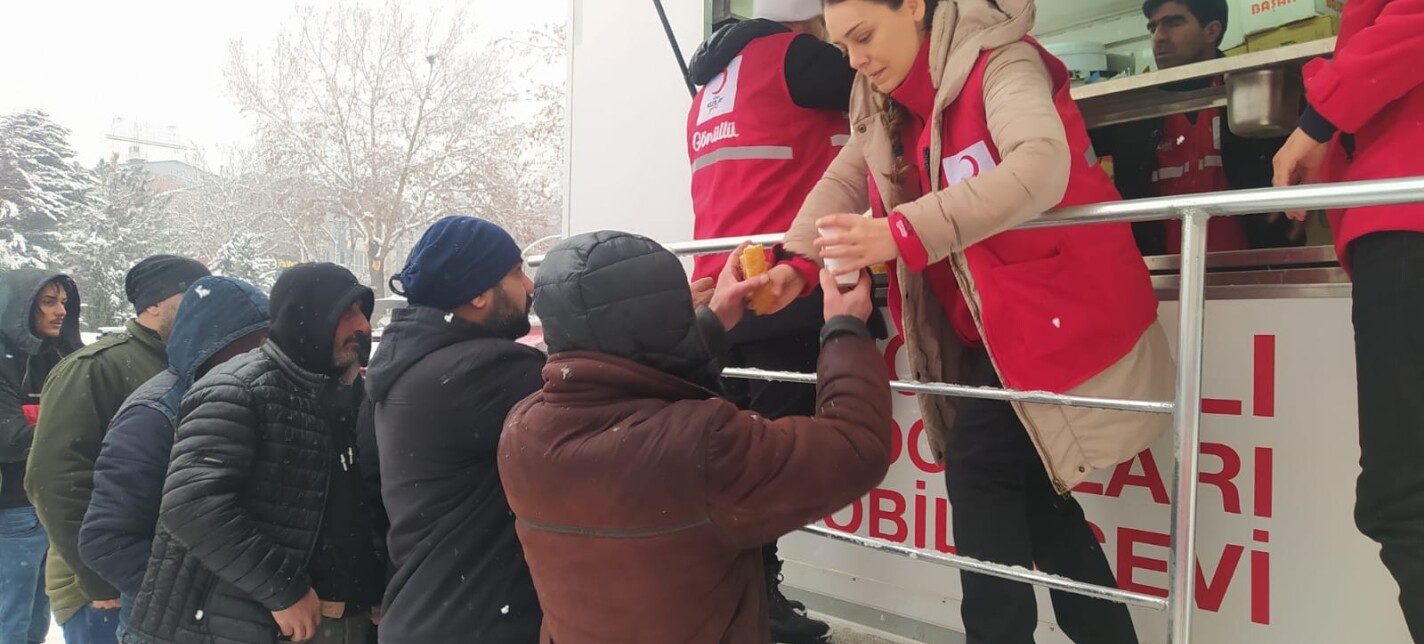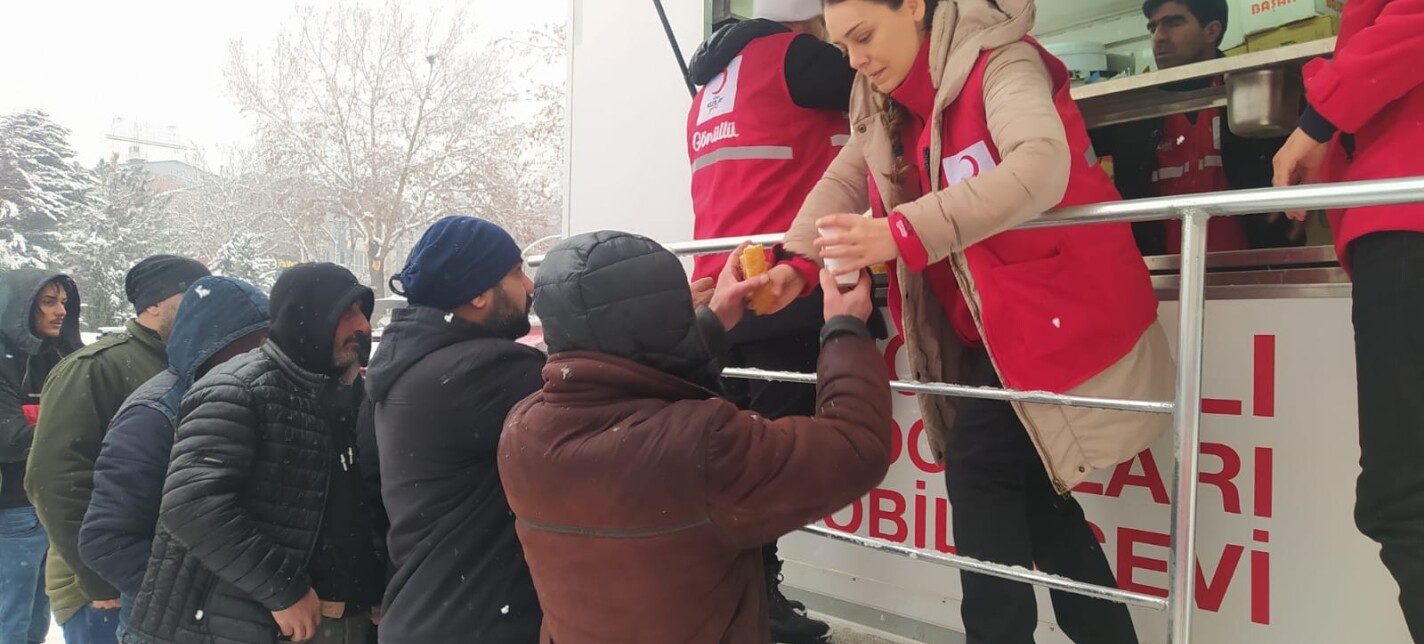 Our thoughts are with the people of Türkiye (Turkey) and Syria after two devastating earthquakes struck on Monday 6 February 2023. Tragically, the earthquakes - the biggest in a century – resulted in tens of thousands people losing their lives and thousands more injured.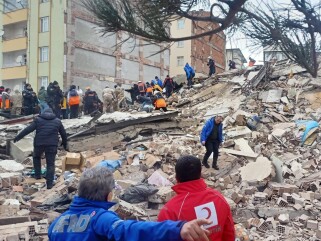 The devastation caused by this disaster also includes the loss of millions of homes, livelihoods, infrastructure, and severely impacted local economies.
The region hosts many displaced people from the conflict in Syria.
The people of Syria and Türkiye will need our support, not just in the coming days but in the months and years of recovery and rebuilding ahead. 
Our response and how your support helps
The Türkiye Syria Earthquakes Appeal is raising funds to support the response and recovery.
Your donation will help the people and communities who have been impacted by this devasting disaster. All the funds raised in this Appeal will be used to aid the response and recovery efforts of Red Cross and Red Crescent teams on the ground who are working to provide urgently needed support to those most in need.  
We have sent our first international delegate specialist, Dallas Roy to Türkiye. For the next three months, he will support the leadership of the operational response on behalf of the International Federation of the Red Cross and Red Crescent Societies (IFRC) and Kizilay (Turkish Red Crescent) local teams.
We are in the process of looking at other specialists who have the right skills and experience required on the ground. 
Read the story on Dallas Roy, our international delegate, leaving for Türkiye.
International Red Cross response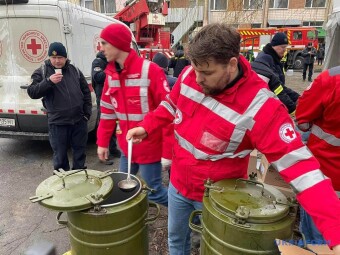 National societies from across the International Red Cross Red Crescent Movement are working together to provide coordinated support and assistance to local societies that are supporting those most in need in the region. Currently, 9,000 staff and volunteers are working in the region.
In both countries, Red Crescent teams are scaling up psychosocial support to help alleviate the distress and psychological impacts of the disaster.
There is the risk of a second disaster as healthcare and sanitation needs grow with an elevated risk of infectious diseases.
Urgent needs include providing shelter, emergency health services food, water, and sanitation to affected communities in both Syria and Türkiye.
In both countries, Red Crescent teams are scaling up psychosocial support to help alleviate the distress and psychological impacts of the disaster.
In Turkey, Kizilay has more than 5,000 staff and volunteers working in 10 affected provinces. They are providing food and basic aid items to support those injured and evacuated. They have provided more than:
80 million hot meals
14 million servings of food items
cash vouchers have been distributed to 140,000 households to meet urgent needs
54,000 tents and 100,000 blankets and
30 million bottles of water to people outdoors.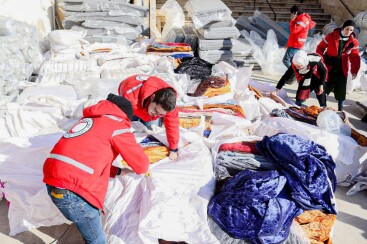 Mobile clinics are supporting rural communities and shelter sites with health services. Kizilay has also sent its national blood stocks to the affected regions and is calling on people across Türkiye to donate blood, to meet the increasing need.
In Syria, the disaster has compounded already dire humanitarian needs. The country has been ravaged by 12 years of armed conflict, and a severe economic crisis. Political complexities, severe winter weather, and low supplies of fuel and excavation equipment pose further challenges to the distribution of aid.
The International Committee of the Red Cross (ICRC) is assisting with the most pressing needs in Syria including tents and providing surgical and medical items to hospitals in the hardest hit areas.
In Syria, the hardest hit areas include, Hama, Aleppo, and Lattakia. The Syrian Arab Red Crescent has over 4,000 staff and volunteers working on the ground.
They have provided:
health care and medicines via clinics and mobile health units to over 54,000 people
more than 1.2 million relief items to 1.8 million people including emergency shelter, blankets, mattresses, winter clothes, food, and agricultural supplies.  
The local teams also continue to help people restore connections with loved ones.
Palestine Red Crescent teams are working with the Syrian Arab Red Crescent distributing first aid and food in Palestinian refugee camps in Aleppo and Latakia, and providing ambulances, medical clinics, doctors, and volunteers.
Local teams are working to improve access to water, sanitation and health services to prevent disease outbreaks.
The IFRC is coordinating support being offered by International Red Cross Movement partners – such as money, supplies, and disaster and recovery specialists. This is in agreement with Kizilay and the Syrian Arab Red Crescent who are at the heart of the response and recovery in affected communities. 
Making a donation
We cannot do what we do without people like you. Your donation ensures we are ready and can provide critical support where it's needed.
You can help the people in Türkiye and Syria affected by the earthquakes by making a donation today to our Türkiye Syria Earthquakes Appeal.
Organising your own fundraiser
You can create your own fundraising event and donate the funds you raise to the Appeal.
Finding missing loved ones
Our Restoring Family Links team in Aotearoa New Zealand works across our global network, including in Syria and Türkiye, to find loved ones who are missing due to this disaster, and subsequent displacement.
Anyone in Aotearoa New Zealand who may have lost contact with family members due to the earthquakes can make an enquiry to our Restoring Family Links service through our website.
Information about the Restoring Family Links service is on our website in Turkish,  Arabic, and English.
Restoring Family Links social media resources in various languages.
Volunteering to help
In all disasters and emergencies, the local community is the first to respond – they know the context, speak the language, and understand the culture and needs. Many Kizilay and the Syrian Arab Red Crescent staff and volunteers are part of the communities impacted by the earthquake. They have trained staff and volunteers prepared for unfortunate events, like this one.  Around 300,000 professionals are working in the earthquake zone.
The people we send overseas to help are our International Delegates, highly-trained experts who have the skills needed to complement the local response and work in challenging emergency environments. 
Learn more about becoming an International Delegate
Thank you for wanting to help those in need in any way you can.