Information for course participants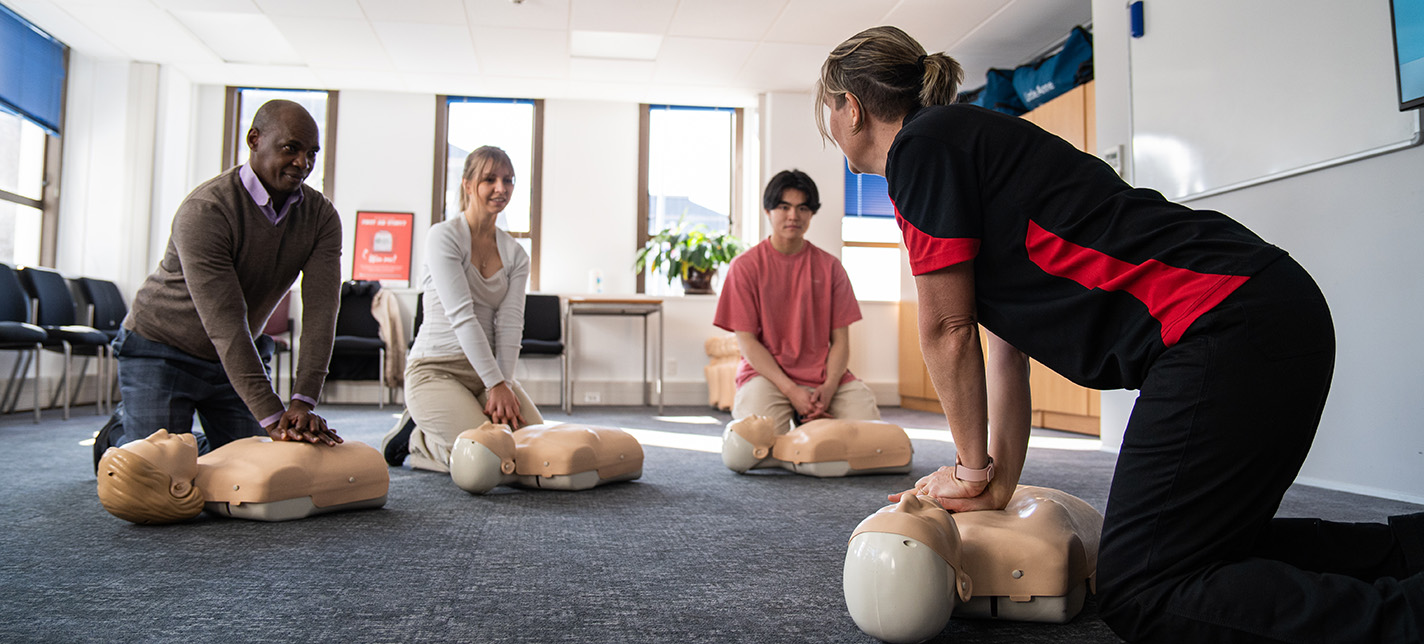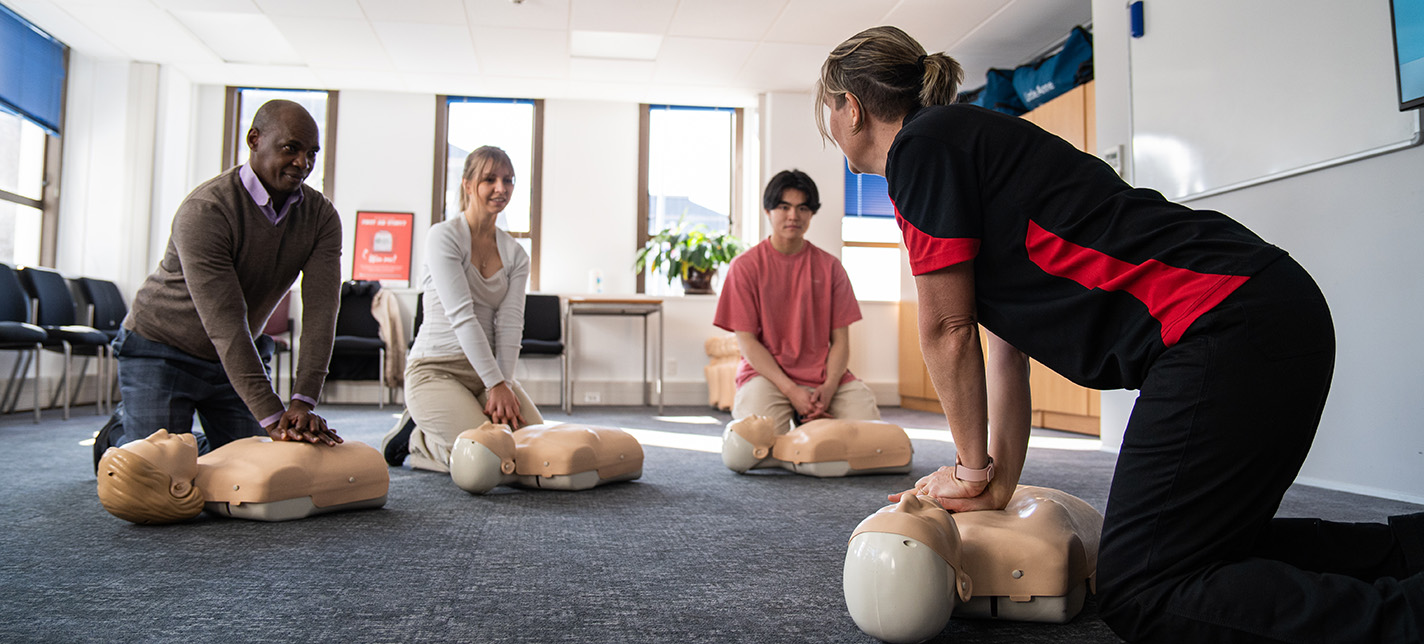 All the information you need to know before taking one of our courses including course rules and regulations, physical fitness, and our cancellation and refund policy.
---
Before the course
How we confirm your booking
Once you've booked, we email you a confirmation of your booking.
The confirmation email includes the address of your training venue and the time your first aid course starts. We will remind you about your course one week before it starts.
If you have booked an online course we will send a separate email with your login information to our online learning platform.
Online learning
Before you attend the face-to-face component of your online course you must complete your pre-course learning activities:
Log in to our online learning platform.

Allow about four hours to complete.

We recommend completing this at least 48 hours before the course starts.
Please note that completing the New Zealand Red Cross App Tests no longer qualify as pre-course learning.
Physical fitness
Our face-to-face courses are practical and involve groupwork. You'll need to show the tutor that you are physically able to perform set first aid tasks in simulated emergency situations. If you are unable to perform cardio-pulmonary resuscitation (CPR) on the floor long enough for the tutor to assess competency, then you may not meet the requirements for a New Zealand Red Cross First Aid Certificate or the unit standards (if applicable).
During the course
Course rules and regulations
Please arrive 15 minutes before the course begins to complete enrolment.

Courses involve demonstrations and scenarios which

will

involve contact with others.

T

alk to your instructor for other options if you are uncomfortable with personal contac

t.

Only enrolled students can attend the course.
Turn off mobile phones.
Instructors may request disruptive participants be removed from the course when it is fair and reasonable to do so. In this case, the participant will be given the opportunity to put their view forward first.
Instructors may, at their discretion, offer that participant the opportunity to complete the course with another instructor.
Assessments
All NZQA course assessments are undertaken by New Zealand Red Cross registered instructors. Some peer observation may be undertaken under the supervision of the instructor.
You must attend all modules and complete all assessments to gain the accredited course certificate.
Students who haven't completed all the required assessments can re-sit or take catch-up assessments to complete the certificate. These must be completed within three months of the course date.
Assessments can only be attempted three times. All assessment material will be kept by New Zealand Red Cross for moderation purposes as required by NZQA.
For New Zealand Red Cross Certificates and New Zealand Qualifications Authority credits, participants must successfully complete the required assessment.
Smoking
New Zealand Red Cross has a no-smoking policy
Alcohol and drugs
New Zealand Red Cross can refuse to teach a student if it suspects that they either have consumed, are under the influence of, or are in possession of alcohol or drugs during course hours.
Crèche or childcare
There are no baby or child-minding facilities available. Children and babies are not allowed in the classroom in any of the courses, including child first aid.
Minimum age for course participants
Course participants need to be 14 years or older.
After the course
You will receive your first aid certificate via email within approximately five days of your course. Please ensure you have provided us with a valid email address. We will also include a survey to help us improve our first aid courses.
How long does a first aid certificate last?
A first aid certificate lasts two years.
For courses with a revalidation requirement, we will send you two reminders before your certificate expires – three months and then six weeks before expiry date.
Courses that require revalidation are:
Comprehensive First Aid
Essential First Aid
First Aid Revalidation.
As of 1 February 2023, you can attend a revalidation course if your certificate is no older than two years and three months from the date of issue.
Payment information
Course fees are charged at the price on our website at the date of the order unless agreed by us.
You may be charged interest if you don't pay the course fee by the due date.
Course cancellation and refund policy
Public course rebooking, cancellation and refund policy
You can rebook your course at no extra cost if you contact us before the course start date and time.
You can cancel your booking and receive a full refund if you contact us at least 24 hours before the start of your course.
No refunds will be made for any cancellation within 24 hours of the course starting.
If you don't attend the course and haven't let us know, you have two business days to contact us for course rebooking. If no contact is made within two business days, no refund will be made, and any rebooking will be at full cost.
Group (exclusive) course rebooking, cancellation, and refund policy
We are happy to rebook or cancel a group course at no extra cost, provided we are notified at least five working days prior to the course start.
We will charge an administration fee of 10% of the total course cost for rebooking a group course where we receive notification five working days or less prior to the course start.
We will charge an administration fee of 25% of the total course cost for cancelling a group course where we receive notification five working days or less prior to the course start.
If we've booked an external venue on the customer's behalf, additional rebooking or cancellation fees may apply, in accordance with the venue's policy.
An organisation can change participants at any time for no additional cost. If total participant numbers drop below the minimum specified in the training contract or quotation, a minimum charge may apply.
General Information
English Language requirements
The course and assessments are in English. To receive a first aid certificate and the relevant unit standards, you need to pass written, verbal, and practical assessments in English. If you don't pass the assessments, you will not receive a certificate or the unit standards available.
In some circumstances, it may be appropriate for you to bring a support person to assist your learning. For further information, please contact us before you attend the course.
Learning difficulties, disabilities, and physical requirements
If you have a learning difficulty, disability, or an illness, which you feel may affect your performance during the course, please contact us to discuss this prior to the course start date.