"I didn't give up. I kept smiling."
14 October 2021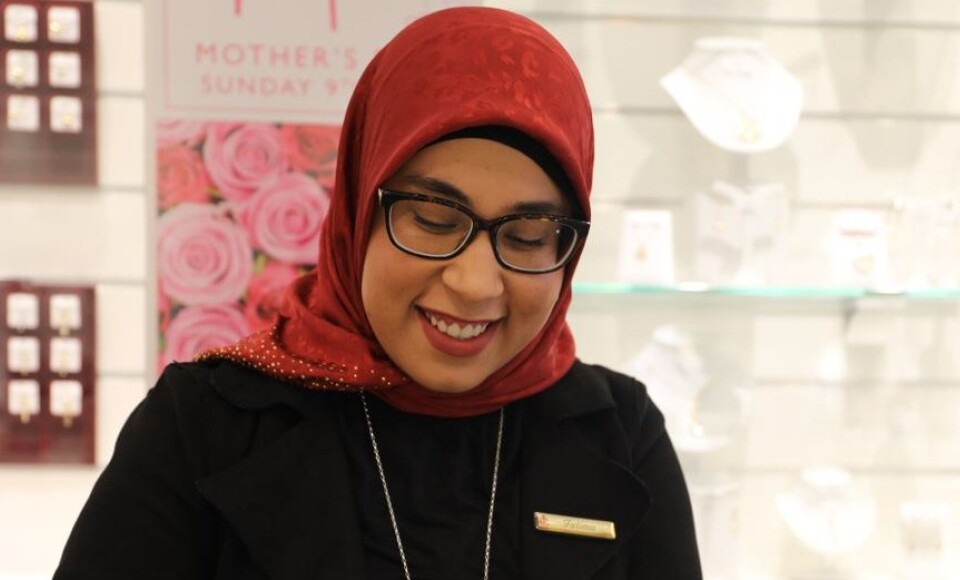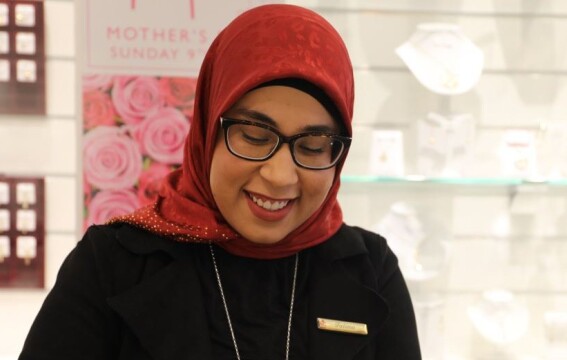 Growing up as a former refugee in Aotearoa was not always easy for Fatima Mohammad, but this quick-witted, charming young woman has never let her difficulties dampen her spirits.
With a smile that lights up the room and an incredibly infectious laugh, Fatima Mohammad seems right at home in her role as a salesperson at Pascoes The Jewellers in Nelson.
"In my job, I get to witness so many special moments," she says. "People come looking for engagement rings, wedding rings, Mother's Day gifts, memorial lockets… being able to help people in these moments is very unique."
"Everyone who walks in the door will be treated the same. I'm not looking at what they're wearing or the colour of their skin. I'm going to help them find whatever it is they're looking for.
"Upon first meeting Fatima, you'd be forgiven for assuming she has been a 'people person' her entire life. There is a natural ease to the way she interacts with the world around her, but this was not always the case.
Embracing a new home
Originally from Afghanistan, Fatima arrived in Aotearoa in 2012 with her mother and siblings under the family reunification programme. They were reunited with her older brother in Nelson, who Fatima had not seen in person for several years.
At only 12 years old, Fatima found the experience of moving to an entirely new country both exciting and overwhelming.
"We arrived in Auckland and stayed overnight there, then we flew to Christchurch and drove to Nelson the next day," she recalls. "It was crazy. It was like a dream. And being reunited with my brother – I didn't even think about how tired I was, only how lucky I was to see him again after so long."
As is the case with many new arrivals to Aotearoa, Fatima experienced a fair amount of culture shock during her first few months here. It was often the small things, such as boys and girls holding hands in public, that would remind her she was somewhere new. Her older brother played a huge role in helping her and her siblings adapt to their new environment during this time – a kindness that Fatima remains endlessly grateful for.
"For a little while, I felt like being in New Zealand was like being in a movie," she says. So much was happening around her, but she wasn't sure of her place. "Shortly after arriving in Nelson, we went to my brother's friend's house. They were just talking and giving us tea, but I kept thinking, 'What are they saying? What language are they speaking?' I knew it was English, but it sounded very hard."
When she enrolled at her local intermediate school, things became even more confusing after a communication mix-up on her first day. "Two girls took me on a tour of the school using a tablet to translate what they were saying into Arabic. I could read some Arabic, but not a lot. I could understand what they were telling me, which was great, but it left me even more confused because I thought, 'Wait, do I have to learn Arabic now? What's going on?'"
Despite the initial language barrier, Fatima was determined to make the most of her new situation. She began school as an intermediate-level student and progressed through Nelson College for Girls to NCEA Level 2."In the beginning, it was really hard," she says. She was one of the only students at her school who wore a headscarf, and she was confronted with a fair amount of prejudice because of it. "There was always something. People ignoring me or giving me looks like I didn't belong. Sometimes I wanted to give up, but I didn't. I kept smiling."
Forging her own future
Although she relishes the support of her family, Fatima's immediate goals post-high school were singularly focused: find a job, become more independent, and, consequently, support her loved ones in any way she could.
She faced a number of barriers to finding employment. As a young Muslim woman, she cannot work in hospitality with alcohol sales. She also suffered from a series of health presentations that restricted her opportunities. After 18 months of searching, and with support from the local Red Cross Pathways to Employment team, Fatima ended up finding and accepting her dream job helping customers curate their own sense of style at Pascoes The Jewellers. Fatima's unending optimism and outright tenacity for life has always impressed those she works with. Marjorie Rennell*, Manager at Pascoes The Jewellers in Nelson, was drawn in by her personality the moment they met.
Following a short phone call with the local Pathways to Employment team, Marjorie met Fatima when she visited Pascoes to drop off her CV. "I met her, I was enchanted, I interviewed her twice and offered her the job.""I was really looking for someone who could fit in with my existing team – someone who was driven, dedicated, and had that bubbly, friendly drive that we need for this business. She had it in spades."
Fatima has continued to impress Marjorie and the rest of her new team. After only three months in the role, she was recognised as the Nelson store's top salesperson of the month.
"A lot of people, when they first start out in this business, are very nervous and a bit standoffish when engaging with strangers," says Marjorie. "She didn't have that. Instantly, the first second somebody walks through the door, she's greeting them, talking to them, selling them a product. She has no fear of personal engagement with strangers, which is so important in our business."
After years of uncertainty and searching for her place in Aotearoa, Fatima feels like she's finally found it among her Pascoes family and wider Nelson community.
"This job has been amazing. It has given me an idea of where I want to go, what I want to be. I enjoy who I work with – the team is incredible. It's the perfect place for me. I could not ask for better."
Thinking about hiring a former refugee?
Marjorie has a few simple words of wisdom for anyone who is looking for workers and is considering hiring a former refugee.
"Now that I know about the [Pathways to Employment] programme, it's actually quite inspiring that this programme exists. I would absolutely recommend it to any business."
"It's about the person. It's important to get to know someone before you say 'no', because you might find that you've found a Fatima. If you don't get to know the person, you'll miss out."