Meals on Wheels: 70 years of love and care across Aotearoa
25 June 2021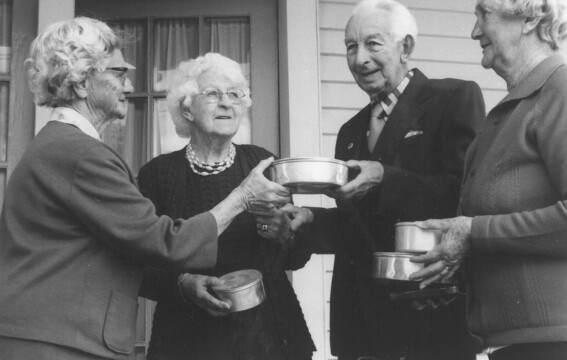 June 2021 marks 70 years of New Zealand Red Cross Meals on Wheels service. The programme has developed in many ways over time, but the love and care from our volunteers have proven to be the lasting foundation.
June 2021 marks the 70th anniversary of New Zealand Red Cross' Meals on Wheels service. Our Meals on Wheels service was started in June 1951 by Red Cross in North Canterbury when our volunteers began preparing and distributing soup for people in need during a gas, coal and electricity shortage.
At first, the programme started by neighbours looking out for one another. They would nominate those in their communities who needed extra assistance. A kitchen was set up to prepare and deliver soup to the elderly in Christchurch. Between June – August 1951, a total of 2,029 pints of soup were made and delivered to those in the community.
Due to the demand, the service grew over the years and Red Cross volunteers across the country started setting up Meals on Wheels in their own regions.
In 1973, after 22 years, the local District Health Boards (DHBs) across New Zealand took over the preparation and cooking of the meals. Later on, they introduced the assessment for eligibility to have a systematic approach in identifying recipients of the service.
While we are no longer involved in the actual preparation of the food, our Red Cross volunteers' care and love remained at the forefront of the deliveries.
Delivering love across Aotearoa
In the beginning, meals comprised of simply just soup and bread which came in stainless steel plates and lids. In 1956, there was a shift from soups to meals. Volunteers used a variety of donated food items to create the meals that were delivered to members of the community.
From the small kitchen in Canterbury, Meals on Wheels has developed to serve 33 locations across the country with over 3,000 volunteers. What started out as a simple act of kindness, wherein neighbours were looking out for each other, became a movement which has become a lifeline for so many. Over time, it has become more than just delivering food: it has paved the way to building friendships and companionships for those in our communities who are often isolated and vulnerable.
When the country went into lockdown due to the COVID-19 pandemic in 2020, the New Zealand Government deemed Meals on Wheels an essential service. This meant our volunteers were able to deliver more than 103,500 meals to isolated people in communities across Aotearoa. More importantly, this enabled them to bring comfort and stability to some people who might have been feeling lonely and disconnected from the community during that time of uncertainty.
During lockdown, every Meals on Wheels recipient also received a Red Cross Parcel. The parcels contained a range of essential goods to bring comfort and hope, including hygiene items, edible treats, blankets and wellbeing resources.
Memories from the past 70 years
Our Meals on Wheels service wouldn't be what it is today without our Red Cross volunteers, volunteering their time to support their own community. Some of our incredible Red Cross people have been involved with the service for more than 50 years! So, to celebrate this milestone, below are a few anecdotes from some of our amazing volunteers who have helped us deliver our Meals on Wheels service across the country during the early years.
---
I started driving for Meals on Wheels in Tauranga, way back in 1964. Four to five different routes initially covered the Tauranga area, increasing to eight or nine at one stage. At that time, there was also a Red Cross branch at Mount Maunganui. They took care of Meals on Wheels on their side of the harbour with meals being supplied by a local restaurant. Back in the day, the hot meals in small aluminium containers were placed within round metal canisters, ready for drivers' distribution. We then actually went into each recipient's home and dished up their main course onto a waiting plate that was either warming in the oven or over a pan of simmering water. This also gave the opportunity for a bit if a chat. Some of the housebound greatly appreciated it, as perhaps the driver was their only visitor for the day. — Ann Tutbury, Bay of Plenty
---
Meals on Wheels began [in my area] about 60 years ago when Mrs Edith O'Carroll and Mrs Jean Carr got together and began by cooking meals at home and delivering them to people who needed them. One week they were delivered to Waikari and the next to Hawarden. Today, the meals are delivered four times a week by volunteers — some of them have been doing the deliveries for 20-30 years! Meals are delivered over a distance of 10 km each day — some people drive over 40 km from their homes to do the deliveries. — Pat Manning, Hawarden Waikari
---
The Meals on Wheels service started in Inglewood 30 years ago. The local branch of Red Cross administers the system and recruits the volunteers to deliver the meals — 16 to 18 meals are delivered each day. As well as delivering the meals, the service has other advantages. This includes having those delivering the meals get urgent medical attention for recipients who they have found to be seriously ill and unable to call for help.Most of all, those delivering meals become friends and confidants with recipients, which benefits both parties. — Don Reeve, Ingelwood
---
When I was growing up in Methven, we had a Junior Red Cross group which met at Methven District High School after school. I remember parading on Anzac Day. We made Friendship Bags, which were given to the former refugee families who were living at Hinds. I remember visiting Christchurch and accompanying a Red Cross person delivering Meals on Wheels. That was over 65 years ago. — Marlene Ingram , Kaikoura
---
I cannot put a firm date on when this service began in Balclutha, somewhere in the late 60s early 70s. I have been involved for over 20 years. Our community support is unique in that we have 100 volunteers who do their drive once a month. What impresses me is the diverse backgrounds of our volunteers. A Police Constable, a migrant worker who is also a nurse, another volunteer is a caregiver at a care home. We do have some long-standing volunteers who are 70-80 years of age and they still do their runs, recently a volunteer resigned who had been volunteering for 40 years! Many drivers have had to support a client at stressful times especially through COVID-19 last year. Volunteers recognise the fact that it's not only the hot meal but the social contact that is important too. — Audrey, Balclutha