National Council 2022
2 December 2022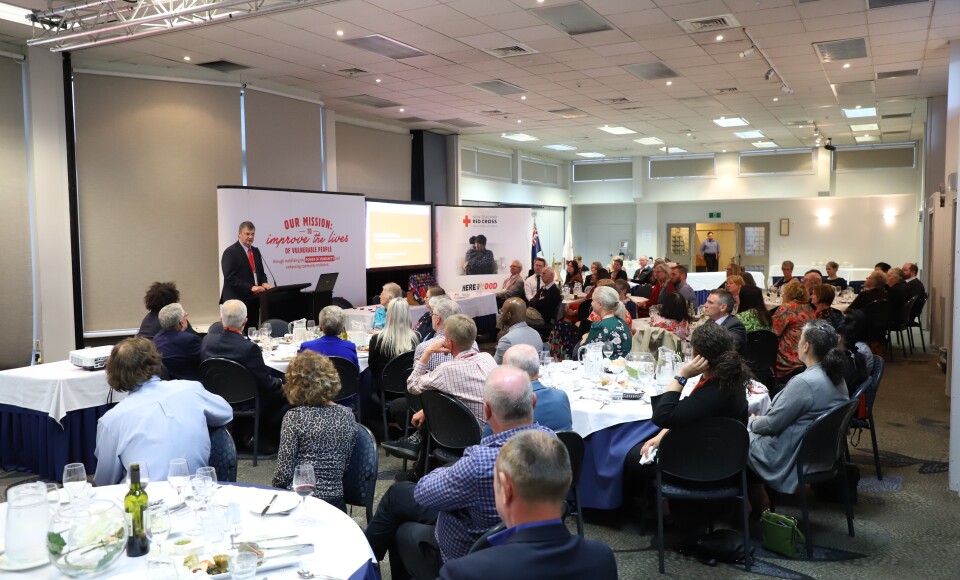 This year our National Council meeting was held in Wellington on 5 and 6 November 2022, the first time in person since in 2020. The National Council is made up of National Board members, Counsellors of Honour, Area and Youth delegates, as well as observers.
Outcomes of the 91st Annual General Meeting
Kaumātua Peter Jackson (Te Atiawa, Taranaki Whānui) opened proceedings with a mihi whakatau. This was followed by a waiata from the Executive Leadership Team and other employees.
Our Patron, The Rt Hon Dame Cindy Kiro, GNZM, QSO Governor-General of New Zealand addressed National Council via a video message.
National President Kerry Nickels presented her report along with the Area Council highlights video and Secretary General Sarah (Norm) Stuart-Black also presented her report with a year in review video.
National Council also adopted the following reports:
Finance report, presented by Warren Johnston, National Board member and Chair of the Audit and Risk Committee
Foundation report, presented by Paul Drummond, NZRC Foundation Executive Director
International Humanitarian Law report, presented by Sir Kenneth Keith, Counsellor of Honour and Chair of the New Zealand International Humanitarian Law Committee
International report, presented by National Board member and Chair of the International Committee, John Dyer
National Youth Panel and Graeme White Fund reports, presented by Sarita Love, National Board member and National Youth Representative
The Annual Report 2021/22 and the amended New Zealand Red Cross Constitution was also approved and adopted.
There were workshops following the meeting, including:
Health, Safety, and Wellbeing.
Change readiness – care and communication when leading change.
Realising 2030 change programme – National Board members, delegates, and observers came together in their seven new Area groups to discuss the transition to the new Area model.
We were also very fortunate to hear from Ross Pinney, National President, and Kym Pfitzner, Chief Executive Officer from Australian Red Cross, about some of their challenges and opportunities.
The 2023 National Council will be held on 4 and 5 November next year.
Area Council development day
On the Friday before National Council, Area Council Chairs participated in a development day, an annual opportunity for our Area Chairs to meet each other and participate in team-building sessions. They heard from guest speakers, including:
Kym Pfitzner, Chief Executive Office of Australia Red Cross
Jana Rangooni, Chair of Paralympics New Zealand, and
Helen Horn, Head of Consulting at Winsborough.
Changes to the National Board
National Board elections were held in parallel with the National Council meeting.
We said farewell to two National Board members – Pip Stewart and Sue Ineson, QSM. Pip served as National Vice President and completed her maximum term. She is a long-serving member of New Zealand Red Cross, including as an international delegate. Sue is also a long-serving New Zealand Red Cross member and chose not to seek re-election. She has been a Branch member, an Area Council representative, and was the Board Chair of Refugee Trauma Recovery, which is now part of New Zealand Red Cross.
We welcomed two new National Board members – Sue Chamberlain and Mat Darling, who were elected during National Council.
Sue has been with New Zealand Red Cross since 2008, when she joined as an international delegate specialising in organisational development. She has been a branch president and Area Council Chair and has worked with Red Cross societies in Timor-Leste and the Pacific. She has qualifications in teaching as well as business management, and has worked in training, fundraising, marketing, and communications.
Mat has been with New Zealand Red Cross since 2007 and has a background in youth and organisational development, as well as emergency management. He is an environmental scientist, with qualifications in geology and disaster risk and resilience. He is currently undertaking his PhD, considering how to better incorporate non-resident populations into New Zealand's disaster risk framework. He holds several other governance roles across primary industry, technology, local community, and sport organisations.
Honours and awards
The first of the 2022 honours and awards were presented to recipients in attendance. Congratulations to those whose service was recognised and thank you to the Red Cross people who nominated them. More information will be shared in the coming weeks as presentations are completed locally.
More information