Recovering peace of mind
3 November 2023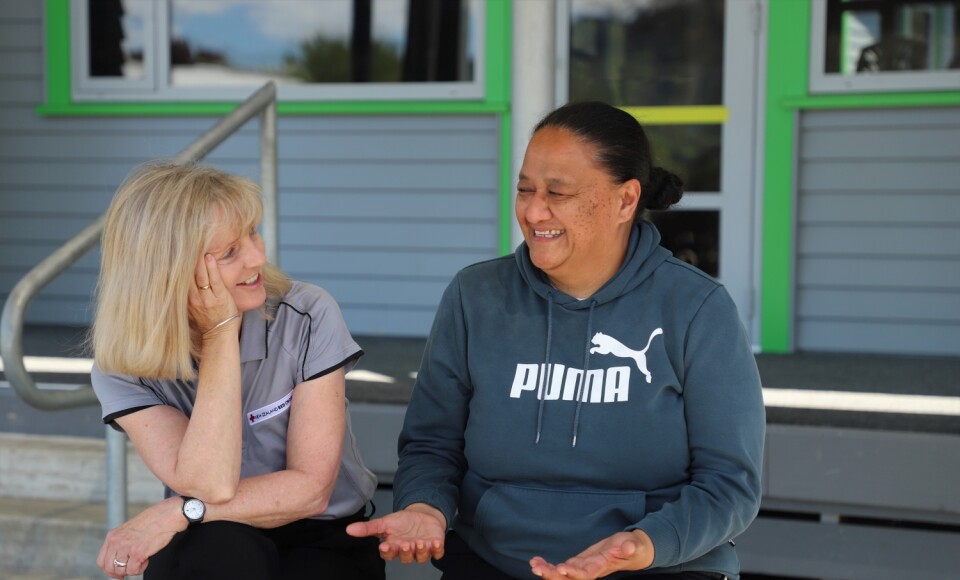 We talked with Pimia Wehi about the community-led recovery taking place in Te Karaka after Cyclone Gabrielle, the mental and emotional toll of the disaster, and her experience of taking a Psychological First Aid course with Red Cross.
Since Cyclone Gabrielle, Pimia Wehi (Te Aitanga-a-Māhaki) has had hundreds of conversations about that night when flooding swept through the small rural settlement of Te Karaka.
Pimia and many others took refuge on a nearby hill during the night. They stood and watched as the dawn light revealed that all of Te Karaka's streets were under water. When the river subsided several hours later, her group returned to start setting up the local school as an evacuation hub.
Layered over Pimia's experience are the stories of dozens of others, which are now as familiar to her as her own.
There's the nanny and koro who heard a knock in the middle of the night and opened their door to find the flood waters banging against their house. They then spent hours floating in the darkness on their living room furniture before they could be rescued. There are the stories of the uncles who had to be lifted off roofs in digger buckets, of the hundreds of people stranded on a different hill for more than 24 hours without food or shelter, and of the whānau all around the world desperately trying to make contact while all communications were down.
And then there are the more distressing stories. Te Karaka lost one resident to the floods — 64-year-old farmer John Coates, who Pimia says was "a pretty instrumental guy around here". One hundred and ten families returned to find their homes and possessions destroyed. "Some of them were not even able to save a sock," says Pimia.
An ambitious promise
Te Karaka is home to roughly 600 people and is located on the Waipaoa River, about 30km inland from Gisborne.
Immediately after Cyclone Gabrielle, the community embarked on a coordinated recovery plan. As the mana whenua, Te Aitanga-a-Māhaki iwi have steered these efforts and Pimia is one of the co-leads of this work.
To those whose houses were no longer livable, the recovery team made a simple but ambitious promise: they would get everyone back home.
In the months since, Pimia has coordinated with every displaced household to make sure they have temporary accommodation – a patchwork of whānau hosts, motels and hotels, rentals, and temporary pod homes – while they work through the complex process of longer-term recovery.
Under strain
Experiencing a life-threatening emergency, and then coping with the long process of recovery from a disaster can have a tremendous impact on people's mental health.
A few weeks after the cyclone, a team from New Zealand Red Cross visited Te Karaka. "There were lots of tears, because they saw it firsthand," says Pimia. We talked about ways the New Zealand Disaster Fund could support the town, including through the Red Cross Home Bundles programme. We also offered the community Psychological First Aid (PFA) training.
Despite everything that was going on, nearly two dozen people in Te Karaka have made time to attend the PFA courses held for the community. Pimia says, "I think that at the early stages of our recovery we knew that mental unwellness was starting to creep into our community... We didn't really know what the Psychological First Aid training looked like, but for me, I knew that it was something that our people needed."
She had been particularly concerned about the mental health of men in the community, who acutely felt the responsibility to provide for and protect their families. "We were really worried about our men. The fathers of our community were starting to break," Pimia says. She could also see the signs of anxiety in their tamariki, particularly when it rained. It hasn't helped that Tairāwhiti has had more extreme rain this year, and the community has self-evacuated to higher ground several times in the months since the cyclone.
One thousand people trained in PFA
Psychological First Aid is the mental and emotional equivalent of medical First Aid. It's training that equips people with the skills to provide emotional and practical support to someone who is in distress, particularly after a traumatic event.
New Zealand Red Cross has provided this training free of cost for more than 1,000 participants in communities that have been hit hard by the severe weather events early this year. "There was huge need for psychosocial support, because people were living their own experience, but also having to support and look after others around them in their whānau and their social networks," says Ali Souch, our Team Leader for Psychosocial Training.
PFA trainees learn about a range of topics, including the science behind people's reactions to stress, and practical coping strategies and tools to help themselves and others feel calm and supported through the recovery process after the disaster.
In Te Karaka, the PFA workshops provided one of the first opportunities for many of the participants to slow down and reflect on what they had been through. Pimia says the session she attended gave people space to have conversations that many had not had outside of their own households, if at all. "The Psychological First Aid training provided my community with assurance that what we were thinking and what we were feeling was ok, and that it was normal."
Pimia says it was good to see that a lot of what the community had done out of instinct for each other after the cyclone was in line with the principles covered in the PFA course. She says the course's content was relevant to the conversations she has in her role as a community organiser. "We definitely left with a sense of – we know now. We know how to not so much counsel, but how to be with our community in a time of need."
Sarah Gribbin is the New Zealand Red Cross Psychosocial Advisor, and was one of our PFA trainers for the courses in Te Karaka. She's also worked with dozens of other communities across Northland, Auckland, Tairawhiti, and Hawke's Bay that have been affected by the cyclone and floods. She says the sessions are helping communities not only adapt, cope and recover from these disasters, but also building skills for mental and emotional resilience in the future, "We know that there will unfortunately be more disasters in New Zealand. The more people we can train in PFA, the more resilient communities will be if the worst happens again."
Nine months on
Nine months on, Pimia says, "We're getting there."
The Te Karaka recovery team have been determined organisers and advocates for residents, particularly around processes with insurance companies and local authorities. They're also organising support and resources for those who are without insurance.
Pimia's work has included coordinating with the Red Cross Home Bundles programme, for which Te Karaka was the pilot community. This programme helps households that are most in need replace furniture and other damaged home basics like whiteware, kitchenware, bedding, and heaters.
"It meant that when our families got into temporary accommodation, we were able to provide their whare āwhina and their whare hihiko fully furnished. We're very thankful for that, and they're very thankful – they could still be staying here at the school, had organisations like the Red Cross not stepped in," says Pimia.
Peace of mind
Many of Te Karaka's older residents remember the damage that Cyclone Bola left behind in 1988. Pimia recalls a conversation with her cousins several years ago, where they talked about the community spirit that powered their parents and grandparents through tough times. They wondered if that spirit had waned over time, if younger generations were more caught up in their individual lives.
But Pimia says everyone has come together. "One of the good things that has come out of the disaster is how united my community is now. And if we go through something like this again, we'll remain united."
Looking to the future, there's a lot more work to do in Te Karaka. The iwi is now working to raise 100 of the community's most at-risk houses off the ground by up to 1.5 metres to protect them from future flooding. They've elevated two of these homes, with 98 to go.
For Pimia, this mahi is all about making Te Karaka more resilient – not just the area's buildings, but the people who live here as well. The ultimate goal, she says, is, "Providing peace of mind for our people."
Watch a video about Psychological First Aid in Te Karaka
For more information
Interested in learning Psychological First Aid skills? Book a course with us!
Mental health and wellbeing courses
Read the latest updates on the New Zealand Disaster Fund and our work supporting communities affected by Cyclone Gabrielle and the other severe weather events of 2023.
New Zealand Disaster Fund updates
To stay up-to-date on how the New Zealand Disaster Fund is making a difference, register for email updates.
Sign up for regular updates about the New Zealand Disaster Fund