Blog: From Aotearoa to Armenia, face-to-face with the unimaginable
23 February 2021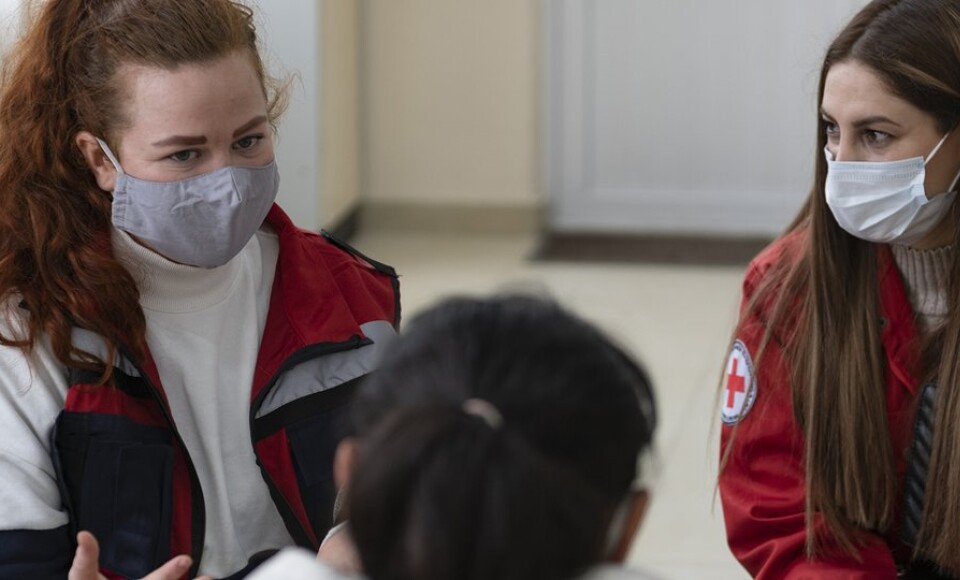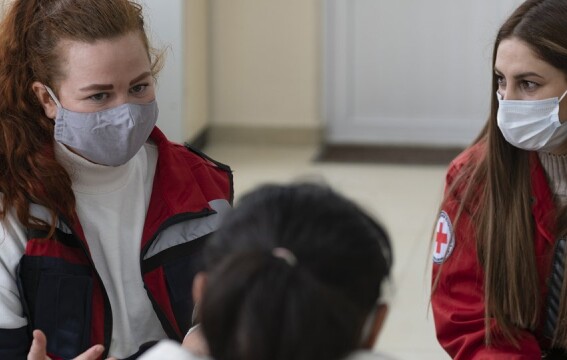 In this blog, New Zealand Red Cross delegate Jessica Timings talks about her time in Armenia, helping the response to the needs of people fleeing the Nagorno-Karabakh conflict.
Something roared above us, prompting me to stay alert. From inside the car I craned my neck to scan the sky, hoping to see what had made the noise, and spotted a grey military jet carving up the clouds. Its engine growled, echoing across the wide road as it sped over us. Just off to our left, two huge conical chimneys jutted up - cooling towers of the nuclear plant just a few kilometres outside the city. Adjusting the mask on my face, I took a moment to take it all in.
Yerevan, Armenia was about as far from Aotearoa as I could imagine being. Even before I arrived, I'd been keeping up with the news about the Nagorno-Karabakh conflict. I knew that on 27 September 2020, this long-running conflict had escalated significantly, resulting in thousands of deaths and hundreds of thousands of people - mostly mums, kids and older people - forced to flee the heavy fighting. The International Red Cross and Red Crescent Movement, namely Armenian Red Cross Society, Azerbaijan Red Crescent Society, the International Committee of the Red Cross (ICRC) and International Federation of Red Cross and Red Crescent Societies (IFRC), have been working incredibly hard to help those affected.
I was asked to work with the IFRC, to support Red Cross in Armenia and work closely with IFRC colleagues in Azerbaijan. My role was to use my knowledge of the Red Cross and my communications skills to tell the stories of people who were in need and how Red Cross was helping them.
For me, the decision to go was pretty straightforward. There were people in need, and I had something to offer.
That's how I ended up in a car heading out of the capital of Armenia, with colleagues from IFRC and Armenia Red Cross Society, toward a small town called Artashat. The car rumbled toward our destination, a kindergarten just beyond Artashat that usually resonates with the joyful sound of hundreds of children. As our car rolled up, the silence was eerie. Just three children played quietly in the dusty yard out front. Washing hung above a rainbow-coloured fence, faded artwork decorated the walls inside.
The kindergarten had been closed because of COVID-19, but its doors have opened to people from areas affected by the conflict who were in urgent need. At the front door, we were met by the kindergarten's manager who told us that, at its peak, around 80 women, children and elderly were living, sleeping and eating there. They arrived in waves. Most, if not all, of them have no idea when they might be able to return to their homes.
The manager guided us through the cold hallway, into a room that still bore the telltale signs of a classroom: colourful blocks and craft items on a shelf, small cots stacked up against a wall. But the room was repurposed, a family of eight sharing the space and two mattresses on the floor. Their shoes lined up beside the doorway.
One of the daughters shared their story with us: the family left their home almost as soon as the conflict escalated and she recalled the walls of their home shaking from shelling close by.
"Our children were afraid," describes the mother. "One of the boys could not speak for two days. That is when we knew it was not safe."
The kindergarten had basic washing and cooking utilities, shared by all who were staying there. Food and other essential items were provided by Armenian Red Cross Society, local authorities and other agencies.
Though the ceasefire announcement signed on 9 November 2020 meant some were able to return to their homes, more were afraid to go back. The family of eight is among those who felt they cannot yet return, but do not know where they can go from here.
Many children are unable to attend school, though some have been able to attend schools near their temporary places of shelter.
"I am in my last year of school, I want to finish. I am planning to continue my education at university next year, but I don't know whether I will be able to get back to school," shares the daughter.
"We want people to know we are here, we exist, we are not forgotten."
I spoke with the family a little longer, and with others staying in the kindergarten. Some of their stories were so harrowing it was hard to hear, but all the more important because of it. The more Red Cross understands their circumstances and needs, the more and better we can help. And by being able to retell their stories to others, I can help increase much-needed support for this response.
After a coffee with the manager and my colleagues, we headed back to the car. We were quiet, still contemplating what we have heard and seen. There is a lot to do.
Many of these people fled with only the clothes on their back, leaving everything behind. They need things that we often take for granted: food, water, blankets and warm clothes. These are basic items that only cost a little but will mean a whole lot to them.
Coming from Aotearoa, stories of war and fighting feel foreign and hard to imagine. After meeting people who have experienced it first hand, I couldn't help but realise how people like me are lucky for not having to go through such ordeal. It was a reminder that we have a lot to be thankful for and a lot that we can give.