Supporting communities in early recovery
24 March 2023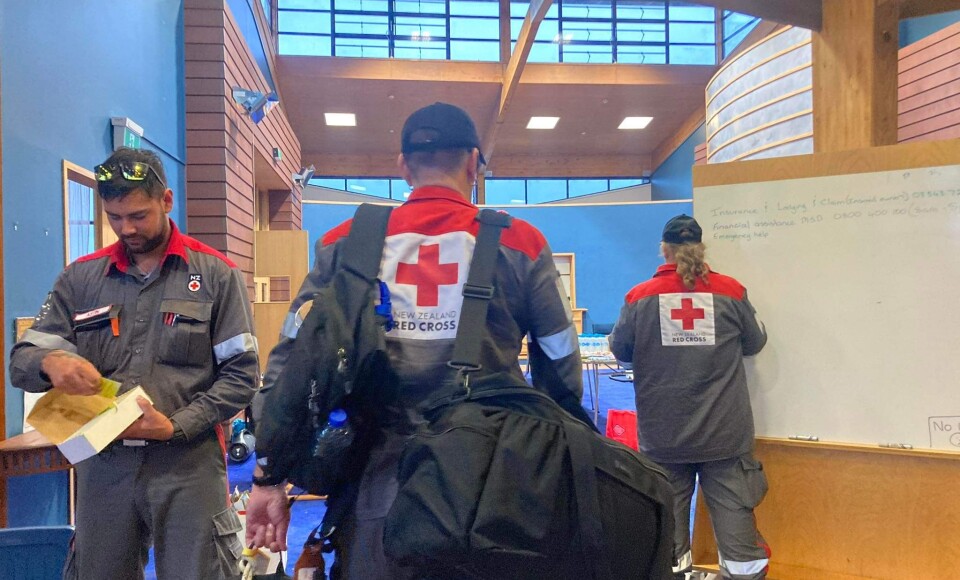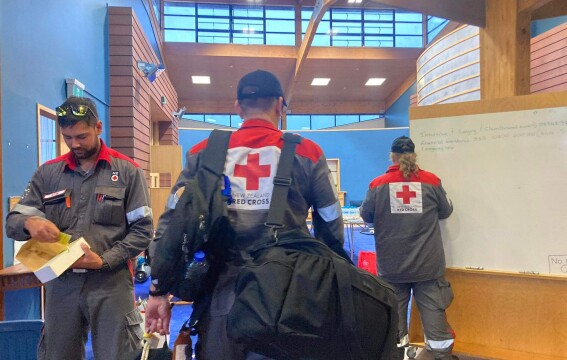 Fortnightly update 2: New Zealand Disaster Fund
Red Cross people are part of communities across New Zealand. Around 1,800 Red Cross people live in communities across areas affected by Cyclone Gabrielle or recent severe weather events. Most are members and people who volunteer their time.
In addition to emergency management, our services in New Zealand include helping former refugees, our newest Kiwis, settle into their new lives and supporting them to find meaningful employment; providing first aid training; being the largest provider of Meals on Wheels; running Red Cross shops, and providing a number of valuable community-based programmes.
Many of our Red Cross people were directly impacted by the severe weather and cyclone but kept essential services going.
After recent events, there was an immediate need to improve access to psychological first aid training, to help communities support one another at a time when many are experiencing high levels of stress and distress. Nine courses have been delivered so far training 182 health and community champions across Wairoa, Hastings and Napier. These were made available free of charge.
Over the coming weeks, we'll be further bolstering our existing teams so we can offer additional support to communities during early recovery. Needs in each community are different; the way we offer support will reflect this. "Across the many forms our support will take over coming weeks, our mission remains the same – ensuring that we improve the lives of the most vulnerable. Our aim is to give communities tools, skills, and resources that could help in the months ahead," says General Manager Emergency Management and International, New Zealand Red Cross, Sean Stewart.
"We know the communities with the greatest needs will likely need a range of support. To maximise our impact within communities we will be working or partnering with existing organisations and community groups and resourcing them to continue their work or scale up their support."
Across the affected areas we are continuing to work directly with Civil Defence Emergency Management Groups, city and district councils, Te Arawhiti and iwi leaders. We are working with several communities on tailored support packages and are close to opening an application process that will enable groups, and organisations to apply for funding to support their community," Stewart says.
We continue to deliver support through the New Zealand Disaster Fund. So far over $1.88 million has been committed.
In addition to previously announced activity, we are:
supporting expertise and enabling water repairs in North Piha helping the preschool to reopen and supporting the community for the next three months
providing household clean-up kits which include brooms, dust masks, cleaning products, and overalls. Up to 1,000 kits will be available to city and district councils, community groups, and Red Cross service centres for distribution to those who need them
funding approximately 750 emergency food parcels delivered via existing foodbank facilities across the affected regions
providing 100 dehumidifiers to assist in drying out flood-damaged homes in Wairoa.
Over the last few weeks, 15 Disaster Welfare and Support Teams and other Red Cross people have travelled to affected areas from as far south as Invercargill. After completing more than 5,000 hours of support, our amazing Red Cross people returned home to their whānau and their workplaces. We recognise the impact on their families, home lives and employers who have generously enabled them to be deployed to support the response effort.
"We are grateful to all our volunteers and members who made a significant contribution to the response to the severe weather and cyclone over the past month. Our people helped deliver supplies to isolated communities, provided psychosocial support to those affected, worked with Civil Defence Emergency Management and other organisations and emergency services in carrying out needs assessments, and were on the ground to help where needed," Stewart says.
"As we move beyond the initial response, we're increasing our services in affected communities to make sure we can support where and when we're needed most."
Learn more
We've been around for nearly 100 years. As the impacts of climate change increase the frequency and severity of weather-related emergencies across the country, we'll keep being here.
The New Zealand Disaster Fund helps us to support communities to respond to, recover from, and prepare for disasters and emergencies in Aotearoa New Zealand.
If you want to stay up-to-date on how the New Zealand Disaster Fund is making a difference you can register for email updates.
Sign up for regular updates about the New Zealand Disaster Fund (redcross.org.nz)
Practical support and information to help you care for yourself and others after the recent flooding and Cyclone Gabrielle.
Caring for yourself and others after an emergency or disaster
Volunteer with us
We can't do our work without the thousands of Kiwis from all corners of Aotearoa New Zealand who give their time and energy to volunteer.
We're always on the lookout for dedicated people to join us in our humanitarian work. Join over 8,000 other humanitarians in New Zealand and volunteer today.
Find a volunteer role near you
Red Cross in your community
New Zealand Red Cross is part of your community. We have 16 offices around New Zealand including our head office in Wellington. You can join your local branch, group in over 40 cities and towns around New Zealand, or shop at one of our 50 retail stores.
New Zealand Red Cross has 15 'areas' across the country. Each area has its own area council, which is elected by the local Red Cross members.
There are nearly 50 branches of New Zealand Red Cross around the country. Branches have a hands-on local-community focus, and are run by volunteers.
Find out more about what we do in New Zealand
Support our work
Our emergency management work is funded through the generosity of donors.
Donate to New Zealand Disaster Fund
Fortnightly updates
Related stories